Theresa May is Britain's new PM after David Cameron takes final bow
Theresa May on Wednesday became Britain's new prime minister, taking over from David Cameron with the task of negotiating Britain's exit from the EU.
London: Theresa May on Wednesday became Britain's new prime minister, taking over from David Cameron with the task of negotiating Britain's exit from the EU.
Queen Elizabeth II invited Conservative Party leader May, 59, to form a government during a brief meeting at Buckingham Palace in London, less than an hour after Cameron tendered his resignation to the head of state.
May takes over from Cameron, who resigned after Britain's vote to leave the European Union.
Earlier, Cameron left 10 Downing St to go to Buckingham Palace to tender his resignation as prime minister.
Cameron, on Wednesday, said it was the "greatest honour" of his life to serve as prime minister. Surrounded by his wife and children, Nancy, Elwen and Florence, Cameron offered an assessment of his tenure saying he left the country stronger and better off.
He wished his successor May luck in her negotiations to have Britain leave the European Union — the matter that caused his demise.
He then posed for images in front the shiny black door, waved, and embarked on the brief trip to the palace.
May, a tough, hard-working pragmatist, now has the task of uncoupling Britain from the European Union, and of uniting her country and her party.
May's first task is to form a new cabinet, including a minister in charge of Brexit.
Women are tipped to take a number of top jobs, in a team expected to mix experienced hands, like foreign minister Philip Hammond, with some who supported the "Leave" campaign, like May's campaign manager Chris Grayling.
May became a Conservative lawmaker in 1997, holding the post of party chairman before entering the cabinet after the Conservatives won the 2010 general election.
Unusually for someone who has been in front line politics for so long, she has guarded her privacy closely.
May is a keen cricket fan and lists her hobbies as walking and cooking. In an interview for BBC radio, she selected the Abba song 'Dancing Queen' as one of her favourites.
She is well known for her collection of leopard-print kitten heel shoes — a contrast with her sober demeanour.
In a rare personal interview marking her leadership bid, she described how she and her husband Philip had come to terms with not having children, saying that "you accept the hand that life deals you".
Her father Hubert was an pastor, one of several points which has drawn comparisons between her and German Chancellor Angela Merkel.
Her education — at a series of little-known state and private schools — has been contrasted with the elite Etonian background of Cameron and many of his inner circle.
Like Cameron, she attended Oxford University, where she met her husband, a banker. They were reportedly introduced by Benazir Bhutto, who later became Pakistani premier, and were married in 1980.
May worked in finance, including at the Bank of England, before being elected.
As party chairwoman in 2002, she made waves by suggesting the Tories were seen as "the nasty party" and needed to overhaul their image — something Cameron has largely managed.
Safe pair of hands
May's job for the past six years, home secretary, is viewed as one of the hardest jobs in government which has wrecked a string of other political careers.
Supporters say her achievements include deporting radical cleric Abu Qatada to Jordan — where he was later freed after a decade of legal cases — and standing up to the Police Federation, the powerful police officers union, to try and address a string of scandals.
In 2013, May revealed she has type 1 diabetes but insisted it would not affect her career, saying it was a question of "head down and getting on with it".
She is not part of any clique at Westminster, acknowledging that she does not drink in parliament's many bars or "gossip about people over lunch".
A source who has worked closely with her told AFP on condition of anonymity she has "always got up three hours before everybody else and knows five times more than anyone else in the room".
"Theresa is not going to do anything radical... she's incredibly risk-averse, a safe pair of hands," the source said.
With inputs from agencies
also read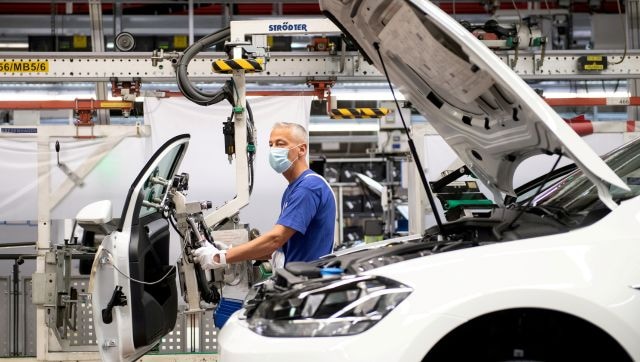 Explainers
Germany's GDP fell .3 per cent in the first quarter of 2023 following a .5 per cent decline in the last quarter of 2022. Though Chancellor Olaf Scholz described the outlook for the economy as 'very good' experts say this is a rude awakening for the country and the entire continent
World
The European Systemic Risk Board issued many proposals, ranging from requiring frequent reporting from all companies working with crypto assets to instituting particular guidelines for the largest enterprises in that field
Explainers
Ireland will introduce health labelling on alcoholic drinks in 2026 to warn about calorie content, cancer risks and other harmful effects. However, the new legislation has been opposed by its own trading partners, including some European Union nations