Theresa May assassination plot foiled: Police arrest 2 in connection with plan to kill British prime minister
Sky News reported on Tuesday, citing sources, that police had foiled a plot to assassinate British Prime Minister Theresa May.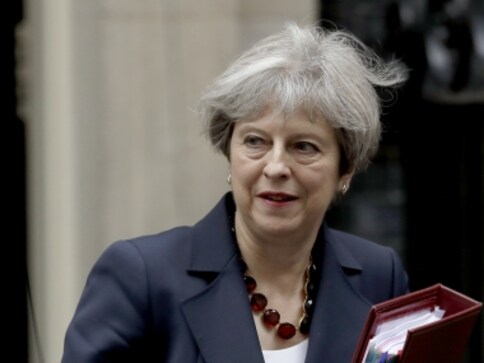 The Metropolitan Police has allegedly foiled a plot to assassinate British prime minister Theresa May.
Sky News reported on Tuesday, citing sources, that the police had foiled a plot to assassinate May. The report said police believed there was a plan to launch an improvised explosive device at Downing Street and, in the chaos that ensued, attack and kill May.
Earlier on Tuesday, May's spokesman said Britain had thwarted nine plots in the last 12 months.
The Metropolitan Police said on Tuesday that two men arrested last week had been charged with terrorism offenses and would appear in Westminster Magistrates' Court on Wednesday. It also said in a statement that the men were arrested by its Counter-Terrorism Command on 28 November.
It identified them as Naa'imur Zakariyah Rahman, 20, of North London, and Mohammed Aqib Imran, 21, of south-east Birmingham.
According to The Telegraph, details of the alleged terror plot were given to Cabinet members on Tuesday during a briefing by MI5 chief Andrew Parker.
The report also said that between March and June, there had been four terror attacks in London and Manchester which killed 36 people and injured another 200.
The details of the latest plot emerged as a report into the terror attacks in Britain between March and June was released, according to The Guardian. The report also showed that MI5 could have stopped the Manchester terror attack with the intelligence they had.
Many security officials have claimed that Britain is facing a heightened terror threat and the MI5 director-general has even said that the threat is the worst he has known in his 34-year-long career.
With inputs from Reuters
Sports
Daley, 27, who revealed that he might have missed the Games after knee surgery, wiped away tears on the podium as he finally added gold to the bronzes he won at the London 2012 and Rio 2016 Games.
Entertainment
JFK Revisited: Through the Looking Glass is a kind of non-fiction addendum to one of Stone's most sensational and controversial films - JFK (1991).
Sports
The gold-medal winning rower will share the flag bearing duties with another gold medallist sailor Hannah Mills.