The New York Times suspends White House reporter Glenn Thrush over accusations of sexual misconduct
The New York Times says it has suspended White House reporter Glenn Thrush while it investigates charges that he made unwanted advances on young women.
The New York Times says it has suspended White House reporter Glenn Thrush while it investigates charges that he made unwanted advances on young women while he worked as a reporter at Politico and The New York Times.
Laura McGann, a Politico colleague of Thrush's, wrote on Vox on Monday that Thrush kissed her and placed his hand on her thigh one night in a bar, after urging another person who had been sitting with them to leave.
The New York Times, in a statement, said "the alleged behavior is very concerning" and not in keeping with the Times' standards. The newspaper said it supports Thrush's decision to enter a substance abuse program. Thrush didn't immediately return a message seeking comment, but told Vox that he apologised to any woman who felt uncomfortable in his presence.
Thrush worked at Politico from 2009 to 2016, when he joined the Times. His visibility is such that he was portrayed on Saturday Night Live during its skits earlier this year about White House news conferences.
McGann, who was an editor at Politico, said the incident happened five years ago at a Virginia bar that was a hangout for Politico employees. The incident made her angry even more so when she said Thrush spread stories blaming her and she interviewed other women about him.
In his statement to Vox, Thrush described the encounter with McGann as "brief, consensual and ended by me." He said he didn't disparage her. But he said he was "deeply sorry" for another event that happened last June involving another woman, not identified in McGann's story. In this case, the woman became upset when Thrush began kissing her on the street after they had been in a bar. Thrush said he hasn't had alcohol since the event, which he called "life changing."
Another woman in the story talks about a consensual drunken encounter with Thrush five years ago that left her rattled, and a fourth woman who was surprised by an unexpected kiss.
Thrush is also a contributor at MSNBC. The network said he has no scheduled appearances and it is awaiting the outcome of the Times' investigation.
A spokeswoman for the publisher Random House, where Thrush has a deal to co-write a book on the Trump presidency with Times colleague Maggie Haberman, said the company is looking at accusations "closely and seriously."
In a note to newsroom employees on Monday, Dean Baquet, the Executive Editor of The New York Times, said, "All allegations of sexual harassment must be taken seriously and it's critical that we hold ourselves to the highest possible standards of behaviour. The workplace culture we embrace at The New York Times, like our news report, places fairness, integrity and truth above all else."
With inputs from AP and IANS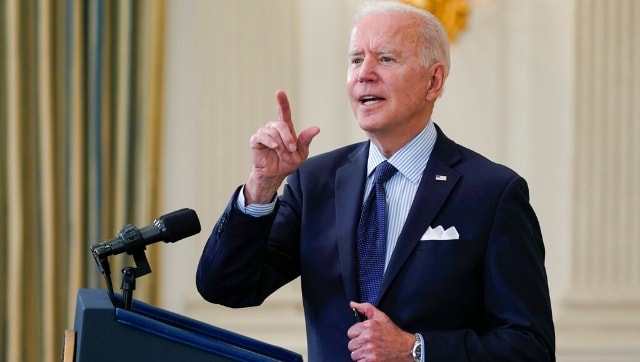 World
The White House and communications experts say Biden's whispering is just this veteran politician's old-school way of trying to make a connection while emphasising a point.
Lifestyle
When the Harvey Weinstein revelations erupted in October 2017, launching the reckoning that became known as the #MeToo movement, it caused a "sea change", Debra Katz says.