H1B visa: US immigration's favourite voodoo doll being forsaken in policy sweepstakes
The H1B visa - US immigration's favourite voodoo doll is being forsaken by policymakers. Not a single demand of theirs figured in the US budget.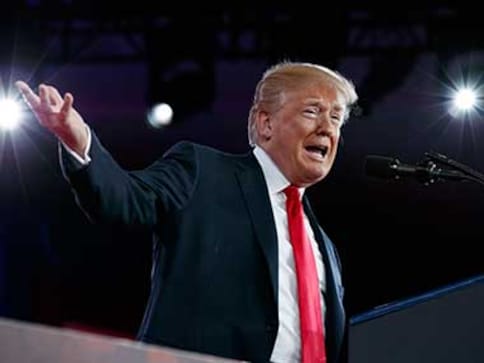 "I'm exhausted," says New Jersey resident Neha*.
"I'm disappointed but not surprised," @Sudsravi replies on Twitter.
"Is it such a sin to be married to an H1B worker?", exclaims another, also on Twitter.
"Exhausted", "stressed", "depressed" and "I'm so fed up" are the words highly skilled H1B workers and (often) their equally highly skilled spouses are using to express their crushing disappointment after the passage of the enormous $1.3 trillion budget written out in 2,000 pages that entirely omitted every single ask from H1B workers on decade-long waits for permanent residency status.
This wasn't for a lack of lobbying effort or momentum — both were present in plenty in the run-up. And it wasn't just H1B related demands that failed to make the cut after coming awfully close; most hot button immigration issues did not get baked into the cake either.
A long list of policy upgrades for US legal immigration fell victim to the marquee Trump agenda of building a wall along the southern border. The choice became an either-or between illegals and bonafide, legal workers.
H1B workers reside in the US legally while recipients of DACA protections came in illegally while they were still children. DACA is short for the Obama-era concession 'Deferred Action For Childhood Arrivals' which protects recipients from deportation and also allows them to work in the US. DACA is now undeniably etched into the lexicon of US immigration the way H1B workers are not. DACA issues galvanise the same policymakers and politicians who have attention deficit for legal immigrants.
At the time of writing, anti-H1B posters have been plastered across the heart of Silicon Valley's train stations and trains, playing to full houses during rush hour. Except news reports with clever headlines, there's been precious little pushback for such a blatant attack against the most highly regulated visa category in the USA with nearly unmatched paperwork burden and due diligence from the US government. From the very first summit meeting between Modi and Trump, H1B has stayed off the table and never been part of the negotiations. That's also part of the reason why H1B workers have taken it upon themselves to advocate more aggressively than in previous years.
So, what's holding the H1B worker back when US policymakers begin haggling?
Is it because H1B workers don't embody the haunting, romantic notion of the dispossesed that DACA recipients do? Is it because H1B workers have jobs, pay a slew of state and federal taxes eating into nearly 40% of their salary, drive cars with valid licenses and therefore fade into the vast American suburbia — all of which fuels envy or indifference rather than cooperation?
"You won't believe it, so many Senators have asked us… You don't have a problem, so why are you here pushing for all this policy stuff?", says one H1B worker who applied for his Green Card in 2008 and is still waiting.
H1B workers don't have a single unified policy mouthpiece but the lobby groups have common pain points which go something like this:
- End country caps which limit the total number of Green Cards available for Indians.
- "Recapture" green cards which other countries don't use up.
- Exempt dependents from numerical limits in the employment based pool - Right now, each dependant is counted separately against the total cap rather than as part of a single family unit.
- Increase proportion of employment based immigrant visas in the universe of Green Cards.
These fixes, whenever they happen, also help H4 spouses who are worried sick about the fate of their employment authorisation.
Like we have said earlier, this is at the other end of the spectrum from the DACA narrative — H1B is about workers who have jobs, valid visas and legal status. "Rich poverty, huh!", sneers a Twitter user.
That reaction is in stark contrast to the support for the DACA community from all flanks. The thin ice of that the DACA situation evokes visions of urgency and vulnerability that have become a communication masterclass for other immigrant groups. Yet, as things stand today, "I guess the rest of the year is practically ruled out for a policy breakthrough of real consequence", says Anirban Das of Skilled Immigrants in America (SIIA), an advocacy group led by H1B workers and their families. Washington insiders know that the Omnibus bill was the last opportunity before the midterms in November, so what Das says is being priced in across the H1B community.
That doesn't mean lobbying groups aren't trying. Republican Hindu Coalition led by Shalabh Kumar has called for a big rally on the National Mall in mid April — long after the Omnibus bill has come and gone. Immigration Voice is claiming a lead role in bulking up the HR392 bill over many years — the most popular in the US Congress with more than 317 sponsors. SIIA is a bootstrap-model organisation, self-funded and chipping away quietly.
Yet, it's not quite adding up. Not just yet.
"The time for cleanly worded stand-alone bills in Congress seems to have passed. Every time we are close, lawmakers want to add many other clauses to it and with each addition, our chances fade", says an H1B worker in Washington DC who saw the process from up close over the last few months.
Not everyone is a policy junkie to stay interested and motivated for the long haul, especially spouses on the H4 visa.
One of them said, "Many companies are now telling their employees that there's no question of applying for a Green Card after the six-year mark. For a person like me who has waited a decade already, that sounds like a better deal. We are stuck because there's no clarity, no closure."
Meanwhile, the wise men who determine Trump's immigration agenda have already got their next bludgeons ready. Among the more vicious ones will be this: To drive a wedge into the neighbourhoods where diversity thrives, by asking questions like these — "Why are 'they' using our parklands, our public square?". A precursor began Tuesday, with the Trump government adding a question on citizenship status in the 2020 census — a move which has sparked widespread outrage.
Closer home for the H1B tribe, there's an enemy within too — those who have crossed over to the other bank, who've got their permanent residency, their citizenship. "For them, we are competition. They'd rather have us out", says Poonam*.
Where do you come from? Where do you belong? Can you call this home?
For thousands of H1B workers and their families, these questions have never been more pressing than now.
*Many H1B/ H4 workers spoke to us on background and therefore some names have been changed, on request.
also read
Explainers
The term 'comfort women' has been given to people that were forced to work as sex slaves by the Japanese Army during World War II. It comes from the Japanese word ianfu – which combines the Chinese characters 'comfort or solace' (i-an) and woman (fu)
Explainers
The trouble kicked off after armed miscreants forced people to shut their shops on Monday afternoon. A mob then torched two homes in Imphal, causing security forces to rush to the spot. Chief Minister Biren Singh has said the situation is now under control
Explainers
Scientists at Stanford University in a breakthrough successfully tested a soft, flexible patch of electronic skin as thick as a piece of paper on a rat. While this offers a ray of hope to amputees and those with skin damage, experts say much more research is required