The Baton Rouge photograph: An example of how pictures say a thousand words
Sometimes, it takes one powerful image to tell a story a million words might fail to. The Baton Rouge photograph is a perfect example of that.
It all began last Tuesday, when Alton Sterling, 37, a black man selling CDs was shot dead by police outside a convenience store in Baton Rouge, Louisiana. The second victim was 32-year-old Philando Castile, who was shot dead, again by the police, at a routine traffic stop in suburban Minneapolis, Minnesota the next day.
In retaliation, a black US military veteran opened fire on police, killing the officers, while they were trying to subdue protesters at the Black Lives Matter movement in Dallas, a demonstration which began a few days after Sterling was shot, triggered because of police brutality against the African-American suspects.
While the protests went on, and dozens got arrested in the Black Lives Matter demonstration, a photo captured by Reuters photographer, Jonathan Bachman, went viral on the internet.
This Jonathan Bachman click has now become an iconic image that addresses the growing issue between Black Americans and law enforcement. The picture is clearly a testimony of the emotion that drives a protester to firmly stand her ground.
The photo was taken outside the Baton Rouge police headquarters, where the protest largely took place on Saturday. It shows a woman dressed in a black dress, who stands calmly at the middle of the road, while two police officers are seen rushing to handcuff her.
Twitterati gave the picture a wide range of adjectives. Here's what a few of them said:
This photo made by Jonathan Bachman of Reuters from the protests in Baton Rouge is incredible. pic.twitter.com/E6JtoIEusr

— Ryan Parker (@TheRyanParker) July 10, 2016
In grayscale, would you guess 2016? My heart breaks. We must do better.#LeishaEvans #BatonRouge by Jonathan Bachman pic.twitter.com/Vt6f8md2Ew

— Irene Fernando (@irenekfernando) July 11, 2016
This photo, of Leshia Evans, by freelance photog Jonathan Bachman, is extraordinary in every way. https://t.co/PptMrIHn1j — matt blaze (@mattblaze) July 11, 2016
Amazing image out of Baton Rouge. Photo: Jonathan Bachman pic.twitter.com/KKGGvUJibL — Jon Spaihts (@jonspaihts) July 10, 2016
Good thing we have riot police to protect us from young women in sundresses. (Photo by Jonathan Bachman/Reuters) https://t.co/NJH2XZnCrw — Inger Hogstrom (@ingerhogstrom) July 10, 2016
So much power in this image. [Photo by Jonathan Bachman of Reuters from the #BLM protests in #BatonRouge.] pic.twitter.com/5Z3IkY4Pe5 — Aaron Muszalski (@sfslim) July 10, 2016
Sometimes, it takes one powerful image to tell a story a million words might fail to. For example, in September 2014, while the police fired tear gas on the thousands of pro-democracy demonstrators while they pursued the Hong-Kong Umbrella movement that brought parts of central Hong-Kong to a standstill, a protester stood his ground amid the gas.
Another example of a powerful picture dates back to the Turkish riot in Taksim Square that happened on 28 May, 2013. Here, a policeman was seen showering tear gas at a woman, who stood in her red dress, unarmed in a garden. There was a series of pictures that showed the woman turning away and still continuing to be at the receiving end of the officer's wrath. That image became a symbol of the Turkey protests.  
When we go back to the death of Micheal Brown, an unarmed African-American who was shot dead by a white police officer, we also revisit the picture that trended with the story, that had sparked huge protests in the US, in August 2014. It again shows an unarmed man being at the armed policemen's weapon end.
Well, this Jonathan Bachman image of the lady calmly holding her posture is another addition to this historic list of stories that was captured in a single frame, and spoke more than a million words.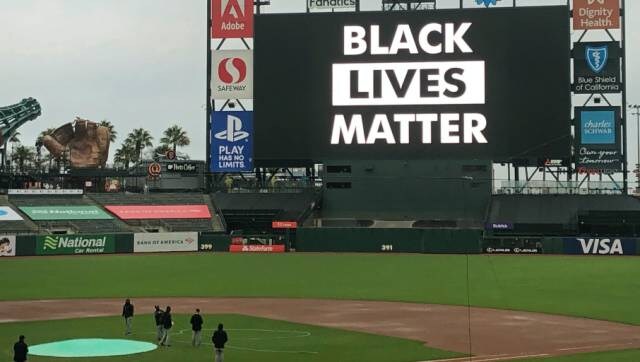 Sports
The Brazilian Olympic Committee launched the 30-hour online course this week, which will be mandatory for all 650 athletes, coaches, doctors, nutritionists, officials, and other members of the country's delegation to the Tokyo Games in July and August.
World
The TLP was able to mobilise Punjabi youth in great numbers because the ground was fertile for the propagation of right-wing extremist ideas
World
The mother of Daunte Wright told a crowd earlier Sunday evening that he called her to say he had been pulled over by police. Soon after, her son's girlfriend told her he had been shot