Thailand's cave boys wake up at home for first time in weeks
By Amy Sawitta Lefevre CHIANG RAI, Thailand (Reuters) - Thailand's rescued cave boys woke up in their own homes for the first time in more than three weeks on Thursday, with many rising at dawn to take part in a religious ceremony. The 12 boys, aged 11 to 16, and their 25-year-old coach were discharged from a hospital in the northern province of Chiang Rai on Wednesday and later made their first public appearance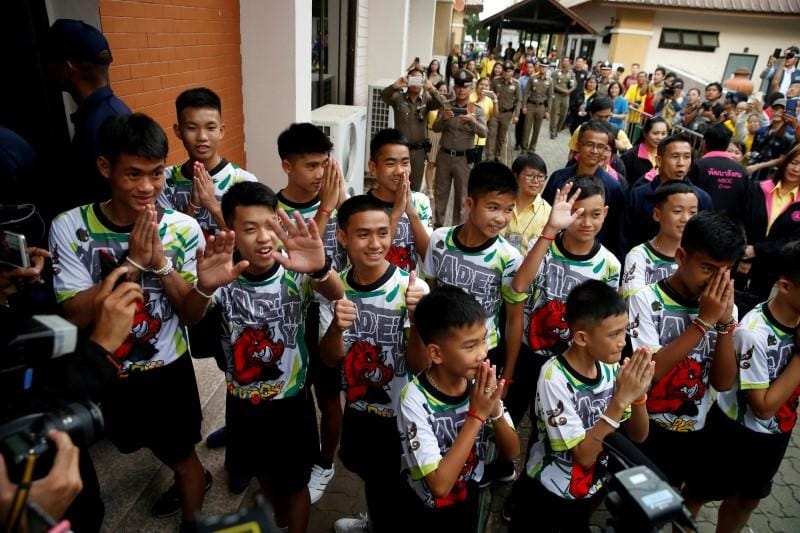 By Amy Sawitta Lefevre
CHIANG RAI, Thailand (Reuters) - Thailand's rescued cave boys woke up in their own homes for the first time in more than three weeks on Thursday, with many rising at dawn to take part in a religious ceremony.
The 12 boys, aged 11 to 16, and their 25-year-old coach were discharged from a hospital in the northern province of Chiang Rai on Wednesday and later made their first public appearance.
During a national TV broadcast they smiled, joked and showed solidarity with one another, as they shared details of their traumatic experience inside the flooded Tham Luang cave complex.
Many of the boys hail from the sleepy district of Mae Sai, near the border with Myanmar. Some were greeted with hugs, tears and smiles from waiting relatives and friends when they returned home on Wednesday. Others were blessed with water as they entered their homes.
On Thursday, some of the boys and their relatives took part in religious ceremonies at Mae Sai's Wat Pha That Doi Wao temple – an ancient temple with scenic views of the surrounding countryside.
Reporters were not allowed close to the boys and their families at the temple to give them privacy.
The last of the group of 13 were brought out of the cave last Tuesday, ending a gruelling 18-day ordeal that claimed the life of Samarn Kunan, a volunteer diver and former Thai navy SEAL who came to help with the rescue mission.
Samarn died on July 6 after losing consciousness during a mission to place oxygen tanks deep inside the cave, just two days before the first boys were brought to safety.
During their TV news conference the boys said when they entered the cave on June 23 they had planned to only be inside the cave for about an hour after soccer practice. But a rainy season downpour flooded the tunnels, trapping them.
The boys had no food and survived only on water. They took turns digging at the cave walls, hoping to find a way out.
"We drank water from stalactites. On the first day we were ok, but after two days we started feeling tired," said Pornchai Kamluang, 16, adding that their coach, Ekapol Chanthawong, told them to stay still when possible to preserve energy.
"This experience made me stronger and taught me not to give up," said the team's youngest member, who goes by the name Titan.
The boys will eventually spend time as novice Buddhist monks to honour the dead diver's memory, their coach said on Wednesday.
(Additional reporting by Soe Zeya Tun in MAE SAI, Chayut Setboonsarng in BANGKOK; Writing by Amy Sawitta Lefevre; Editing by Michael Perry)
This story has not been edited by Firstpost staff and is generated by auto-feed.
Find latest and upcoming tech gadgets online on Tech2 Gadgets. Get technology news, gadgets reviews & ratings. Popular gadgets including laptop, tablet and mobile specifications, features, prices, comparison.
Business
By Jessica Resnick-Ault NEW YORK (Reuters) - Oil prices strengthened on Wednesday, as OPEC and its allies were seen complying with a pact to cut oil supply in September, even as concerns loomed that recovery in fuel demand will be stalled by soaring global coronavirus cases. Early in the day crude was boosted by a bullish stock market. Even as equities whipsawed on pandemic worries, oil stayed higher, buoyed by expectations that OPEC could staunch a supply glut
Business
By Tina Bellon and C Nivedita (Reuters) - Tesla Inc will further cut the price of its Model S "Long Range" sedan in the United States to $69,420, the electric carmaker's chief executive, Elon Musk, announced in a tweet https://bit.ly/2H0JCP0 on Wednesday. The anticipated drop marks the second time this week Tesla has cut the price for the high-end sedan, following a 4% cut of the Model S's price in the United States on Tuesday to $71,990.
World
By Jeff Mason DES MOINES, Iowa (Reuters) - Under siege over his handling of the novel coronavirus pandemic, President Donald Trump on Wednesday cited what he said was his son's mild bout of the virus as a reason why American schools should reopen as soon as possible. Trump made the comment about his son, Barron, as the president swept into Iowa on a mission to shore up support in battleground states that he won in 2016 but is in danger of losing to Democrat Joe Biden barely three weeks before the election. First lady Melania Trump announced in a statement earlier in the day that the virus that struck both her and her husband had also infected their 14-year-old son