Texas gets support from 17 states in bid to help Trump undo election loss
By Jan Wolfe and Andrea Shalal WASHINGTON (Reuters) - Texas drew support on Wednesday from 17 other U.S. states in its long-shot bid to have the Supreme Court overturn President Donald Trump's election loss by throwing out the voting results from Georgia, Michigan, Pennsylvania and Wisconsin.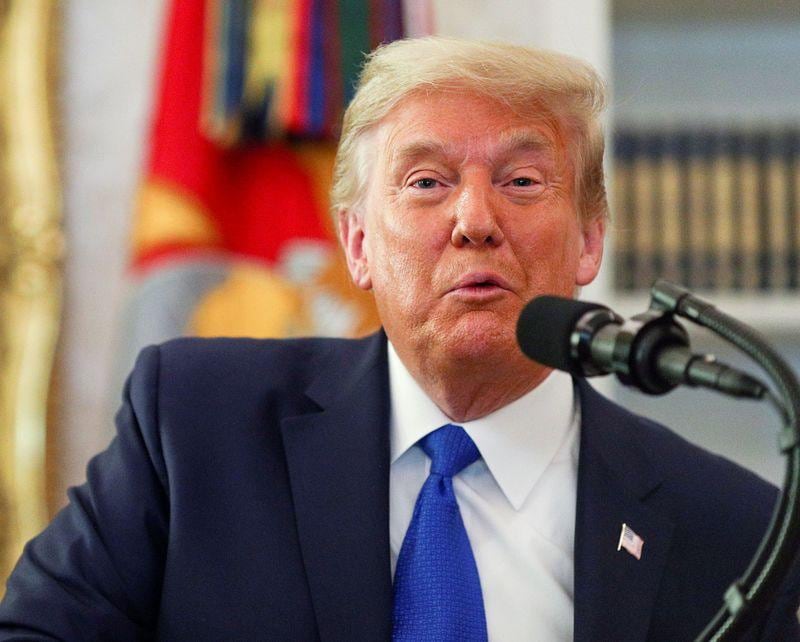 By Jan Wolfe and Andrea Shalal
WASHINGTON (Reuters) - Texas drew support on Wednesday from 17 other U.S. states in its long-shot bid to have the Supreme Court overturn President Donald Trump's election loss by throwing out the voting results from Georgia, Michigan, Pennsylvania and Wisconsin.
In a brief filed on Wednesday, lawyers for the 17 states led by Missouri's Republican Attorney General Eric Schmitt urged the nine justices to hear the Texas lawsuit, the latest litigation to try to undo Democratic President-elect Joe Biden's victory over the Republican incumbent in the Nov. 3 election.
Trump on Wednesday vowed to intervene in the lawsuit though he did not provide details on the nature of the intervention including whether it would be by presidential campaign or the U.S. Justice Department. Efforts in the courts on behalf of Trump challenging the election results so far have failed.
Writing on Twitter, Trump said, "We will be INTERVENING in the Texas (plus many other states) case. This is the big one. Our Country needs a victory!"
The lawsuit, announced on Tuesday by the Republican attorney general of Texas Ken Paxton, targeted four states that Trump lost to Biden after winning them in the 2016 election. Trump has falsely claimed he won re-election and has made baseless allegations of widespread voting fraud. Election officials at the state level have said they have found no evidence of such fraud.
Election law experts have said the Texas lawsuit stands little chance of success and lacks legal merit.
In addition to Missouri, the states joining Texas were: Alabama, Arkansas, Florida, Indiana, Kansas, Louisiana, Mississippi, Montana, Nebraska, North Dakota, Oklahoma, South Carolina, South Dakota, Tennessee, Utah and West Virginia. All of the states were represented by Republican officials in the filing. All but three of the states have Republican governors.
Officials from Georgia, Michigan, Pennsylvania and Wisconsin have called the lawsuit a reckless attack on democracy. It was filed directly with the Supreme Court rather than with a lower court, as is permitted for certain litigation between states.
The Texas suit argued that changes made by the four states to voting procedures amid the coronavirus
pandemic to expand mail-in voting were unlawful. Texas asked the Supreme Court to immediately block the four states from using the voting results to appoint presidential electors to the Electoral College.
Biden has amassed 306 electoral votes - far higher than the necessary 270 - compared to Trump's 232 in the state-by-state Electoral College that determines the election's outcome. The four states contribute a combined 62 electoral votes to Biden's total.
Texas also asked the Supreme Court to delay the Dec. 14 date for Electoral College votes to be formally cast, a date set by law in 1887.
Democrats and other critics have accused Trump of aiming to reduce public confidence in U.S. election integrity and undermine democracy by trying to subvert the will of the voters.
(Reporting by Andrea Shalal and Jan Wolfe; Editing by Tim Ahmann and Will Dunham)
This story has not been edited by Firstpost staff and is generated by auto-feed.
Find latest and upcoming tech gadgets online on Tech2 Gadgets. Get technology news, gadgets reviews & ratings. Popular gadgets including laptop, tablet and mobile specifications, features, prices, comparison.
World
WASHINGTON (Reuters) - Washington police banned the leader of a far-right group from the city and made two arrests on Tuesday as protesters supporting President Donald Trump's attempts to overturn the election gathered in the city. Enrique Tarrio, the leader of the Proud Boys, who was arrested on Monday for destruction of property and possession of a firearm magazine, was released on bail Tuesday and ordered to stay away from the city, according to a police affidavit. Protests against President-elect Joe Biden's November election win, which Congress will certify on Wednesday, started across the U.S.
World
By Renju Jose SYDNEY (Reuters) - Australia will bring forward its COVID-19 vaccine rollout plans by two weeks to early March, health authorities said on Wednesday as the country seeks to contain fresh cases in its two largest cities. Australia has repeatedly resisted pressure to expedite its vaccination distribution timetable, citing low coronavirus cases in the country though new clusters in Sydney and Melbourne have sparked fears of a wider outbreak
World
By Alexandra Alper and David Shepardson WASHINGTON (Reuters) - U.S. President Donald Trump on Tuesday signed an executive order banning transactions with eight Chinese software applications, including Ant Group's Alipay, the White House said, escalating tensions with Beijing before President-elect Joe Biden takes office this month. The order, first reported by Reuters, tasks the Commerce Department with defining which transactions will be banned under the directive and targets Tencent Holdings Ltd's QQ Wallet and WeChat Pay as well.