Istanbul explosion: 10 killed, 15 wounded in suicide attack by Islamic State, says Turkey PM
Ten people were killed and 15 wounded in a suspected terror attack in Istanbul's tourist hub on Tuesday, officials said, with the country on edge after a wave of deadly jihadist bombings.
Ten people were killed and 15 wounded in a suspected terror attack in Istanbul's tourist hub on Tuesday, officials said, with the country on edge after a wave of deadly jihadist bombings.
The powerful blast rocked the Sultanahmet neighbourhood which is home to Istanbul's biggest concentration of monuments and is visited by tens of thousands of tourists every day.
"Terrorist links are suspected," a Turkish official told AFP, asking not to be named.
Ambulances and police were despatched to Sultanahmet, which is home to world-famous monuments including the Blue Mosque and the Hagia Sophia, while police helicopters hovered above.
Prime Minister Ahmet Davutoglu convened an emergency security meeting of key ministers and officials, including powerful Interior Minister Efkan Ala and spy chief Hakan Fidan.
Turkey has been on high alert after a series of attacks blamed on the Islamic State jihadist group including a double suicide bombing in the capital Ankara in October that left 103 people dead.
The Istanbul governor's office said in a statement quoted by the Dogan news agency that 10 people were killed and 15 wounded in Tuesday's blast.
"Investigations into the cause of the explosion, the type of explosion and perpetrator or perpetrators are under way," the governor's office said.
Images published by Dogan showed several apparently dead bodies lying on the ground.
The identities of those killed and hurt were were not immediately clear although unconfirmed reports said the injured included two Germans and one Norwegian tourist.
Germany warned its nationals to avoid tourist sites in Istanbul, a city of about 14 million people that has been hit several times in the past by deadly attacks.
Media reports said the authorities were studying the possibility Tuesday's blast was caused by a suicide bomber but there was no official confirmation.
'Ball of fire'
The explosion was powerful enough to be heard in adjacent neighbourhoods, witnesses told AFP. Police cordoned off the area to shocked passers-by and tourists and the nearby tram service has been halted.
"The explosion was so loud, the ground shook. there was a very heavy smell that burned my nose," a German tourist named Caroline told AFP.
"I started running away with my daughter. We went into a nearby building and stayed there for half an hour. It was really scary," she added.
Media reports said the blast took place at 0820 GMT around the Obelisk of Theodosius, a monument from ancient Egypt which was re-erected by the Roman Emperor Theodosius and is one of the city's most eye-catching monuments.
"I heard a very loud blast, then came the screams," a Turkish man who asked not to be named told AFP.
"Then I saw a ball of fire, and started to run away. I saw about 10 people wounded, one of them was being helped by the tourists. I am 100 percent sure it wasn't just a bomb, but a suicide bomber," he added.

The authorities imposed a broadcast ban on reporting of the attack, prompting television channels to halt live broadcasting from the scene although factual commentaries continued.
Other attacks blamed on Islamic State
Turkey is on alert after 103 people were killed on 10 October when two suicide bombers blew themselves up in a crowd of peace activists in Ankara, the bloodiest attack in the country's modern history.
That attack was blamed on Islamic State (IS) jihadists, as were two other deadly bombings in the country's Kurdish-dominated southeast earlier in the year.
Turkish authorities have in recent weeks detained several suspected Islamic State members, with officials saying they were planning attacks in Istanbul.
But Turkey is also waging an all-out assault on the outlawed Kurdistan Workers' Party (PKK) which has staged dozens of deadly attacks against members of the security forces in the southeast.
A Kurdish splinter group, the Freedom Falcons of Kurdistan (TAK), claimed a mortar attack on Istanbul's second international airport on 23 December which killed a female cleaner and damaged several planes.
Meanwhile the banned ultra-left Revolutionary People's Liberation Party–Front (DHKP-C) has also staged a string of usually small-scale attacks in Istanbul over the last few months.
AFP
Sports
This was the England captain Kane's first international goal since he scored against Kosovo 500 days ago in November 2019.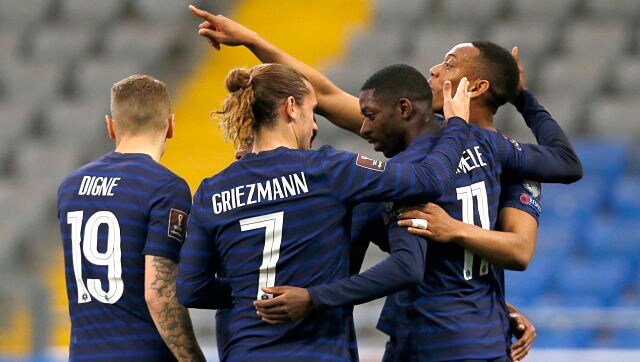 Sports
It was a welcome result for reigning world champions France after they kicked off their campaign in qualifying Group D by drawing 1-1 at home to Ukraine last Wednesday.
Sports
Both Norway's and Germany's teams have already made protest gestures at their respective qualifiers, in both case by wearing shirts with human rights messages.