Tenth accusation of sexual assault against Donald Trump: Yoga trainer says Republican groped her
The Trump campaign slammed the latest accusation of sexual misconduct as a tool meant to help Democratic rival Hillary Clinton win the 8 November election.
Another woman came forward on Thursday claiming that Donald Trump groped her and made inappropriate sexual remarks, adding to accusations of nine other women that have emerged in recent days.
Karena Virginia, a 45-year-old New York-based yoga instructor, said at a news conference that the celebrity billionaire and Republican presidential nominee had made an unwanted sexual advance at the 1998 US Open tennis tournament.
Virginia, reading from a written statement, said Trump pointed at her to other men and said "'hey, look at this one. We haven't seen this one before. Look at those legs' as if I was an object rather than a person."
Virginia, who was 27 at the time, said that Trump grabbed her by the arm and touched her breast.
"He then walked up to me and reached out his right arm and grabbed my right arm," she continued. "Then his hand touched the right side of my breast. I was in shock," The Guardian quotes her as saying.
"'Don't you know who I am, don't you know who I am?' he said," according to Virginia's statement.
"I felt intimidated and I felt powerless," she said, adding that she "felt ashamed" for wearing a short dress and high heels that she took care to avoid for a long time in order to escape undue attention.
"That feeling of shame stayed with me for a while," she said.
Virginia spoke to reporters flanked by high-profile discrimination lawyer Gloria Allred, who said that her client "is not considering a lawsuit at this time."
"No one has asked me to come forward," said Virginia. "In fact, many people advised me not to speak publicly."
According to an official biography in The Huffington Post, where she sometimes writes, Virginia is "a wellness expert... motivational speaker, energy healer, yogi, inspirational mentor and TV personality," and as a child "was highly sensitive to angels."
The Trump campaign slammed the latest accusation of sexual misconduct as a tool meant to help Democratic rival Hillary Clinton win the 8 November election.
"Discredited political operative Gloria Allred, in another coordinated, publicity seeking attack with the Clinton campaign, will stop at nothing to smear Mr. Trump," said Jessica Ditto, the Republican's campaign deputy communications director, in a statement.
"Give me a break. Voters are tired of these circus-like antics and reject these fictional stories and the clear efforts to benefit Hillary Clinton," she said.
Meanwhile, Natasha Staynoff the People Magazine reporter who is another one of the 10 woman who accused Donald Trump of sexual assault has spoken again after she drew flak from Trump supporters for leveling the allegations. According to a report in CBS News, six people have corroborated parts of her story. Apart from a few other friends who verified sections of her story, one of her Journalism school professors, who she claims to have called on the day of the incident, said in a tweet that the two of them decided that Trump could "destroy" her if she chose to speak out.
In 2005, Natasha Stoynoff phoned me, distraught, crying. Said Trump assaulted her. She is telling truth. #natashastoynoff

— Paul McLaughlin (@paulmcl) October 13, 2016
I was her former jlsm prof/mentor. She didn't know what to do and wanted advice. She was crying and angry. #natashastoynoff.

— Paul McLaughlin (@paulmcl) October 13, 2016
Natasha/I discussed what to do re Trump. We both thought he would try to destroy her if she charged him. #natashastoynoff

— Paul McLaughlin (@paulmcl) October 14, 2016
Trump has in effect denied all such allegations leveled against him including Stoynoff. He according to a report in CNN, had said "Look at her, just take a look at her... I don't think so," while denying her allegations. Staynoff however, hit back at him. "I was obviously good-looking enough for him at the time to force-kiss me and insist that we were going to have an affair.. it's possible he just doesn't remember it... It was over 10 years ago and I assume I am one of many, many women," another article in CNN Money quotes her as saying.
On 7 October, The Washington Post released a 2005 video recording that caught Trump boasting in lewd terms about how he could get away with groping women without their consent because he was a celebrity.
After this aired, nine women came forward to accuse Trump of unwanted sexual advances, some of which if confirmed amount to sexual assault.
Virginia is the 10th woman to level accusations against the Republican White House contender.
It was after the emergence of the video that Trump's presidential campaign has been jolted with Clinton taking a substantial lead over him in national opinion polls.
During the third and final presidential debate late Wednesday with Clinton, Trump denied all the accusations, saying they were "fiction" and "have been largely debunked," even suggesting that Clinton had planted them. In an attempt to refute such damaging allegations, Trump even went on to say that no one respects women more than him, which to everybody's amusement evoked laughter from the crowd, prompting the moderator to step in and hush them.
Trump interjected: "Nobody has more respect for women than I do. Nobody." At which point, laughter from the audience was audible. He repeated: "Nobody has more respect", prompting debate
moderator Chris Wallace to try and hush the crowd, urging: "Please, everybody," according to a report in PTI.
With inputs from agencies
World
The Vienna talks aimed at reviving the deal were suspended in June, when Iran elected ultraconservative Ebrahim Raisi as president
World
The accord between Iran and six world powers to find a solution to the crisis over its controversial nuclear programme has been stalled since former US president Donald Trump walked out in May 2018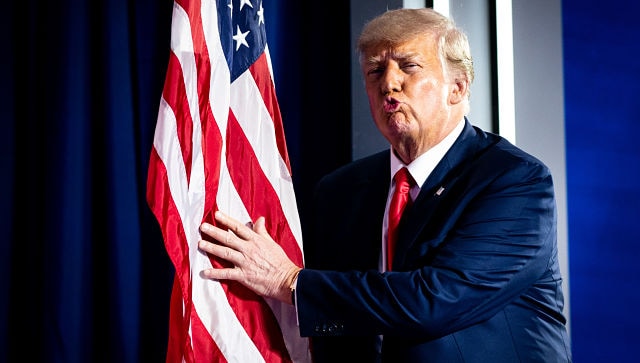 WorldT20
In interviews Thursday, the hackers, who are affiliated with Anonymous, a loose hacking collective, said the effort was part of their "online war against hate."