Tens of thousands evacuated as cyclone targets Tamil Nadu
By Sudarshan Varadhan CHENNAI (Reuters) - Tens of thousands of people were evacuated from low-lying areas of Tamil Nadu ahead of a cyclone expected to make landfall in the early hours of Thursday.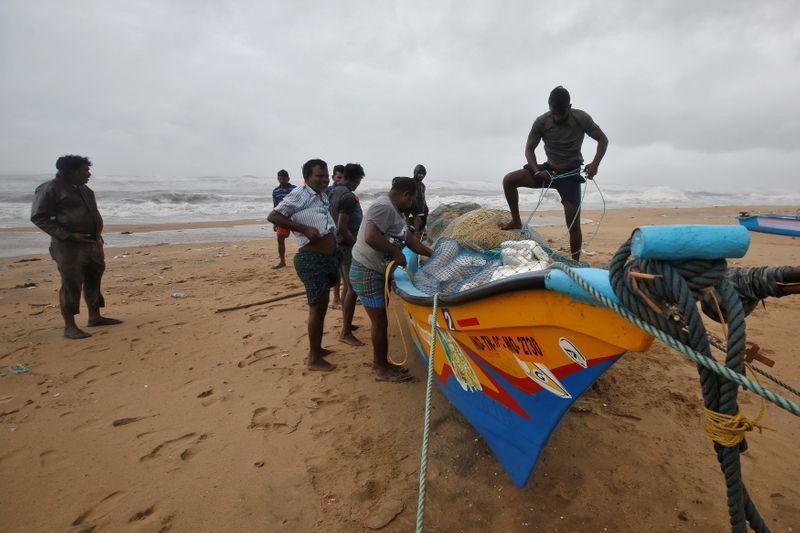 By Sudarshan Varadhan
CHENNAI (Reuters) - Tens of thousands of people were evacuated from low-lying areas of Tamil Nadu ahead of a cyclone expected to make landfall in the early hours of Thursday.
Cyclone Nivar, labelled a category 1 "severe cyclonic storm" on a scale from 1 to 5 by Tropical Storm Risk, was likely to damage houses, uproot power lines and trees and destroy crops along India's southeast coast, the Indian Meteorological Department (IMD) said.
"Over 145,000 people have been shifted to 1,516 relief camps across the state as a precaution," R.B. Udhayakumar, Tamil Nadu's disaster management minister, told Reuters.
Edappadi Palaniswami, Tamil Nadu state's chief minister, has declared Wednesday and Thursday public holidays in some areas, advised fishermen not venture out to sea and asked people to stay indoors.
The districts of Cuddalore and Nagapattinam, located south of Chennai on the state's coast, accounted for the most number of evacuations, together totalling nearly 89,000 people, Udhayakumar said.
Areas in and around the state's capital Chennai witnessed intense spells of rain and strong winds on Wednesday.
Many companies in Chennai, home to a flourishing automobile industry and dubbed the "Detroit of South Asia", shut operations on Wednesday.
Government officials in Chennai released water from a major reservoir and cleared fallen trees. Vessels in the city's port have been moved to sea and port operations will likely remain shut until the cyclone has passed, a senior port official said.
Chennai's airport will remain closed at least until 7 a.m.
(0130 GMT) on Thursday, India's aviation minister said in a post on Twitter.
(Reporting by Sudarshan Varadhan; Editing by Alexander Smith and Nick Macfie)
This story has not been edited by Firstpost staff and is generated by auto-feed.
Find latest and upcoming tech gadgets online on Tech2 Gadgets. Get technology news, gadgets reviews & ratings. Popular gadgets including laptop, tablet and mobile specifications, features, prices, comparison.
Business
By Aditya Kalra NEW DELHI (Reuters) - India's tobacco industry will object to a proposal to ban smoking zones in hotels and prohibit advertising at cigarette kiosks as the government steps up anti-smoking efforts, two executives said on Wednesday. India has over the years introduced tobacco controls and launched campaigns to deter its use, but enforcement of the law has been a challenge.
World
HONG KONG (Reuters) - Over 50 pro-democratic activists in Hong Kong were arrested on Wednesday for breaking the city's contentious national security law, local media reported, in the biggest crackdown yet against the democratic opposition under the new law. The arrests in the Asian financial hub included well known democratic figures and former lawmakers James To, Lam Cheuk Ting and Lester Shum, according to the Democratic Party's Facebook page and public broadcaster RTHK. Police did not immediately respond to requests for comment.
World
BRASILIA (Reuters) - Brazil's syringe manufacturers said on Tuesday they will supply 30 million syringes and needles for the country's COVID-19 vaccination program after the government said it would requisition surplus supplies. Executives of the three main manufacturers met with President Jair Bolsonaro at the Health Ministry and it was agreed that each would supply 10 million syringes to cover the initial stages of the vaccination plan.