Technology and economy will boost India-US ties: Nirupama Rao
With the cooperation between India and the US bilateral issues remaining on track, aspects like technology and energy have become new driving forces in the ties between two countries.
Washington: With the cooperation between India and the US bilateral issues remaining on track, aspects like technology and energy have become new driving forces in the ties between two countries, Indian Ambassador to the US Nirupama Rao has said.
Rao, while addressing an audience, here, expressed hope that the Obama Administration would soon give approval for the export of US natural gas to India.
"Technology is very much a driver in this relationship, especially high technology. I'm talking of strategic trade, trade concerning such areas as civil aviation, biotechnology, space sciences, nanotechnology," Rao said.
"And all this I would argue should, if I have a wish list for the future, become infused with much greater dynamism than they have been in past. So we have to focus our efforts and intensify the work we need to do in these areas," she said.
Rao was addressing an event organised by Heritage Foundation, which today released its report on India-US relationship. Published jointly in association with the Observer Foundation, an eminent Indian think-tank, the report has given suggestions for carefully deepening the US-India partnership over the next few years, across a range of shared interests.
On this occasion, Rao referred to the proposed bilateral visits by leaders of the two countries in next few months, saying that "the embassy is going to be kept very busy in the next few weeks."
Rao said when it comes to trade and economic partnership, the two countries need greater collaboration in innovation, along with greater bilateral private sector engagement in manufacturing, services, energy and innovation.
"We need to move consciously with greater momentum on the bilateral investment treaty and train our sites on the exploration of advantages that will help us come much closer in such fields."
"On energy trade and technology and cooperation on regulatory aspects of energy, the export of shale gas, that has very much been in the news in the last few months," she said.
Rao hoped that the US Department of Energy will take its decision on many of the pending requests for export of shale gas to India. "There is a lot that we can do, we are doing and must do for the future in renewable energy cooperation, including solar and wind energy, and also on availability of clean sources of energy, especially when we talk of climate change and we talk of how we should address the challenge of climate change and how we build a sustainable development model that can incorporate our concerns about these issues," she said.
"We obviously cannot afford to lose sight of the fundamental reasons that have led to the transformation of the ties between India and the US, our converging security and economic interests, the vibrant ties between our peoples," the Indian Ambassador said.
She also mentioned the contribution of the strong three million Indian diaspora in growth of the US and in building strong bridges of friendship between the two nations.
"There are mutually beneficial connections between our entrepreneurs. Think of all Indian companies that do business here and create jobs in this country, and likewise, the US companies that have done business in India for many, many years now," Rao said.
The high-level engagement between the two countries is all set to gather steam as in the next few months, a series of dialogues and bilateral visits, including that of cabinet rank officials, are scheduled.
The peak of this exchange is going to be the India visit of the Secretary of State John Kerry in June for the India-US Strategic Dialogue with his Indian counterpart Salman Khursheed. The annual dialogue would feature several Cabinet ranking officials from both sides.
Later this month Indian Home Minister Sushilkumar Shinde will also be leading a high-level Indian delegation to Washington for the annual Homeland Security Dialogue with his American counterpart Janet Napolitano. The schedule of the dialogue is likely to be announced soon.
Indian Human Resources Development Minister Kapil Sibal is scheduled to visit the US later this month for talks with his American counterparts and leaders in the education sector.
Minister for Non-Renewable Energy Farooq Abdullah is also likely to make a trip to the US to attend a conference. Several Indian cabinet ministers are expected to visit Washington for the annual summit of US-India Business Council on July 11.
The meetings will cover a whole range of bilateral and regional issues between the two countries. The meeting of the India US CEO Forum has also been scheduled for July 10-11.
Indian Finance Minister P Chidambaram, during his meeting with the Treasury Secretary Jack Lew early this month, had suggested that the next round of India-US Economic Dialogue be held along with the CEO Forum meeting. The Treasury is looking at the dates, but hasn't confirmed it yet.
Before the strategic dialogue in June, a high-level team of American officials are scheduled to visit New Delhi for preparatory talks.
PTI
Find latest and upcoming tech gadgets online on Tech2 Gadgets. Get technology news, gadgets reviews & ratings. Popular gadgets including laptop, tablet and mobile specifications, features, prices, comparison.
World
Officials said the fire, which was reported two weeks after Donald Trump's supporters stormed the US Capitol in an attempt to overturn the electoral results, was not a threat to the public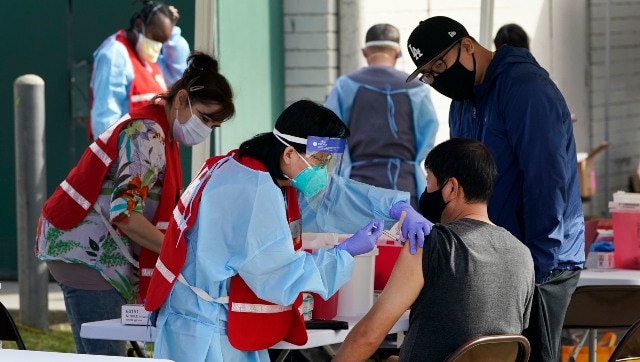 World
The plan, which would require congressional approval, is packed with proposals on healthcare, education, labour and cybersecurity
World
Biden has resisted calls to move the celebration indoors for the sake of safety. His inauguration committee had already been planning a scaled-back celebration with virtual components because of the coronavirus