Teachers, medics rally in Spain over poor COVID planning, infections stable
MADRID (Reuters) - Teachers in the Spanish city of Bilbao staged a one-day strike on Tuesday to protest against their regional government's response to the COVID-19 crisis, while health workers in Madrid took to the streets to demand better working conditions. Protesters are demanding more staff and support from authorities as the recent surge in cases, at a time when pupils are returning to schools, prompted concerns about further infections. The health ministry reported 3,022 new coronavirus infections and 19 deaths in the past 24 hours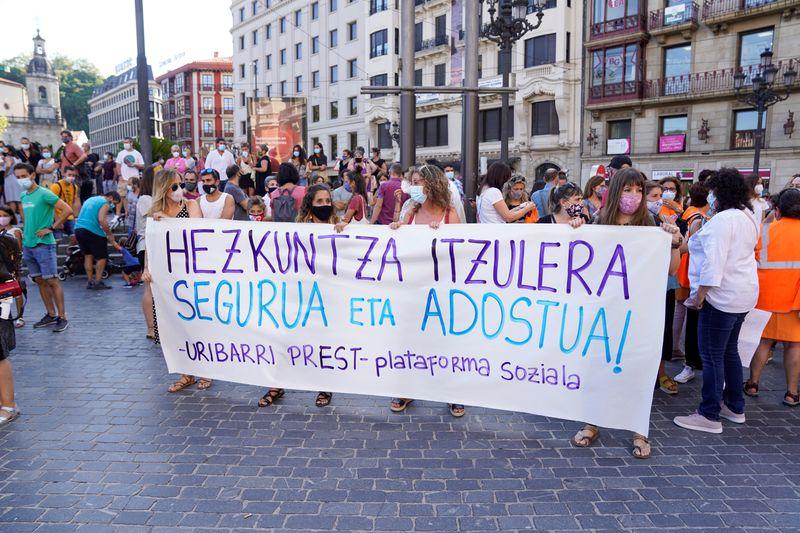 MADRID (Reuters) - Teachers in the Spanish city of Bilbao staged a one-day strike on Tuesday to protest against their regional government's response to the COVID-19
crisis, while health workers in Madrid took to the streets to demand better working conditions.
Protesters are demanding more staff and support from authorities as the recent surge in cases, at a time when pupils are returning to schools, prompted concerns about further infections.
The health ministry reported 3,022 new coronavirus
infections and 19 deaths in the past 24 hours.
The number of cases was little changed from Monday's in an apparent stabilisation after a steady surge that began in July and peaked at around 12,000 cases 11 days ago.
The infection numbers are updated retroactively and have often ended up exceeding the initial daily tally by thousands. Spain's cumulative number of cases, at 603,167, is the highest in Western Europe. The number of deaths exceeded 30,000.
Bilbao's teachers unions called for staff numbers to be bolstered after regional authorities shut a primary school in the northern Basque Country on Sept. 10 after several teachers tested positive.
"We are going through a situation in which we have to apply a protocol that many of us don't support and moreover we don't have the resources to do it," teacher Garazi Pizarro told Reuters.
Teachers' unions and parent groups have criticised the government for making health and safety plans at the last minute, but Education Minister Isabel Celaa said the reopening had gone well, with cases detected in only a few dozen places.
Separately on Tuesday, health workers in the Spanish capital protested against what they said was a lack of support from regional health authorities, and also called for better working conditions.
"We have a human problem. If health workers are already starting to get sick in September, we don't want to imagine what it will be like in December," said ICU nurse Victor Aparicio, as nurses and doctors blocked roads near Madrid's Gregorio Maranon hospital, holding banners and chanting.
(Reporting by Marco Trujillo, Vincent West, Miguel Gutierrez, Writing by Andrei Khalip, Victoria Waldersee; Editing by Mike Collett-White)
This story has not been edited by Firstpost staff and is generated by auto-feed.
World
ATHENS (Reuters) - Greek police used teargas and water cannon to disperse people who had gathered in central Athens on Saturday to protest against mandatory COVID-19 vaccinations. More than 4,000 people rallied outside the Greek parliament for a third time this month to oppose mandatory inoculations for some workers, such as healthcare and nursing staff.
World
ISTANBUL (Reuters) - Two Turkish soldiers were killed and two were wounded in an attack on their armoured vehicle in northern Syria, and Turkish forces immediately launched retaliatory fire, Turkey's defence ministry said on Saturday. "Our punitive fire against terrorist positions is continuing," the statement on Twitter on said. It did not specify where the attack occurred, but media reports said it was in the al-Bab area.
World
By Marcelo Rochabrun SAO PAULO (Reuters) - Protesters took to the streets in several Brazilian cities on Saturday to demand the impeachment of far-right President Jair Bolsonaro, whose popularity has fallen in recent weeks amid corruption scandals against the backdrop of the pandemic. This week, news broke that Brazil's defense ministry told congressional leadership that next year's elections would not take place without amending the country's electronic voting system to include a paper trail of each vote. Bolsonaro has suggested several times without evidence that the current system is prone to fraud, allegations that Brazil's government has denied