Tanker truck explosion in Mali capital kills 6, wounds 46
BAMAKO (Reuters) - A fuel tanker exploded during a traffic accident in the centre of Mali's capital Bamako on Tuesday, killing six people and badly wounding 46 others, an emergency response official said. The tanker swerved out of the way of a motorcycle, lost control, crashed on its side and exploded, a witness told Reuters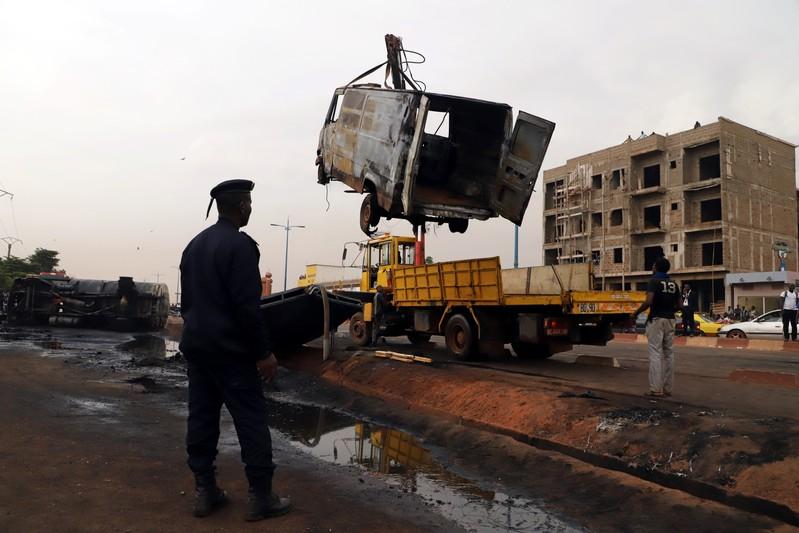 BAMAKO (Reuters) - A fuel tanker exploded during a traffic accident in the centre of Mali's capital Bamako on Tuesday, killing six people and badly wounding 46 others, an emergency response official said.
The tanker swerved out of the way of a motorcycle, lost control, crashed on its side and exploded, a witness told Reuters. The flames engulfed onlookers who ran to put themselves out in nearby gutters, he said.
Photos of the scene circulating online showed a wide column of black smoke rising high into the sky. On the roadside, photos showed a line of charred motorcycles and cars.
"We found several people burned and the tank was knocked down when we arrived on the scene. At the moment, we have 46 seriously injured and six killed, over 30 motorcycles, a pick-up and a goods vehicle burned," said Lieutenant General Diarra, the director general of civil protection of Bamako District.
There was no immediate suggestion that the accident had any link with Islamist groups who frequently carry out violent attacks in the north and centre of the restive West African country.
(Reporting by Paul Lorgerie; Editing by Lisa Shumaker; Writing by Edward McAllister)
This story has not been edited by Firstpost staff and is generated by auto-feed.
Find latest and upcoming tech gadgets online on Tech2 Gadgets. Get technology news, gadgets reviews & ratings. Popular gadgets including laptop, tablet and mobile specifications, features, prices, comparison.
World
By Carl O'Donnell and Jonathan Allen NEW YORK (Reuters) - The governors of New York and Florida sought to accelerate the slower-than-expected rollout of coronavirus vaccines by warning hospitals on Monday that they would reduce future allocations to those that fail to dispense shots quickly enough. In New York, hospitals must administer vaccines within a week of receiving them or face a fine and loss of future supplies, Governor Andrew Cuomo said. "I don't want the vaccine in a fridge or a freezer, I want it in somebody's arm," the governor said
World
By Michael Holden LONDON (Reuters) - A British judge ruled on Monday that WikiLeaks founder Julian Assange should not be extradited to the United States to face criminal charges including breaking a spying law, saying his mental health problems meant he would be at risk of suicide. U.S. authorities accuse Australian-born Assange, 49, of 18 counts relating to the release by WikiLeaks of vast troves of confidential U.S
World
By Steve Holland and Aziz El Yaakoubi WASHINGTON/RIYADH (Reuters) -A breakthrough has been reached in Qatar's three-year-old dispute with Saudi Arabia and three other Arab countries and an agreement aimed at ending their rift is to be signed in Saudi Arabia on Tuesday, a senior Trump administration official said. The development is the latest in a series of Middle East deals sought by Washington - the others involving Israel and Arab states - aimed at building a united front against Iran. As part of the deal, Saudi Arabia will reopen its airspace and land and sea border to Qatar as of Monday, Kuwaiti Foreign Minister Ahmad Nasser al-Sabah said on Kuwait TV ahead of a Gulf Arab summit in Saudi Arabia on Tuesday.