Talks on uniting Cyprus make progress, to resume on November 20 - U.N. | Reuters
By Cecile Mantovani | MONT PELERIN, Switzerland MONT PELERIN, Switzerland Talks on reuniting the divided island of Cyprus have achieved significant progress and will resume on Nov. 20, the United Nations said on Friday, at the end of a fifth straight day of negotiations in the Swiss resort of Mont Pelerin.U.N. Secretary-General Ban Ki-moon opened the round of talks between Greek Cypriot President Nicos Anastasiades and his Turkish Cypriot counterpart Mustafa Akinci on Monday, saying they were both committed to trying to reach a deal this year
By Cecile Mantovani
| MONT PELERIN, Switzerland
MONT PELERIN, Switzerland Talks on reuniting the divided island of Cyprus have achieved significant progress and will resume on Nov. 20, the United Nations said on Friday, at the end of a fifth straight day of negotiations in the Swiss resort of Mont Pelerin.U.N. Secretary-General Ban Ki-moon opened the round of talks between Greek Cypriot President Nicos Anastasiades and his Turkish Cypriot counterpart Mustafa Akinci on Monday, saying they were both committed to trying to reach a deal this year. "During these past five days, the chapter on territory and all other issues were discussed interdependently. Significant progress has been achieved," the United Nations said in a brief statement released after 11 p.m. local time on Friday."Upon request of the Greek Cypriot leader, Mr. Anastasiades, it has been decided by the two leaders to take a recess and reconvene in Geneva on Sunday, 20 November 2016, to continue their deliberations from Mont Pelerin."
Cyprus's 800,000 Greek Cypriots and approximately 220,000 Turkish Cypriots live on the divided island with a U.N- patrolled ceasefire line splitting the island east to west. The island was split in a Turkish invasion in 1974 triggered by a brief Greek-inspired coup. But friction between the two sides dates back at least a decade when Turkish Cypriots pulled out of a power-sharing government at perceived attempts by Greek Cypriots to limit their say.
Anastasiades and Akinci are both moderates leading their respective communities and the negotiations are directed towards reuniting Cyprus as a loose federation of two constituent, largely self-governing states.In addition to territorial swaps, Greek Cypriots who represent Cyprus in the European Union are adamant that a deal see the withdrawal of Turkish forces from the island.
Thousands of Turkish troops are stationed in Cyprus's north, a breakaway Turkish Cypriot state recognised only by Ankara. (Writing by Tom Miles; Editing by Jonathan Oatis)
This story has not been edited by Firstpost staff and is generated by auto-feed.
India
CNN-News18's Shreya Dhoundial speaks to top cybersecurity expert and Recorded Future CEO Christopher Ahlberg on China's digital army and what India needs to watch out for
World
Russia is set to host the Taliban and other Afghan factions for talks Wednesday in a move that reflects Moscow's efforts to expand its clout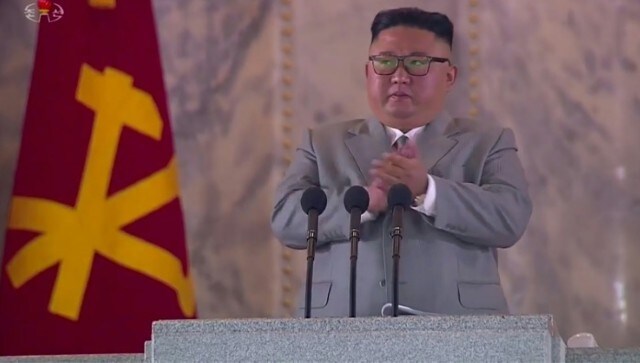 World
Kim also accused South Korea of hypocrisy because it criticises North Korea's weapons development as provocations while spending heavily to increase its own military capabilities