Take Tajikistan, but give Afghanistan to India: Ghani's proposal to Pakistan can change narrative in South Asia
Ashraf Ghani's 'Take Tajikistan from us but give Afghanistan to India' approach with Pakistan in terms of access is bone dry diplomacy and hits the nail on the head without any ado or prologues or prevarications.
Here is a bit of hard news that sums up the tone and tenor of Afghan President Ashraf Ghani's just-concluded India visit (27-29 April) and what concrete deliverables came India's way. The Ghani administration has bluntly told Pakistan that Afghanistan can help Pakistan get access to Tajikistan if Pakistan helps India to access Afghanistan.
This is huge! Ghani himself conveyed this to his Indian interlocutors during his formal talks with Prime Minister Narendra Modi on Tuesday.
This alone shows how greatly successful Ghani's India visit has been though he has come to India after China, Pakistan, the United States and Saudi Arabia.
Ghani's India visit has to be gauged from only one perspective: its strategic component and the delivery or the lack of it on this point.
Ghani's "Take Tajikistan from us but give Afghanistan to India" approach with Pakistan in terms of access is bone dry diplomacy and hits the nail on the head without any ado or prologues or prevarications.
When he took over as the new president of Afghanistan in September last from Hamid Karzai, the veteran former president of 14 years, Ghani was looked upon with suspicion and the biggest concern in the Indian strategic establishment was how well disposed he would be for India. But the latest Tajikistan twist to the India-Pakistan Afghanistan triangle tale has left none in doubt about his administration's intentions for India.
The idea is this: it is all about connectivity. Ghani's India visit too was deeply focused on connectivity, just as the India-Pakistan-Afghanistan triangle is all about connectivity.
What Pakistan needs to understand is that it cannot aspire for northern connectivity and hope to get Afghanistan's help in getting access to Tajikistan without making important concessions on its southern connectivity and allowing India access to Afghanistan.
India has been urging Pakistan to allow transit rights for transporting Indian goods to Afghanistan but Pakistan has consistently blocked Indian efforts as it just cannot tolerate the very thought of India and Afghanistan coming together.
Prime Minister Modi himself dropped a hint of connectivity being the top most theme in his talks with President Ghani when he remarked thus in his media statement with Ghani by his side: "We are ready to welcome Afghan trucks at the ICP (Indian check post) Attari."
Now consider PM Modi's expanded remark to get a clearer picture: "President Ghani shared his impressive vision for Afghanistan's prosperity, based on its talent, resources and location. We believe that Afghanistan's direct surface link to India and the rest of South Asia, and increased connectivity to sea, could turn Afghanistan into a hub that connects Asia's diverse regions and beyond.

"We are ready to welcome Afghan trucks at the ICP Attari. We are also prepared to join the successor agreement to Afghan Pakistan Trade and Transit Agreement. This will re-establish one of the oldest trading routes of South Asia. I also reaffirmed my commitment to take the Chahbahar Port project in Iran forward. We will also quickly conclude a bilateral Motor Vehicles Agreement," he said.
"We will expand our development partnership, which includes infrastructure, agriculture, connectivity, human resource development, community projects and humanitarian assistance. We will explore new trade and investment opportunities."
Pakistan is dead serious about reaching out to Tajikistan which it cannot do without the help of Afghanistan. Pakistan, Afghanistan and Tajikistan have almost finalised draft of a landmark trilateral transit agreement among the three countries, hitherto known by different names. Afghanistan is calling it APTTTA or Afghanistan-Pakistan-Tajikistan Trilateral Transit Trade Agreement while Pakistan called it APTTTTA when it sent in January this year its final draft proposal to Afghan and Tajik governments and sought their views.
It remains to be seen if Pakistan will be ready to give southern connectivity to gain northern connectivity. The "Take Tajikistan but give Afghanistan" has changed the narrative in the South Asian context. But it is definitely a giant leap forward in India-Afghanistan bilateral relations.
Find latest and upcoming tech gadgets online on Tech2 Gadgets. Get technology news, gadgets reviews & ratings. Popular gadgets including laptop, tablet and mobile specifications, features, prices, comparison.
World
Traditionally, presidents have tried to avoid making statements that might prove embarrassing later on. They choose their words carefully and proceed 'out of an abundance of caution', per the tagline of the moment in Washington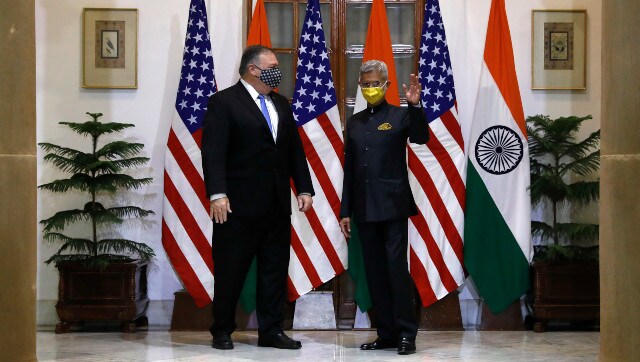 India
The focus on convergences and its institutionalisation through dedicated frameworks alleviates the pressures on the two sides to urgently contemplate formalisation of ties.
World
At last count, Donald Trump trailed Joe Biden 43 percent to 51 percent in national polls and was behind in every single battleground state apart from Ohio and Texas