Taiwan seeks closer trade ties with India as 'çross-strait' business with China declines
The Taiwanese government has a host of issues against China, historical and contemporary but it is keeping its nerves, building right social, economic environment, diplomatically reaching out to various other nations but all that is very controlled.
Taipei: Outside of the biggest commercial landmark in Taiwan, Taipei 101, on over 500-metre tall building which had earlier been tallest tower in the world, a group of men and women were meditating. That presented a very curious sight. More so because it was raining and the place was abuzz with all kinds of noises. But these men and women, covered with light raincoats sat almost like statues, few of their fellow men holding a placard or two written in Chinese.
They belonged to Falun Gong, a Buddhist sect. Nothing abnormal about a Buddhist in meditation but what was noteworthy, they were not meditating for their personal peace but that is their mode of protest against China's Communist regime. Silent, controlled and non-violent, just conveying their message to right quarters in China and elsewhere. Over a decade-and-half ago they were declared "evil cult", severely persecuted in China and majority of them fled to Taiwan. In fact, in many ways, what Falun Gong is doing and their ingenious methods of protest is similar to the kind of situation the present Taiwan government and majority of its people have against China.
The Taiwanese government has a host of issues against China, historical and contemporary but it is keeping its nerves, building right social, economic environment, diplomatically reaching out to various other nations but all that is very controlled. Though Taiwanese establishment, particularly the new government's position is known but nowhere it's aggressive and possibly couldn't be. A prosperous island nation with about 23 million population and devoid of any natural resources, an average 7.7 growth for several years and contained inflation restricted around 1.5 percent and with thriving world-class commercial cities like Taipei and Taichung, superb infrastructure can't risk to openly confront Big Daddy like China. Besides that, their modern day founder ruler believed and advocated in One China policy. Its tallest leader Chiang Kai-Shek believed in One China policy (Taiwan is real China and one day would overthrow the Communist regime and integrate) and the Constitution too was shaped liked that.
But that one China is giving it diminishing returns – the name of the country as provided in Constitution calls it the Republic of China and so many big industries including the airlines are named after China. It confuses most around the world. Taiwanese generally have a hard time in explaining that the Republic of China is Taiwan and China is People's Republic of China. Here in Taiwan reference to China is made by "mainland China" or a nuanced "cross-strait". The tension is simmering and latent. Younger generations take pride in being Taiwanese and want the country to be known as Taiwan, want to reduce dependence and enhanced connect with rest of the world, both economically and socially.
Consider what new Taiwan President Tsai Ing-wen had to say on 105th National Day, 10 October. Tsai, the first woman president, has been in office for only four months and had won on a strong anti-China dominance advocacy.
"I want to stress that maintaining the status quo has a more proactive meaning: With deepening democracy as foundation, we will take proactive and forward-looking measures to promote constructive exchanges and dialogue across the strait, in order to build a peaceful and stable cross-strait relationship that endures," she said.
The Taiwanese President said, "I call upon the authorities of mainland China to face up to the reality that the Republic of China exists, and that the people of Taiwan have an unshakable faith in the democratic system. The two sides of the strait should sit down and talk as soon as possible. Anything can be included for discussion, as long as it is conducive to the development of cross-strait peace and the welfare of people on both sides. Leaders on both sides should jointly display wisdom and flexibility, and together bring a divided present toward a win-win future."
For last five months since the time Tsai has assumed President's office Beijing had become tougher with Taipei. The problem is Taiwan's 75 percent off-shore investment of Taiwanese companies is China (Macroecoomic Forecasting Center suggested that official figures are 60 percent but actual is 75 percent as some are routed through other tax haven countries) and 40 percent of all its export go to "mainland" China. With latter becoming tougher, even "coercive" the overdependence is causing too many problems. "Cross-strait" trade is declining, host of ministers and officials in Taipei would say that China is stopping its tourists from visiting Taiwan. That too has hit the economy, particularly the unorganised sector.
This poses a huge question mark on capacity of President Tsai who had a remarkable run to presidency – youngest in a family of 11 children, studied law in Taiwan and abroad, a doctorate from London School of Economics, then coming back to the country to teach law, holding various positions in government, joining politics only in 2004, losing her first election and then becoming President. She has a huge burden of expectation and it is mainly economic. She has to deliver on economic front – liberate from dependence on China and yet thrive. The fear is if China starts adversely impacting fortunes of Taiwanese companies and investment there, Taiwan could face disaster.
The new Tsai government has thus floated South-bound policy whereby it would explore and enhance trade and investment possibilities in Asean, South East and South Asian countries. Vice Minister, Ministry of Foreign Affairs, David Lee told Firstpost: "Taiwan's dependence on China is becoming a problem, cross-strait trade is declining and what was needed to was risk management. India has high economic growth and is a huge market. Our new government is for boosting relations with India and South East Asia. It is very important for us to diversify our interest and India is on priority for market, for investment, for people to people contact and areas of skill development." Another official said, "India has software we have the hardware."
Yet another set of people here are looking for taking small and medium industries to India, where the labour is still cheap and play its bit in Prime Minister Narendra Modi's Make in India project. A Taiwanese foreign ministry official who is closely involved in relations with India said since India has its own share of issues with China it was the time that India and Taiwan had enhanced cooperation on economic issues.
Taiwan still does not have full diplomatic relations with India and with several other countries, all important nations – blame it on the One China policy.
Jonathan Manthorpe who has written a book Forbidden Nation: A History of Taiwan and worked extensively in his region as a Canadian journalist said: "Taiwan is not a normal country. It sits at the heart of one of the most dangerous security fault lines in the world. It is under constant pressure from China, which claims to own the island and which regularly renews threats to take the country by force if Taiwan does not agree to abandon its sovereignty and submit to political union. If rhetoric turns to pushing and shoving, the United States, Japan and probably other Asian allies will quickly become involved…. Over the years, Beijing has blackmailed all but a handful of countries into cutting formal diplomatic ties with Taiwan in return for trade with China. Canada was one of the first countries to bow to this banditry. But the vast majority of Taiwanese — 86.7 per cent in the latest reliable poll — remain determined to keep their independence."
A senior foreign ministry official said Taiwan is actively trying to engage with top Indian officials in New Delhi and hope that it would yield its dividend. Some of the concerns of both these countries are mutual.
World
China has bristled at the moves, and the growing tensions between Beijing and Washington prompted UN Secretary-General Antonio Guterres to implore Joe Biden and Xi Jinping to repair their "completely dysfunctional" relationship.
World
The Taiwanese military exercise envisioned a Chinese attack taking out the island's main airfields, necessitating the use of rural roads as runways to carry on the fight.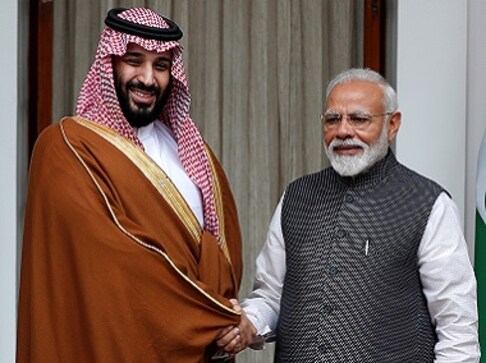 World
India's ties with Saudi Arabia, one of the world's leading oil producers and host to nearly three million Indians, have generally been on an upswing