Taiwan may become first Asian country to legalise gay marriage, as landmark court decision looms
Taiwan could become the first place in Asia to legalise gay marriage on Wednesday, when a court makes a landmark ruling on whether to allow same-sex unions
Taipei: Taiwan could become the first place in Asia to legalise gay marriage on Wednesday, when a court makes a landmark ruling on whether to allow same-sex unions.
Activists are optimistic the decision will go in their favour, with growing momentum behind the push for equal marriage rights on the island.
But there is also anger among conservative groups who have staged mass rallies against a change in the law as the debate divides society.
Campaigners for and against gay marriage are expected to gather in central Taipei on Wednesday afternoon. The decision itself will be posted online by the judiciary at 4:00 pm.
A panel of 14 grand justices will make the ruling in a case that centres on whether Taiwan's current law is unconstitutional.
Taiwan's pioneering gay rights campaigner, Chi Chia-wei, is one of the petitioners who has brought the case to the constitutional court. After 30 years of activism, Chi, 59, told AFP he is "100 percent confident" the ruling will go in his favour.
He urged the judges to allow gay couples to register to marry the next day if they approve a change in the law, rather than giving the government a longer timeframe to implement the decision.
But most activists and legal experts expect there will be a delay between the decision and its enactment by Parliament, which is responsible for changing the law.
At the heart of the case is a clause in Taiwan's Civil Code that an agreement to marry should be made between a man and a woman. Chi wants the court to interpret whether that contravenes elements in Taiwan's Constitution which guarantee equality and freedom of marriage.
The decision is binding, so a ruling in his favour would pave the way for same-sex unions to be legalised.
The other party bringing the case is the Taipei city government, which has been rejecting marriage applications by same-sex couples and is seeking clarification of the law. A majority of at least 10 judges need to agree on the ruling.
For the first time ever, the judiciary will release the decision simultaneously in Chinese and English, an indication of the level of international interest.
The ruling is likely to reverberate around the region, with calls for marriage equality rising in a number of countries, including South Korea and Japan.
Lawyer Huang Di-ying said the court's decision would be "historic". "It will be a barometer of human rights protection in the region, as Asia follows the US and Europe's steps to recognise same-sex marriages," he told AFP.
Taiwan is seen as one of the most progressive societies in Asia when it comes to gay rights, and momentum has been gathering since President Tsai Ing-wen — who has openly supported marriage equality — came to power last May.
The legislature has also made more progress than ever, with proposals to amend the Civil Code, passing the first reading in December.
However, as well as huge pro-gay marriage rallies, hundreds of thousands have gathered to demonstrate against legalising same-sex unions.
Conservative and religious groups in Taiwan say that it would destroy family values. "Family conflicts will increase and the whole definition of marriage will be changed," said Andrew Chang, a spokesman for an anti-gay marriage group Alliance of Religious Groups for the Love of Families Taiwan.
"Ancestral lineage and family structure will all be disrupted," he added, saying he believed having sex with someone of the same gender was "unnatural and harmful".
Find latest and upcoming tech gadgets online on Tech2 Gadgets. Get technology news, gadgets reviews & ratings. Popular gadgets including laptop, tablet and mobile specifications, features, prices, comparison.
World
In Luxembourg, an official told AFP on condition of anonymity that one leg of Mike Pompeo's trip was canceled after foreign minister Jean Asselborn called Trump a "criminal" in comments to RTL radio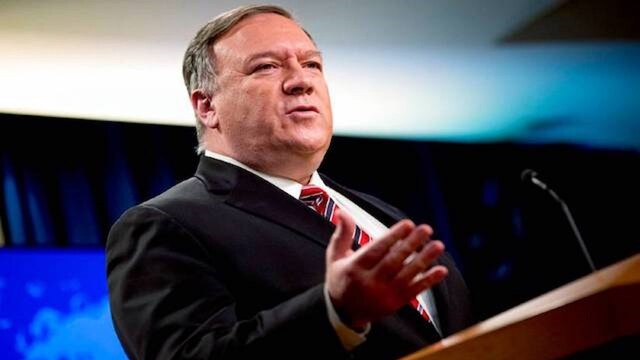 World
This decision, coming in the final weeks of the Donald Trump administration, is certain to anger China. Beijing has been stepping up its threats to bring the self-governing island under its control by military force