Syrian 'White Helmets' flee to Jordan with Israeli, Western help: officials
By Dan Williams and Suleiman Al-Khalidi JERUSALEM/AMMAN (Reuters) - Hundreds of members of Syria's 'White Helmet' civil defence group and their families fled advancing government forces and slipped over the border into Jordan overnight with the help of Israeli soldiers and Western powers, officials said. Israeli Prime Minister Benjamin Netanyahu said in a brief video statement that he had acted on the request of U.S. President Donald Trump and other leaders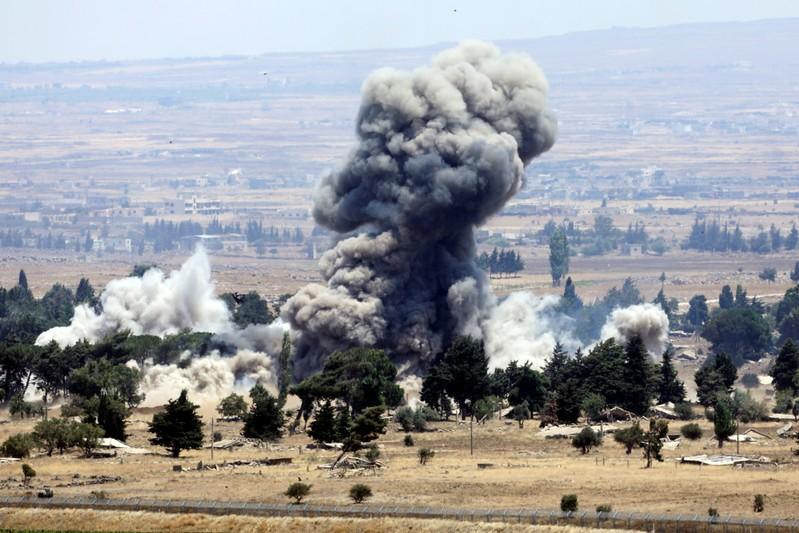 By Dan Williams and Suleiman Al-Khalidi
JERUSALEM/AMMAN (Reuters) - Hundreds of members of Syria's "White Helmet" civil defence group and their families fled advancing government forces and slipped over the border into Jordan overnight with the help of Israeli soldiers and Western powers, officials said.
Israeli Prime Minister Benjamin Netanyahu said in a brief video statement that he had acted on the request of U.S. President Donald Trump and other leaders.
"A few days ago, President Trump spoke to me, as did Canadian Prime Minister (Justin) Trudeau and others, asking that we help to extract the White Helmets from Syria. The lives of these people, who have saved lives, were now in danger. I therefore authorised their transfer via Israel to other countries as an important humanitarian gesture," Netanyahu said.
The Syrian Civil Defense group has been widely hailed in the West and credited with saving thousands of lives by operating emergency rescue services in rebel-held areas during years of bombing attacks by Damascus and its allies.
The group says it is politically neutral but Syrian President Bashar al-Assad and his backers have said they see the White Helmets as Western-sponsored propaganda tools and proxies of Islamist-led insurgents.
Russia welcomed the White Helmets' departure, alleging they were behind chemical weapons attacks of which Assad has been accused by Western powers and which the Syrian leader has denied.
"Definetely (sic) there will be less chances of new so-called (chemical weapons) attacks in Syria after forced evacuation by the collective West of the notorious White Helmets," Russia's embassy in the Netherlands said on Twitter.
A Jordanian government source said 422 people were brought from Syria, over the Israeli-occupied Golan Heights frontier and into Jordan, down from a figure of 800 announced earlier by the foreign ministry in Amman.
The evacuees will be kept in a "closed" location in Jordan and resettled in Britain, Germany and Canada within three months, the source added.
A second, non-Jordanian source familiar with the agreement said the original plan had been to evacuate 800 people, but only 422 made it out as operations were hampered by government checkpoints and the expansion of Islamic State in the area.
"FANTASTIC NEWS"
Britain hailed the evacuation, saying it and other allies had requested it.
"Fantastic news that we - UK and friends - have secured evacuation of White Helmets and their families - thank you Israel and Jordan for acting so quickly on our request," tweeted British Foreign Secretary Jeremy Hunt.
German weekly magazine Bild, which broke news of the evacuation and published footage of buses used to transport the Syrians across Golan, said 50 of them would be granted asylum by Berlin.
"Humanity dictates that many of these brave first-aiders should now find protection and refuge, some of them in Germany," it quoted German Foreign Minister Heiko Maas as saying.
A spokeswoman for the German interior ministry said Berlin would take in eight White Helmets plus their families. It was not immediately clear whether that amounted to the same 50 people.
A Canadian Foreign Ministry statement on Saturday said the White Helmets "have witnessed vicious atrocities committed by the Assad regime and its backers". It added: "We feel a deep moral responsibility to these brave and selfless people."
(Additional reporting by Jeffrey Heller in Jerusalem, Dominic Evans in Istanbul and Michelle Martin and Holger Hansen in Berlin; Editing by Andrew Heavens and Dale Hudson)
This story has not been edited by Firstpost staff and is generated by auto-feed.
Find latest and upcoming tech gadgets online on Tech2 Gadgets. Get technology news, gadgets reviews & ratings. Popular gadgets including laptop, tablet and mobile specifications, features, prices, comparison.
Business
By Jessica Resnick-Ault NEW YORK (Reuters) - Oil prices strengthened on Wednesday, as OPEC and its allies were seen complying with a pact to cut oil supply in September, even as concerns loomed that recovery in fuel demand will be stalled by soaring global coronavirus cases. Early in the day crude was boosted by a bullish stock market. Even as equities whipsawed on pandemic worries, oil stayed higher, buoyed by expectations that OPEC could staunch a supply glut
Business
By Tina Bellon and C Nivedita (Reuters) - Tesla Inc will further cut the price of its Model S "Long Range" sedan in the United States to $69,420, the electric carmaker's chief executive, Elon Musk, announced in a tweet https://bit.ly/2H0JCP0 on Wednesday. The anticipated drop marks the second time this week Tesla has cut the price for the high-end sedan, following a 4% cut of the Model S's price in the United States on Tuesday to $71,990.
World
By Jeff Mason DES MOINES, Iowa (Reuters) - Under siege over his handling of the novel coronavirus pandemic, President Donald Trump on Wednesday cited what he said was his son's mild bout of the virus as a reason why American schools should reopen as soon as possible. Trump made the comment about his son, Barron, as the president swept into Iowa on a mission to shore up support in battleground states that he won in 2016 but is in danger of losing to Democrat Joe Biden barely three weeks before the election. First lady Melania Trump announced in a statement earlier in the day that the virus that struck both her and her husband had also infected their 14-year-old son