Syrian rebels and Iran reach deal to evacuate villages - sources
By Suleiman Al-Khalidi AMMAN (Reuters) - Syrian rebels and Iranian-backed negotiators have reached a deal to evacuate thousands of people from two rebel-besieged Shi'ite villages in northwest Syria in return for the release of hundreds of detainees in state prisons, opposition sources said. They said the negotiators from Hayat Tahrir al-Sham, a rebel coalition spearheaded by Syria's former al Qaeda offshoot Nusra Front, and Iran's Revolutionary Guards had reached the secret deal, under which all residents would be evacuated from the mostly Shi'ite villages of al-Foua and Kefraya in Idlib province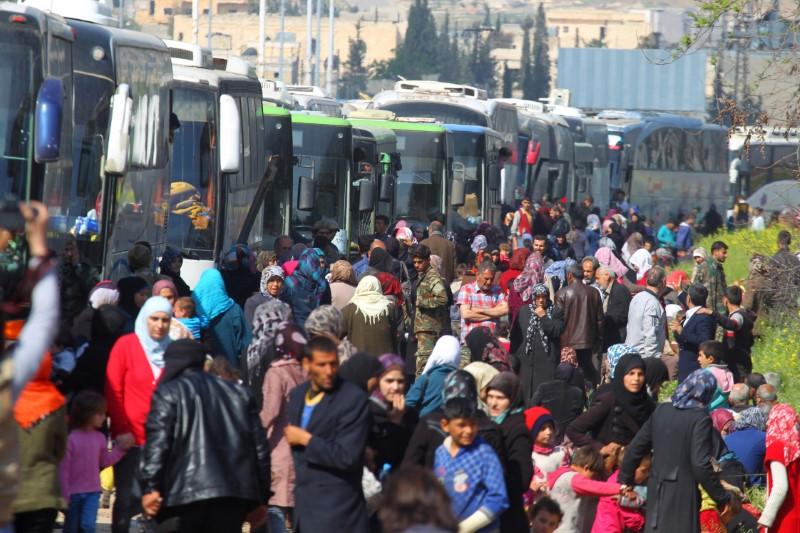 By Suleiman Al-Khalidi
AMMAN (Reuters) - Syrian rebels and Iranian-backed negotiators have reached a deal to evacuate thousands of people from two rebel-besieged Shi'ite villages in northwest Syria in return for the release of hundreds of detainees in state prisons, opposition sources said.
They said the negotiators from Hayat Tahrir al-Sham, a rebel coalition spearheaded by Syria's former al Qaeda offshoot Nusra Front, and Iran's Revolutionary Guards had reached the secret deal, under which all residents would be evacuated from the mostly Shi'ite villages of al-Foua and Kefraya in Idlib province.
"An initial agreement has been reached but talks are ongoing," said an Islamist rebel source familiar with the secret negotiations that Turkey was also involved in and which builds on a deal reached last year that was never fully implemented.
In April 2017 thousands of people in the two Shi'ite towns were evacuated to government-held areas in a swap deal that in exchange freed hundreds of Sunnis living in former rebel-held Madaya and Zabadani that were then besieged by Lebanon's Iranian-backed Hezbollah group.
But the evacuation of the remaining 7,000 people in al-Foua and Kefraya in exchange for the release of 1,500 detainees prisoners never went through.
The resumption of talks now to complete the deal was to ward off a possible military campaign by the Syrian army and Iranian backed militias to end the siege of the two Shi'ite towns, another opposition source said.
"Over 1,500 civilian and rebel prisoners held in regime prisons will be released," said an opposition source familiar with the talks told Reuters.
The deal also includes release of thirty four prisoners captured by Hezbollah during its siege of the Madaya and Zabadani.
There was no official word on the deal but state-owned Ikhabriyah television station said there were "reports of an agreement to liberate thousands from the two towns".
Iran, which backs President Bashar al Assad against the mainly Sunni insurgents and has expanded its military role in the country, has long taken a interest in the fate of its co-religionists in the two-besieged towns.
It has arranged dozens of air lifts of food and equipment to circumvent the siege by rebels of the two towns.
Past deals have mostly affected Sunni Muslims living in former rebel-held areas surrounded by government forces and their allies after years of crushing sieges that have in some cases led to starvation. Damascus calls them reconciliation deals.
Rebels say it amounts to forced displacement of Assad's opponents from Syria's main urban centres in the west of the country, and engenders demographic change because most of the opposition, and Syria's population, are Sunni.
But backed militarily by Russia and Shi'ite regional allies, Assad, a member of Syria's Alawite minority, has negotiated the deals from a position of strength.
(Reporting by Suleiman Al-Khalidi; Editing by Richard Balmforth)
This story has not been edited by Firstpost staff and is generated by auto-feed.
Find latest and upcoming tech gadgets online on Tech2 Gadgets. Get technology news, gadgets reviews & ratings. Popular gadgets including laptop, tablet and mobile specifications, features, prices, comparison.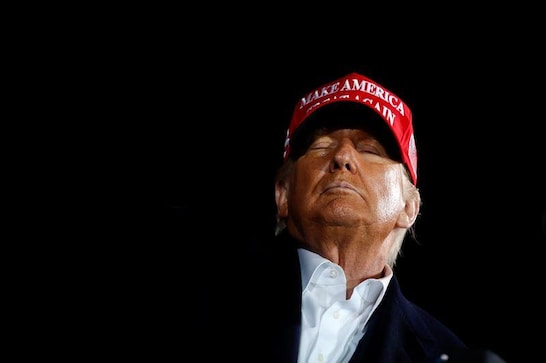 World
(Reuters) - U.S. President Donald Trump's Twitter election campaign account was unblocked on Thursday after the social media campaign temporarily restricted it saying a video from the account about Democratic presidential candidate Joe Biden's son violated its rules
World
By Trevor Hunnicutt and Joseph Ax (Reuters) - U.S. President Donald Trump and Democratic challenger Joe Biden will hold dueling prime-time town halls on Thursday instead of a second debate, which was to have been held virtually, as early voters continued to swamp polling places. Trump pulled out of the scheduled debate when the commission in charge of organizing the event said it would be held virtually after he contracted the coronavirus
News & Analysis
By Elizabeth Culliford (Reuters) - YouTube, the video service of Alphabet Inc, said on Thursday it was banning content that targets an individual or a group using conspiracy theories such as QAnon or Pizzagate that have "been used to justify real-world violence." The company said in a blog post that it would begin enforcing these expanded hate and harassment policies immediately and would "ramp up" in the weeks to come.