Syrian rebel warns of 'volcanoes of fire' if Assad attacks south
By Tom Perry BEIRUT (Reuters) - Syrian government forces and their Iran-backed allies will face 'volcanoes of fire' if they launch a threatened offensive in the opposition-held southwest, a rebel commander told Reuters on Tuesday. Syria's southwest has come into focus since President Bashar al-Assad and his allies crushed the last remaining rebel pockets near Damascus and Homs
By Tom Perry
BEIRUT (Reuters) - Syrian government forces and their Iran-backed allies will face "volcanoes of fire" if they launch a threatened offensive in the opposition-held southwest, a rebel commander told Reuters on Tuesday.
Syria's southwest has come into focus since President Bashar al-Assad and his allies crushed the last remaining rebel pockets near Damascus and Homs.
Assad has vowed to recover opposition-held areas near the frontiers with Jordan and the Israeli-occupied Golan Heights, and government and allied forces are mobilising. A major flareup there risks escalating the seven-year-long war that has killed an estimated half a million people.
Violence flared in several parts of the southwest on Tuesday, with government warplanes launching air strikes near a rebel-held village. But there was no sign yet of the start of the big offensive threatened by the government, the Syrian Observatory for Human Rights war monitor said.
The United States last week warned it would take "firm and appropriate measures" in response to Syrian government violations of a "de-escalation" agreement that it underwrote with Russia last year to contain the conflict in the southwest.
"Everyone is on guard. We are still committed to the de-escalation agreement but if the regime launches any attack on any sector of the south, it will be faced by volcanoes of fire," Nassim Abu Arra, commander of one of the main Free Syrian Army groups in southern Syria, the Youth of Sunna Forces, said.
Rebels attacked a military convoy bringing reinforcements to the area overnight in the Khirbat Ghazala area, igniting clashes between midnight and 2 a.m., he said.
The air strikes near al-Masika village were a response to a separate rebel attack that destroyed a tank, he added.
Syria's state-run Ikhbariya television said a child was killed in an insurgent missile attack in the same area. State news agency SANA said rebel shells had also fallen on Deraa city, killing one girl overnight, and on Sweida city, causing material damage.
Families fled the rebel-held town of Busra al-Harir, fearing it could be targeted, activists said.
"NO SURRENDER"
The conflict in the southwest has been complicated by the role of Iran-backed forces and Israeli demands for them to kept away from the occupied Golan Heights and, more widely, to be removed from Syria entirely.
Assad said earlier this month the government, at Russia's suggestion, was seeking to strike a deal in the southwest similar to agreements that have restored his control of other areas through withdrawals of rebel forces.
But he also said there had been no results yet and blamed "Israeli and American interference". He said the territory would be recovered by force if necessary.
Abu Arra said the reinforcements arriving in the southwest aimed to put pressure on rebels to succumb to government demands such as accepting "reconcilation" deals, or to surrender strategic positions including the Nassib crossing with Jordan.
"But we have made up our minds. There will be no retreat from the principles of the revolution or surrender of a single inch of the Syrian south," he said.
(Additional reporting by Lisa Barrington; Writing by Tom Perry, Editing by Andrew Heavens, William Maclean and Peter Graff)
This story has not been edited by Firstpost staff and is generated by auto-feed.
Find latest and upcoming tech gadgets online on Tech2 Gadgets. Get technology news, gadgets reviews & ratings. Popular gadgets including laptop, tablet and mobile specifications, features, prices, comparison.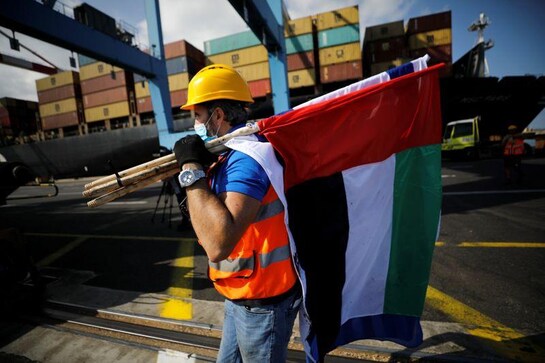 Business
By Rami Amichay HAIFA, Israel (Reuters) - The ship-to-shore crane paused above the cargo ship just arrived from Dubai, then set its load down on the pier in Israel.
Business
By Noor Zainab Hussain, Carolyn Cohn and Ludwig Burger LONDON/FRANKFURT (Reuters) - The world is racing towards a vaccine in record time, stirring public concerns about safety to the extent that nine leading developers have felt compelled to issue a pledge to uphold scientific standards and testing rigour. Yet, while more than 40 experimental COVID-19 vaccines are being tested on humans, the insurance companies with decades of experience in assessing the risks of clinical trials don't see anything to be unduly concerned about.
Business
By Huw Jones LONDON (Reuters) - The European Union's securities watchdog said it expects to make a statement soon on where shares listed in the bloc must be traded after Britain's full departure from the European Union in December.