Syrian flag raised in Quneitra on Syrian side of Golan Heights
GOLAN HEIGHTS/AMMAN (Reuters) - Pro-Assad forces raised the Syrian flag in the largely ruined city of Quneitra on Thursday, regained from surrendering rebels as the government tightens its hold on the Syrian sector of the Golan Heights, strategic territory bordering Israel and Jordan. A Reuters photographer saw uniformed men raise the Syrian national flag and the black, white, green and red flag of President Bashar al-Assad's Baath Party in the long-abandoned city. No weapons were immediately visible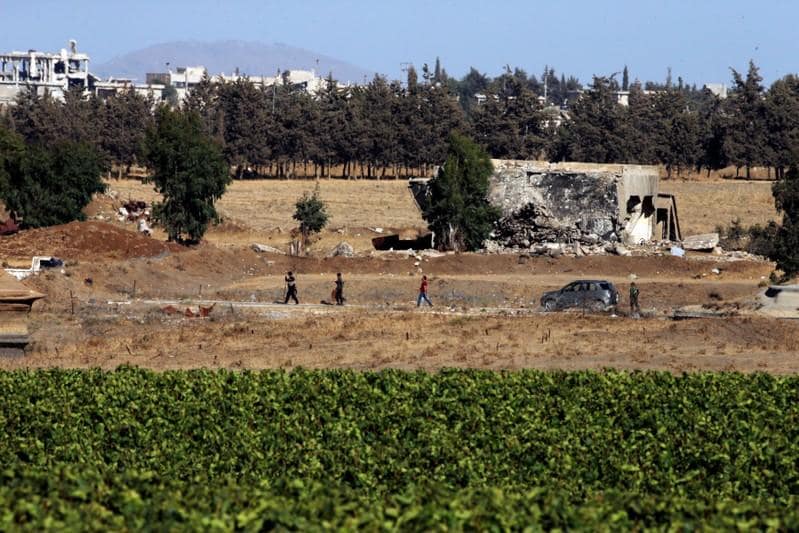 GOLAN HEIGHTS/AMMAN (Reuters) - Pro-Assad forces raised the Syrian flag in the largely ruined city of Quneitra on Thursday, regained from surrendering rebels as the government tightens its hold on the Syrian sector of the Golan Heights, strategic territory bordering Israel and Jordan.
A Reuters photographer saw uniformed men raise the Syrian national flag and the black, white, green and red flag of President Bashar al-Assad's Baath Party in the long-abandoned city. No weapons were immediately visible.
The photographer was reporting from a vantage point on the Israeli-occupied western section of the Golan Heights that overlooks Quneitra town.
Forces supporting Assad, backed by a major Russian air campaign, have been pushing into Quneitra province after an offensive last month that routed rebels in adjoining Deraa province who were once backed by Washington, Jordan and Gulf states.
Pro-Assad forces began pushing last week towards the border area close to the demilitarised zone adjoining the Israeli-occupied area after rebels surrendered large parts of Quneitra province.
Under the terms of a 1974 U.N. armistice that demilitarised much of the Golan, Israel withdrew from the abandoned capital of Quneitra province which it had razed to the ground after capturing it in the 1967 Arab-Israeli war. The destroyed town had fallen into rebel hands in 2014.
Pro-Assad forces have raised the flag on several other towns along the frontier, including Rafid that overlooks a U.N. observation post.
A Russian-brokered deal allows the return of Syrian army brigades that existed before the conflict began in 2011 to where they were stationed near the demilitarised zone.
So far there have been no signs of significant deployment of Syrian army troops to former posts near the frontier, according to a regional intelligence source.
Israel says it is concerned that Assad may defy the U.N. armistice, or let his Iranian and Lebanese Hezbollah reinforcements deploy there.
There is a strong presence in parts of Quneitra of Iranian-backed militias, the intelligence source said, adding that they have taken a low profile to avoid antagonising Russia which had given pledges to Israel to curb their influence,
The Israeli government has signalled it would not impede the Syrian army presence in Quneitra as long as it kept away from the demilitarised zone. However, Israel said it will continue to escalate attacks along its frontier and elsewhere in Syria where it suspects Iranian-backed forces are stationed.
Mainstream rebels are completing a handover of weapons and in some instances negotiating with Russian officers about enlisting in army units that serve as local forces, opposition source say.
Several hundred mainly jihadist rebels from a former al Qaeda offshoot have rejected the deals and accepted safe passage to opposition held parts of northern Syria.
Rebels say army and pro-government militias have been spreading checkpoints in former rebel held-towns in Quneitra province that have accepted return of state rule
The army is still battling a local Islamic State affiliate around the Yarmouk Basin nearby where the army said on Thursday its ground forces had made significant progress after nearly 10 days of relentless Russian-led aerial bombing.
(Reporting by Ammar Awad; Writing by Maayan Lubell and Suleiman al Khalidi; Editing by Stephen Farrell, Kevin Liffey and David Stamp)
This story has not been edited by Firstpost staff and is generated by auto-feed.
Find latest and upcoming tech gadgets online on Tech2 Gadgets. Get technology news, gadgets reviews & ratings. Popular gadgets including laptop, tablet and mobile specifications, features, prices, comparison.
World
By Paul Carrel BERLIN (Reuters) - European Union sanctions against 40 officials in Belarus are "a small victory" but should be widened, opposition leader Sviatlana Tsikhanouskaya said on Monday, adding she would press Germany's Angela Merkel to do more at a meeting on Tuesday. Tsikhanouskaya fled her homeland for Lithuania amid a police crackdown in Belarus following an Aug. 9 presidential election, which official results said incumbent Alexander Lukashenko won, but which Tsikhanouskaya's supporters say was rigged
World
WASHINGTON (Reuters) - White House Press Secretary Kayleigh McEnany said on Monday she tested positive for COVID-19, while several U.S. media outlets reported that a number of other White House staff members also were confirmed to have been infected with the novel coronavirus
World
WASHINGTON (Reuters) - U.S.