Syrian army pounds southern city of Nawa, reports of casualties: residents
AMMAN (Reuters) - The Syrian army late on Tuesday launched intensive aerial strikes on the city of Nawa in southern Deraa province with reports of dozens of civilian casualties as the army pressed a Russian-backed offensive in the area. A resident said that dozens of missiles were also fired on the heavily populated city that lies northwest of Deraa province near Quneitra province adjoining the Israeli-occupied Syrian Golan Heights where the army moved earlier this week to control the remaining parts of the country's southwest in rebel hands. 'It's like doomsday,' said Malek al Ghawi in a text message sent to Reuters adding there were 'many corpses in the streets and everyone is unable to pull them.' The city of Nawa, in which at least 100,000 people still live, is the largest urban centre left in rebel hands in Deraa province where a Russian-backed offensive begun last month defeated rebels across a swathe of territory near Jordan and Israel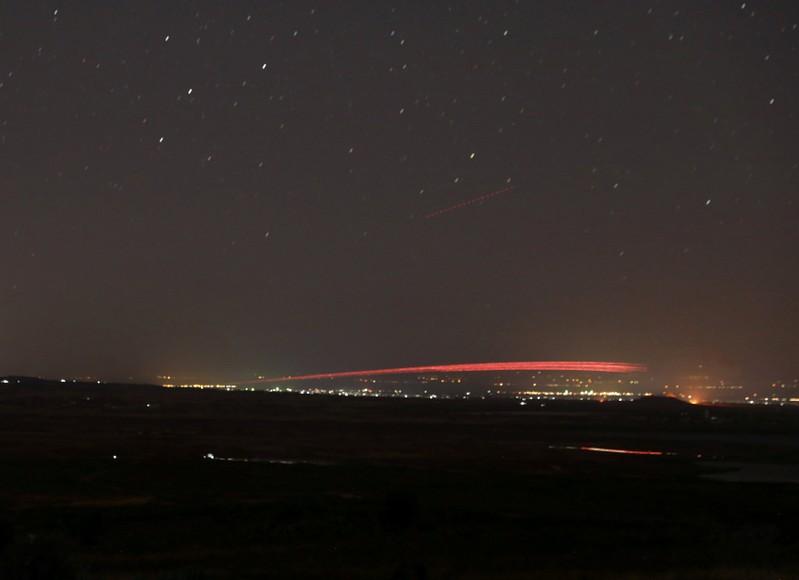 AMMAN (Reuters) - The Syrian army late on Tuesday launched intensive aerial strikes on the city of Nawa in southern Deraa province with reports of dozens of civilian casualties as the army pressed a Russian-backed offensive in the area.
A resident said that dozens of missiles were also fired on the heavily populated city that lies northwest of Deraa province near Quneitra province adjoining the Israeli-occupied Syrian Golan Heights where the army moved earlier this week to control the remaining parts of the country's southwest in rebel hands.
"It's like doomsday," said Malek al Ghawi in a text message sent to Reuters adding there were "many corpses in the streets and everyone is unable to pull them."
The city of Nawa, in which at least 100,000 people still live, is the largest urban centre left in rebel hands in Deraa province where a Russian-backed offensive begun last month defeated rebels across a swathe of territory near Jordan and Israel.
The artillery and aerial bombardment came only hours after thousands of displaced people who had taken shelter along the Israeli border returned to the city. They came back after reports that rebels had reached a surrender deal with the Russian military that would spare the city bombardment, another resident said.
The opposition accuses Russia and its allies of exacting a harsh punishment on civilians by heavily bombing rebel-held towns that have forced mass displacement of populated towns and caused widescale destruction.
They say the intensity of the bombardment has forced rebels in many towns to sign surrender deals that offer safe passage to those who want to move to other opposition areas after handing over their weapons while enlisting those who stay into the military.
(Reporting by Suleiman Al-Khalidi; Editing by Sandra Maler)
This story has not been edited by Firstpost staff and is generated by auto-feed.
Find latest and upcoming tech gadgets online on Tech2 Gadgets. Get technology news, gadgets reviews & ratings. Popular gadgets including laptop, tablet and mobile specifications, features, prices, comparison.
World
By Paul Carrel BERLIN (Reuters) - European Union sanctions against 40 officials in Belarus are "a small victory" but should be widened, opposition leader Sviatlana Tsikhanouskaya said on Monday, adding she would press Germany's Angela Merkel to do more at a meeting on Tuesday. Tsikhanouskaya fled her homeland for Lithuania amid a police crackdown in Belarus following an Aug. 9 presidential election, which official results said incumbent Alexander Lukashenko won, but which Tsikhanouskaya's supporters say was rigged
World
WASHINGTON (Reuters) - White House Press Secretary Kayleigh McEnany said on Monday she tested positive for COVID-19, while several U.S. media outlets reported that a number of other White House staff members also were confirmed to have been infected with the novel coronavirus
World
WASHINGTON (Reuters) - U.S.