Syria unrest: Over 11,000 people have left besieged eastern Ghouta near capital Damascus, says Russian military
Russia's military says more than 11,000 people have left Syria's besieged eastern Ghouta outside the capital Damascus in the past few hours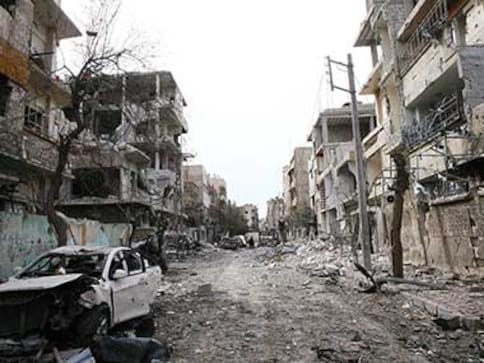 Moscow: Russia's military says more than 11,000 people have left Syria's besieged eastern Ghouta outside the capital Damascus in the past few hours as government forces step up an offensive on the rebel enclave.
Major General Vladimir Zolotukhin was quoted by Russian news agencies as saying that some 3,000 people have been leaving every hour today through a government-run humanitarian corridor monitored by the Russian military.
Zolotukhin is spokesman for the Russian centre for reconciliation of the warring parties in Syria.
Airstrikes in Syria killed more than 100 people yesterday as civilians fled en masse. Under cover of allied Russian air power, Syrian government forces have been on a crushing offencive for three weeks on eastern Ghouta.
The weeks-long violence has left more than 1,300 civilians dead and 5,000 wounded.
World
Along with the residents of the Ukrainian city of Mariupol, stories of grit, bravery and sheer courage have continued to emerge. Such is the story of Igor Pedin, a 61-year-old man, who walked 225 kilometres, accompanied by his nine-year-old dog
World
Ten buses pulled into Zaporizhzhia's deserted streets under darkness, carrying 174 evacuees from the Mariupol area, which included more than 30 of the 51 civilians evacuated from the Azovstal steel mill
World
It is possible that the US can topple Vladimir Putin, but it will be a Pyrrhic victory for itself and allies. The only victor will be China