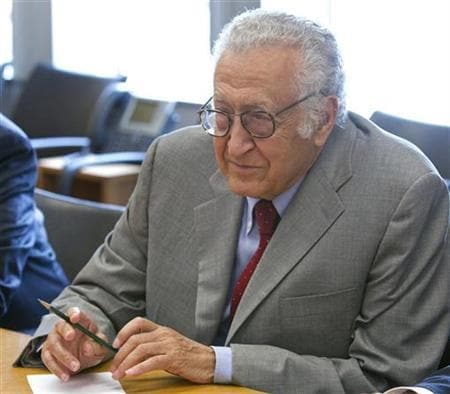 DUBLIN/MOSCOW (Reuters) - Russian Foreign Minister Sergei Lavrov and U.S. Secretary of State Hillary Clinton will meet international Syria mediator Lakhdar Brahimi in Dublin on Thursday to try to put a U.N. peace process for Syria back on track, diplomatic sources said.
The talks come ahead of a meeting of the Western-backed "Friends of Syria" group in Marrakech next week which is expected to boost support for rebels fighting to overthrow Syrian President Bashar al-Assad.
"They will speak about a plan (or) common understanding on how to move forward," one source said of Thursday's meeting, which will take place on the sidelines of an Organization for Security and Cooperation in Europe (OSCE) gathering.
In Moscow, a senior Russian lawmaker and ally of Vladimir Putin described Syria's government as being incapable of doing its job properly, in a sign Russia is trying to distance itself from Assad.
Clinton held a bilateral meeting with Lavrov ahead of the talks with Brahimi, which are set to take place at around 1700 GMT. A Western diplomatic source hinted that at least some change may be forthcoming from Russia.
"I don't really know what may come out of the meeting, but I'd expect something based on the Geneva agreement as I cannot imagine Russia now changing completely on Assad. So I am not expecting anything radically new, rather a new version of Geneva maybe," the source said.
The Geneva Declaration, which was agreed when Kofi Annan was international mediator, called for a transitional administration but did not specify what role, if any, Assad would have.
Rebels have made advances across Syria in recent weeks, despite punishing air raids, and have stepped up fighting outside Damascus, where fighting raged on Wednesday in an arc of suburbs on the capital's eastern outskirts.
Assad's family has ruled Syria for 42 years and the Syrian president has vowed to fight to the death in a conflict that has killed an estimated 38,000 people and risks sucking in other countries.
Opposition sources said on Wednesday rebels, riven by deep divisions and rivalries, were trying to restructure their leadership across Syria in an effort to secure foreign funding for their armed revolt.
Brahimi has called for world powers to issue a U.N. Security Council resolution based on a June deal they reached to set up a transitional government in a bid to end the bloodshed in Syria.
RUSSIAN, CHINESE OPPOSITION
The United States and its allies want Assad to step down but are at odds with China and Russia over what role he should have in the process and whether the U.N. Security Council should pass tough measures to punish non-compliance by the Assad government.
Annan's plan also called for Syrians to be allowed to demonstrate freely, the release of political prisoners and an immediate halt to violence. But it did not resolve the question of arms sales to Syria and a host of other issues.
As violence continued in Syria unabated, Western countries proposed a new resolution at the U.N. Security Council in July aimed at putting direct pressure on Assad by threatening more sanctions if his troops did not stop using heavy weapons and withdraw troops from towns and cities within 10 days.
However, Russia and China for the third time vetoed the resolution saying it represented a direct effort to interfere in Syria's internal affairs.
Annan stepped down in August, saying divisions in the Security Council made his plan unworkable.
The United States and its allies said the plan failed because of Assad's refusal to abide by its provisions and Russia and China's refusal to hold Assad accountable at the Security Council.
The United States said it would focus its efforts on rallying support outside the U.N. system for more help for Syria's opposition. (Additional reporting by David Brunnstrom in Dublin; Editing by Jon Boyle)
Updated Date: Dec 06, 2012 23:30 PM