Syria: Aleppo siege ends; fresh fighting erupts between rebels and security forces
Sporadic clashes hit the southern edges of Syria's Aleppo hours after rebels said they had broken a three-week government siege of the city.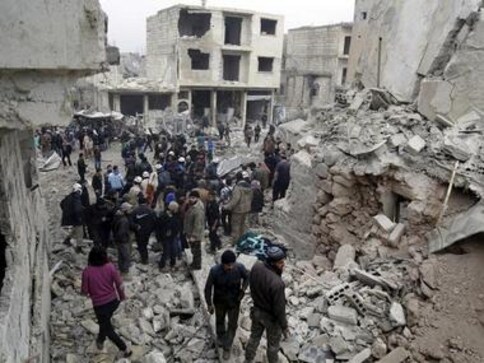 Beirut: Sporadic clashes hit the southern edges of Aleppo on Sunday morning, a monitoring group said, hours after rebels said they had broken a three-week government siege of the Syrian city.
An alliance of rebels, Islamists, and jihadists late on Saturday said they had opened a new route into Aleppo's eastern neighbourhoods, home to some 250,000 people.
But the road, which passes through southern edges of the city, remains too dangerous for civilians to use, the Syrian Observatory for Human Rights said.
"There are intermittent clashes and air strikes, but to a lesser degree," said Observatory head Rami Abdel Rahman.
"Not a single civilian has left the eastern districts because the road is too dangerous and not secured," he told AFP.
Yesterday, anti-regime groups overran a series of buildings in a military academy on the southwestern edges of Aleppo.
They then pushed northeast into the district of Ramussa, linking up with rebel groups that had fought south from inside the city.
Rebels posted footage of their fighters embracing and celebrating the end of the government encirclement of Aleppo, in place since 17 July.
An AFP journalist in the eastern districts said a single truck of vegetables entered the neighbourhoods late yesterday to be sold in the markets the following day.
Syrian state media, however, denied that the siege had been broken and said the fight was ongoing.
"The terrorist groups are suffering huge losses and were not able to break the encirclement of the eastern
neighbourhoods of Aleppo," state news agency SANA said late yesterday, quoting a military source.
"The Syrian army in coordination with allied forces are continuing their fight south of Aleppo," it said.
The agency said 10 civilians were killed yesterday in rebel shelling on two government-held districts.
The Britain-based Observatory said at least 130 civilians have been killed since the opposition alliance launched its offensive on southern Aleppo on 31 July.
The monitor said more than 700 fighters from both sides had been killed in the onslaught, most of them rebels because of the regime's "aerial superiority."
World
Missile strikes overnight in central Syria killed at least 26 pro-regime fighters, most of them Iranians, a monitor said Monday
World
Seventy-six people, including 28 children, were killed on Sunday when Syrian army helicopters dropped "barrel bombs" on the northern city of Aleppo, the Syrian Observatory for Human Rights said on Monday.
World
At least seven children were killed on Sunday by rebel rocket fire that hit a school in the government-held west of Aleppo city, state media said.