Syria: 29 civilians killed in heavy air strikes, shelling in rebel enclave of Eastern Ghouta
Heavy air strikes and shelling killed 29 civilians in the main town of Syria's rebel enclave of Eastern Ghouta outside Damascus today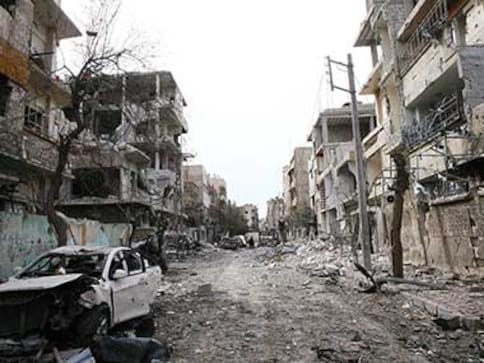 Beirut: Heavy air strikes and shelling killed 29 civilians in the main town of Syria's rebel enclave of Eastern Ghouta outside Damascus on Wednesday, a Britain-based monitor said.
The Syrian Observatory for Human Rights said the regime or its Russian ally carried out the air raids on the enclave's main town of Douma.
undefined
Find latest and upcoming tech gadgets online on Tech2 Gadgets. Get technology news, gadgets reviews & ratings. Popular gadgets including laptop, tablet and mobile specifications, features, prices, comparison.
World
An air strike on a school in Syria's Eastern Ghouta late on Monday killed 15 children and two women who were using its basement as a bomb shelter, a monitor said
World
The decision comes in the wake of a string of military gains around the capital Damascus and in the central province of Homs.
World
Syria's regime has seized control of over a quarter of rebel-held Eastern Ghouta on the edge of Damascus after two weeks of devastating bombardment, sending hundreds of civilians into flight