Synagogue massacre suspect ordered held without bond
By Chriss Swaney and Jessica Resnick-Ault PITTSBURGH (Reuters) - Shackled to a wheelchair, the man accused of shooting 11 worshippers to death at a Pittsburgh synagogue made a stony-faced and largely silent appearance on Monday in a federal courtroom, where he was ordered held without bond for the deadliest attack ever on America's Jewish community. Robert Bowers, 46, who was wounded in a gunfight with police at the Tree of Life synagogue on Saturday, acknowledged the 29 charges against him, which could lead to his execution if found guilty. Bowers, who has a history of posting anti-Semitic material online, will get a court-appointed attorney and was remanded to custody of U.S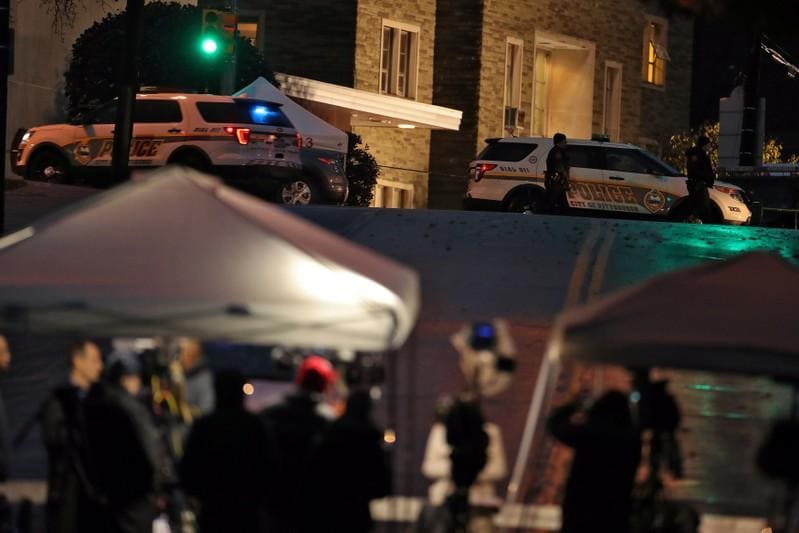 By Chriss Swaney and Jessica Resnick-Ault
PITTSBURGH (Reuters) - Shackled to a wheelchair, the man accused of shooting 11 worshippers to death at a Pittsburgh synagogue made a stony-faced and largely silent appearance on Monday in a federal courtroom, where he was ordered held without bond for the deadliest attack ever on America's Jewish community.
Robert Bowers, 46, who was wounded in a gunfight with police at the Tree of Life synagogue on Saturday, acknowledged the 29 charges against him, which could lead to his execution if found guilty.
Bowers, who has a history of posting anti-Semitic material online, will get a court-appointed attorney and was remanded to custody of U.S. marshals. His next hearing is set for Thursday.
"Robert Bowers murdered 11 people who were exercising their religious beliefs," U.S. Attorney Scott Brady said after the arraignment, adding that a grand jury would hear details of the crime within 30 days.
The synagogue massacre has heightened debate over the rhetoric U.S. President Donald Trump uses, with critics saying it has encouraged right-wing extremism. The Trump administration rejects the accusation but a group of Jewish leaders told Trump in an open letter that he was "not welcome in Pittsburgh until you fully denounce white nationalism."
Despite that, Trump and his wife, Melania, will travel to Pennsylvania on Tuesday to "express the support of the American people and grieve with the Pittsburgh community," White House press secretary Sarah Sanders said at a briefing.
That visit will take place just a week before the hotly contested Nov. 6 congressional elections, which will determine if Trump's Republicans maintain the majority in Congress.
Bowers' arraignment was marked by a heavy security presence that included police officers with dogs and a team of sharpshooters at the federal court in Pittsburgh.
Wearing a blue sweatshirt, gray sweatpants, sandals and white socks, with a crewcut and bald spot, Bowers remained expressionless throughout the short hearing.
The charges against him include violation of U.S. civil rights laws in what federal prosecutors say was a hate crime.
Bowers only spoke during the hearing to give his name, acknowledge that he understood the charges against him and to say that he lacked the funds to pay for an attorney. He spoke in a calm voice and signed the papers handed to him with a steady hand.
Only at the end of the hearing when he was wheeled out of the courtroom did Bowers appear unsettled, turning his head in apparent confusion.
There was a heavy security presence outside courthouse in Pittsburgh on Monday, with police officers with dogs and a team of sharpshooters outside in chilly, gray weather.
Bowers is accused of storming into the Tree of Life temple in Squirrel Hill, a neighbourhood that is the heart of Pittsburgh's close-knit Jewish community, yelling, "All Jews must die" as he opened fire on members of three congregations holding Sabbath prayer services there on Saturday morning.
According to a document filed at the U.S. District Court for the Western District of Pennsylvania by the Federal Bureau of Investigation, three handguns and an AR-15 rifle were recovered at the scene.
The complaint quoted Bowers as saying to one law enforcement officer, in substance, "They're committing genocide to my people."
"I just want to kill Jews."
In addition to the 11 mostly elderly worshippers who were killed, six people, including four police officers who confronted the gunman, were wounded before the suspect surrendered. Two of the surviving victims remained hospitalized in critical condition.
(Reporting by Jessica Resnick-Ault; Writing by Steve Gorman and Nick Zieminski; Editing by Daniel Wallis and Bill Trott)
This story has not been edited by Firstpost staff and is generated by auto-feed.
World
BAGHDAD (Reuters) - Rockets hit near U.S. forces and contractors in Iraq on Wednesday, including an air base north of Baghdad and a military base at Baghdad International Airport, the Iraqi army and security officials said. The army reported at least three rockets hit Balad air base, where U.S
World
By Silvia Ognibene and Silvia Aloisi FLORENCE, Italy (Reuters) -Italian police have arrested a Chinese couple accused of running a leather goods business which exploited immigrant workers it employed to make handbags for a Burberry supplier, according to an arrest warrant seen by Reuters. Tax police in Florence said in a statement that the two Chinese nationals were arrested on Wednesday as part of an investigation into alleged labour exploitation and tax fraud and that restrictive measures had been imposed on two other family members, including a ban on them leaving Italy
World
WASHINGTON (Reuters) - The United States on Wednesday blacklisted four Nicaraguans, including a daughter of President Daniel Ortega, as Washington warned it would continue to use diplomatic and economic tools against members of the leftist government engaged in repression. The U.S. State Department called on Ortega to release detained presidential candidates as well as other civil society and opposition leaders arrested over the past week in what Washington called "an increasing wave of repression." "There are costs for those who are complicit in the regime's repression.