Swiss reject proposal to put domestic law above international rules
By John Revill ZURICH(Reuters) - Swiss voters have rejected a proposal to give the neutral country's laws priority over international law, a move that critics claimed would have deeply damaged its global standing and hurt its economy.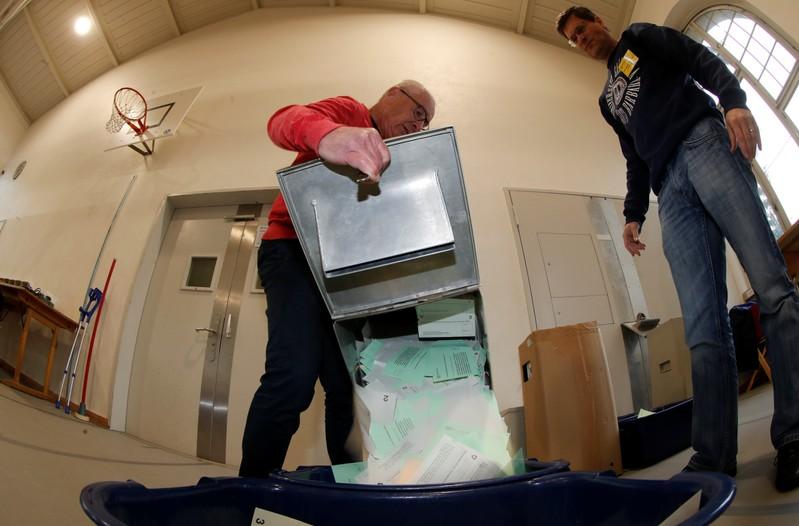 By John Revill
ZURICH(Reuters) - Swiss voters have rejected a proposal to give the neutral country's laws priority over international law, a move that critics claimed would have deeply damaged its global standing and hurt its economy.
Some 66 percent of voters and all of its cantons voted against the "Swiss law, not foreign judges" measure in a national referendum on Sunday, the government said.
The measure, backed by the right-wing Swiss People's Party (SVP), called for a provision to be added to the national constitution giving it explicit precedence over international agreements.
Where there is a clash between the two, Switzerland would have had to alter its international obligations so they complied with its constitution or quit the international agreement.
Backers argued that neutral Switzerland's historic autonomy was being watered down by its participation in international agreements covering areas such as environmental protection, police cooperation, air transport and trade.
Their campaign said that such agreements endangered the long tradition of direct democracy in Switzerland, where citizens have the final say on political decisions via referendums.
Debate over whether sovereignty has been eroded has intensified in recent years as Switzerland has struggled to clarify its relationship with the European Union and is currently governed by a tangle of bilateral pacts.
The SVP, the largest party in the Swiss parliament, said its proposals would empower citizens and free them from interference from international bodies such as the EU.
They were opposed by the Swiss government, business groups and most other parties, who said the proposal would force Switzerland to cancel existing treaties, weaken human rights protections and hurt its economy.
They said a "yes" vote would result in Switzerland having to renegotiate thousands of treaties it has signed, undermining an open economy that is highly dependent on global trade.
Justice Minister Simonetta Sommaruga said the Swiss cabinet was pleased with the result, which underlined the importance of Switzerland's institutions and its direct democracy.
"The institutions are set up so there is a balance of power, and compromises must be made. Nobody can decide everything," she told a press conference in Bern.
"All or nothing, black or white; that is not what has made Switzerland so successful."
Jan Atteslander, of business lobby group Economiesuisse, said that Switzerland's reputation and economy would have been harmed if the vote had gone in favour of the proposal.
"We have to stick to our words internationally and be a good and reliable partner in good times and bad times," he said.
Tania Ovanne-Erias, from the canton of Geneva, said: "I voted against the initiative because I don't think we have to vote again on treaties that have already been voted. I think this initiative is absurd.
"I don't think we can just think only of our country, Switzerland; we are part of a continent and a world."
Switzerland also rejected a proposal to subsidise farmers who let cows and goats grow their horns naturally, amid debate over whether the practice of removing horns harms the animals.
(Reporting by John Revill; Additional reporting by Cecile Mantovani; Editing by Mark Potter and David Goodman)
This story has not been edited by Firstpost staff and is generated by auto-feed.
Business
By Uday Sampath Kumar and Joshua Franklin (Reuters) - GameStop Corp on Monday increased the value of new stock it may sell from $100 million to $1 billion, as the U.S.
Business
By Shreyansi Singh (Reuters) - Gold prices were little changed on Monday as a softer dollar countered pressure from gains on Wall Street driven by hopes for a swift economic recovery following strong U.S. jobs data
Business
By Tom Balmforth and Alexander Marrow MOSCOW (Reuters) - Russia said on Monday it would extend a punitive slowdown of Twitter until May 15, though it acknowledged the U.S. social media company had speeded up deletion of what Moscow calls banned content. Moscow has traditionally taken a more hands-off role in policing the internet than neighbouring China.