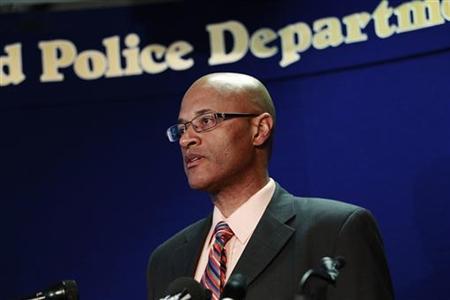 OAKLAND, California (Reuters) - An ex-student suspected of opening fire at a small Christian college in California, killing seven people and wounding three, was targeting a school administrator and former classmates who he felt had treated him unfairly, police said on Tuesday.
Oakland Police Chief Howard Jordan said at a news conference that One Goh, 43, who had been expelled from Oikos University, had been cooperative after being taken into custody but "not particularly remorseful."
"We know that he came here with the intent of locating an administrator and she was not here," Jordan said. "He then went through the entire building systematically and randomly shooting victims."
The mid-morning attack at Oikos, a small Oakland college that has links to the Korean-American Christian community, was the deadliest shooting rampage on a U.S. college campus since 32 people were killed by a student at Virginia Tech University in April 2007.
The three wounded victims had all been released from Highland Memorial Hospital in Oakland by mid-morning on Tuesday.
Jordan said those killed included six women and a man, ranging in age from 21 to 40. The victims came from Korea, Nigeria, Nepal and the Philippines. Six were students and one was a secretary, he said.
He said Goh, a Korean-American, had been expelled from the school two months earlier for "behavioral problems and anger management" issues, but he was not aware of any particular incident that had led to his removal.
"We've learned that the suspect was upset with the administration at the school," Jordan told ABC's "Good Morning America" in an interview.
"He was also upset that students ... in the past when he attended the school, mistreated him, disrespected him and things of that nature," he told the program. "We've learned this was a very chaotic, calculated and determined gentleman that came there with specific intent to kill people."
SURRENDER AT GROCERY STORE
Witnesses said Goh returned to the small college on Monday morning, entered a reception area and opened fire. He then walked into one of two classes in session, telling former classmates to line up and that he was going to kill them.
Goh, who police said acted alone, surrendered at a Safeway grocery store several miles from the college.
On Wednesday police expect to deliver the results of their investigation to prosecutors, who will decide what charges to file.
Paul Singh told Reuters that his sister, Devinder Kaur, 19, who was shot in the arm during the rampage, said that Goh had not been seen at the college in several months. When he burst into her classroom, he ordered the students to line up against a wall.
"'Get in line and I'm going to kill you all,' is what he said," Singh said his sister told him. "They thought he was joking at first."
Tashi Wangchuk said his wife, Dechen Yangzom, 28, was in another classroom when she heard gunfire.
"Out of instinct, she locked the door and turned off the lights. Then the guy came and banged on the door and shot several rounds at the door and then he left," Wangchuk said. "The police said what she did was heroic."
The Oikos killings came about a month after a student opened fire at a high school in Chardon, Ohio, killing three students and wounding two.
Oikos, which offers programs in theology, nursing, music and Asian medicine, describes itself on its website as having been started to provide the "highest standard education with Christian value and inspiration."
(Writing by Dan Burns and Dan Whitcomb; Additional reporting by Deborah Zabarenko, Dan Whitcomb, Mary Slosson, Emmett Berg and Ronnie Cohen; Editing by Cynthia Johnston and Bill Trott)
Updated Date: Apr 04, 2012 00:31 AM