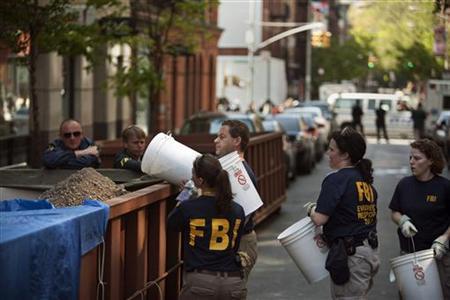 NEW YORK (Reuters) - Police on Thursday arrested a New Jersey man who they said had confessed to the 1979 killing of 6-year-old Etan Patz in a case that drew national attention to the plight of missing children and had frustrated law enforcement officials for more than three decades.
New York Police Commissioner Raymond Kelly said Pedro Hernandez, 51, confessed to choking the young boy in the basement of the small food market where Hernandez worked stocking shelves, then disposed of the body in a plastic bag that he threw in the trash.
Hernandez will be charged with second-degree murder, Kelly said, capping a day of dramatic developments in the case. Friday would be the 33rd anniversary of the boy's disappearance from New York's SoHo neighborhood.
The arrest came a day after police picked up Hernandez in Camden, New Jersey for questioning in the case, working off a tip. Hernandez admitted to the killing under questioning, during which he appeared "remorseful" and expressed "a feeling of relief," according to Kelly.
The commissioner said Hernandez had previously talked about the incident with family members and others, telling them "he had done a bad thing and killed a child in New York," Kelly said.
The break in the case came one month after the FBI and New York City Police conducted a four-day excavation of a basement on the block in SoHo where Patz lived and was last seen. At the time, police said no obvious human remains were found and it remained a missing person case.
Hernandez has since moved to Maple Shade, New Jersey, just outside Camden, where neighbors on Thursday described him as a quiet man who showed no outward signs of a darker past.
"The family was never a problem. He cut the grass. He shoveled snow. He didn't bother anybody," said Dan Wollick, 72, a retired garbage truck driver who lives downstairs from Hernandez, his wife and daughter in a two-story, brown duplex that backs up to a playground.
The daughter, he said, was likely in her late teens.
Wollick said he never heard of any problems involving Hernandez and any children of the working-class, tree-lined neighborhood, where residents were setting up on Thursday for a Little League baseball fundraiser.
"These people were like church mice; you never heard them," said Wollick. "I would never think of this guy as doing something like this."
He said the family regularly attended church and kept a tidy house. Hernandez might have a beer occasionally, he said, but never seemed a big drinker.
"WAS ALWAYS SMILING"
Another neighbor, Ashley Kabbeko, 25, who lives next door, said she saw two detectives drop off Hernandez's wife and daughter Wednesday afternoon, but has not seen any members of the family since.
"He was real nice," she said. "He was always smiling."
Although the boy was formally declared dead in 2001, Manhattan District Attorney Cyrus Vance re-opened the case in 2010 and investigators tore apart the basement in April looking for clothing and human remains after a cadaver-sniffing dog sensed something at the site.
On May 25, 1979, Patz's parents allowed the boy to make his first unaccompanied trip to the bus stop two blocks away. They never saw him again.
Patz was one of the first missing children in the United States to have his photograph printed on milk cartons, and his case helped fuel an intense national outreach campaign for missing children in the 1980s.
Long targeted as a suspect in the case was Jose Antonio Ramos, a friend of Patz's babysitter who was later convicted of child molestation in a separate case in Pennsylvania. He is due to be released from prison in November.
In a 2004 civil suit Patz's parents brought against Ramos, a New York judge found him responsible for the boy's death, a charge he denied.
Patz family members last month asked the media to respect their privacy as the days-long dig was under way just 100 yards (91 metres) from the home where they still live.
Authorities tore through the floor of a workshop used by a handyman, Othniel Miller, now 75, who had paid the boy to help him with chores. Miller was questioned by police but was not charged with a crime.
On Thursday, dozens of reporters and camera crew milled outside the Patz apartment above a trendy street of high-end boutiques and restaurants. No one answered the door to the apartment.
"I just hope they get some resolution after all these years. It's just a horrific thing," said Carla Seal-Wanner, 58, an animator and mother of three who moved to the neighborhood in the early 1980s. "It was very much still in people's minds. Of course, it always was lurking as the history of the neighborhood."
(Additional reporting by Dave Warner, Edith Honan, Basil Katz, Joseph Ax, Chris Francescani and Michelle Nichols; Editing by Doina Chiacu and Eric Walsh)
Updated Date: May 25, 2012 07:15 AM