Supreme Court's Ginsburg voices support for #MeToo on eve of Kavanaugh hearing
By Andrew Chung WASHINGTON (Reuters) - U.S.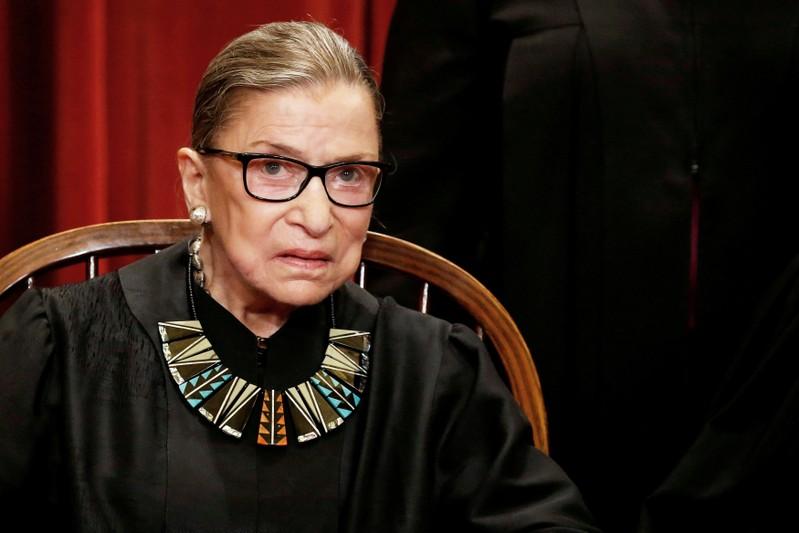 By Andrew Chung
WASHINGTON (Reuters) - U.S. Supreme Court Justice Ruth Bader Ginsburg voiced support for the #MeToo movement on Wednesday in a striking statement on the eve of a high-stakes U.S. Senate hearing into allegations of sexual misconduct by President Donald Trump's nominee to the court, Brett Kavanaugh.
During a question-and-answer period after an address to first-year law students at Georgetown University in Washington, Ginsburg was asked if there was anything she was excited or disappointed about regarding the current women's movement.
After discussing the problem of "unconscious bias" that leads to gender discrimination, she said she was "cheered on" by the #MeToo movement, a national reckoning with sexual assault and harassment that has brought down dozens of rich and powerful men.
"Every woman of my vintage has not just one story but many stories, but we thought there was nothing you could do about it - boys will be boys - so just find a way to get out of it," said Ginsburg, 85.
Ginsburg said that the #MeToo movement showed women coming together in numbers. "So it was one complaint and then one after another the complaints mounted. So women nowadays are not silent about bad behaviour."
Ginsburg did not mention Kavanaugh or the women who have accused him of sexual misconduct.
During a Senate hearing on Thursday, one accuser, Christine Blasey Ford, will testify about an alleged 1982 incident in which she said Kavanaugh sexually assaulted her when both of them were in high school.
Two other women have come forward with allegations. Kavanaugh, who was named by Trump to replace Justice Anthony Kennedy, who retired in July, has denied the allegations.
The Supreme Court's 2018 term officially begins on Oct. 1.
(Reporting by Andrew Chung; editing by Jonathan Oatis)
This story has not been edited by Firstpost staff and is generated by auto-feed.
World
BAGHDAD (Reuters) - Rockets hit near U.S. forces and contractors in Iraq on Wednesday, including an air base north of Baghdad and a military base at Baghdad International Airport, the Iraqi army and security officials said. The army reported at least three rockets hit Balad air base, where U.S
World
By Silvia Ognibene and Silvia Aloisi FLORENCE, Italy (Reuters) -Italian police have arrested a Chinese couple accused of running a leather goods business which exploited immigrant workers it employed to make handbags for a Burberry supplier, according to an arrest warrant seen by Reuters. Tax police in Florence said in a statement that the two Chinese nationals were arrested on Wednesday as part of an investigation into alleged labour exploitation and tax fraud and that restrictive measures had been imposed on two other family members, including a ban on them leaving Italy
World
WASHINGTON (Reuters) - The United States on Wednesday blacklisted four Nicaraguans, including a daughter of President Daniel Ortega, as Washington warned it would continue to use diplomatic and economic tools against members of the leftist government engaged in repression. The U.S. State Department called on Ortega to release detained presidential candidates as well as other civil society and opposition leaders arrested over the past week in what Washington called "an increasing wave of repression." "There are costs for those who are complicit in the regime's repression.