Supporters of Egypt's Sisi set to dominate newly created Senate
By Mahmoud Mourad CAIRO (Reuters) - Supporters of Egyptian President Abdel Fattah al-Sisi won all but a handful of declared seats in a newly created second chamber of parliament, official first round results and media reports showed on Wednesday. Only about eight million of the more than 62 million registered voters turned up on Aug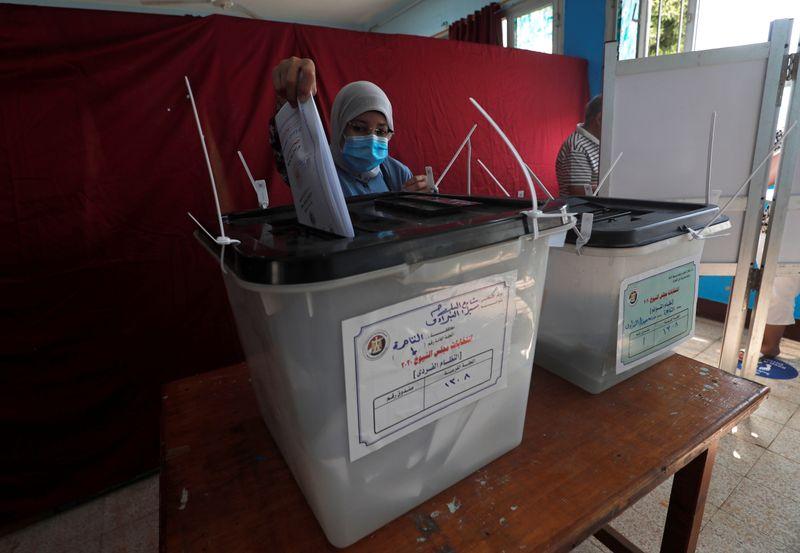 By Mahmoud Mourad
CAIRO (Reuters) - Supporters of Egyptian President Abdel Fattah al-Sisi won all but a handful of declared seats in a newly created second chamber of parliament, official first round results and media reports showed on Wednesday.
Only about eight million of the more than 62 million registered voters turned up on Aug. 11-12 to cast their ballots in the election for the Senate, giving a voter turnout of 14.23%, Lasheen Ibrahim, head of the National Election Authority, said in a televised news conference.
Results also showed that the strongly pro-government Mostaqbal Watan Party was set to be the biggest party in the Senate, an advisory body without legislative powers established through a constitutional amendment approved last year,
The Senate will include 200 elected members and 100 presidential appointees.
One hundred members will be elected as individual candidates and 100 more from a closed-list system, where people vote for parties rather than individuals.
A 100-member closed electoral list dominated by supporters of Sisi and led by Mostaqbal Watan won a third of the seats, Ibrahim said.
It was the only closed list submitted, although it included six members of two parties from an opposition coalition that opposed last year's constitutional changes.
The list got the support of more than 5% of voters across the country, the legal percentage needed to declare that it had won by acclamation, Ibrahim said.
Ibrahim on Wednesday announced the names of 74 candidates who won individual seats and said a runoff vote would take place on Sept. 8-9 to determine the winners of the remaining 26 individual seats.
Local media cited an election authority document showing that Mostaqbal Watan won 68 of the 74 determined individual seats. The party confirmed the number on its official Facebook page.
The Republican People's Party, another pro-government party, secured five individual seats and only one seat went to an independent candidate, the document said.
Egypt's House of Representatives, the main parliamentary chamber, is also dominated by Sisi supporters.
Officials say the Senate will enhance political participation. But the build-up to the election was low key, which commentators attributed to the coronavirus
pandemic, a lack of awareness about the new chamber, and voter apathy.
(Additional reporting Nadine Awadalla; Editing by Aidan Lewis and Gareth Jones)
This story has not been edited by Firstpost staff and is generated by auto-feed.
World
ATHENS (Reuters) - Greek police used teargas and water cannon to disperse people who had gathered in central Athens on Saturday to protest against mandatory COVID-19 vaccinations. More than 4,000 people rallied outside the Greek parliament for a third time this month to oppose mandatory inoculations for some workers, such as healthcare and nursing staff.
World
ISTANBUL (Reuters) - Two Turkish soldiers were killed and two were wounded in an attack on their armoured vehicle in northern Syria, and Turkish forces immediately launched retaliatory fire, Turkey's defence ministry said on Saturday. "Our punitive fire against terrorist positions is continuing," the statement on Twitter on said. It did not specify where the attack occurred, but media reports said it was in the al-Bab area.
World
By Marcelo Rochabrun SAO PAULO (Reuters) - Protesters took to the streets in several Brazilian cities on Saturday to demand the impeachment of far-right President Jair Bolsonaro, whose popularity has fallen in recent weeks amid corruption scandals against the backdrop of the pandemic. This week, news broke that Brazil's defense ministry told congressional leadership that next year's elections would not take place without amending the country's electronic voting system to include a paper trail of each vote. Bolsonaro has suggested several times without evidence that the current system is prone to fraud, allegations that Brazil's government has denied