Support for Merkel's party falls further in poll, Greens closing in
BERLIN (Reuters) - Support for German Chancellor Angela Merkel's party has fallen further, a poll released on Sunday indicated, with the ecologist Greens closing in to just two points behind them ahead of a national election September. With popular frustration growing over Merkel's government's management of the coronavirus pandemic, support for Merkel's Christian Democrats (CDU) and their Bavarian CSU sister party - together dubbed the 'Union' - dropped to 25%, the Kantar poll showed. The fall of two percentage points from the previous week was the fourth consecutive decline in support for the conservative alliance to a level not seen since early March last year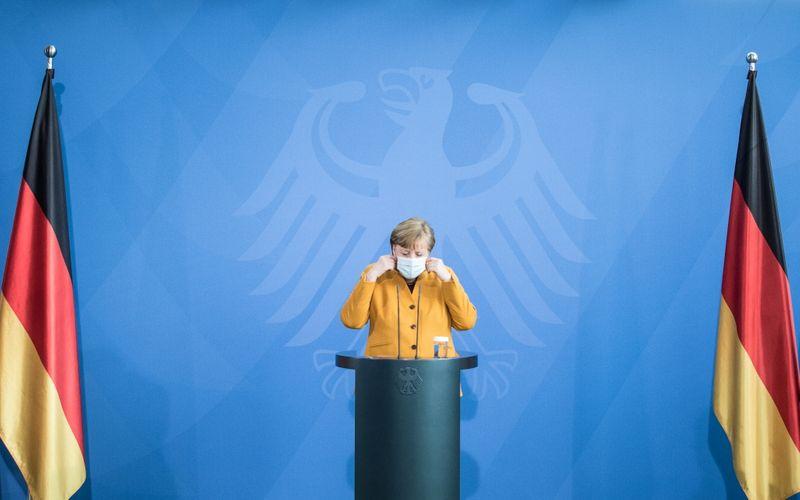 BERLIN (Reuters) - Support for German Chancellor Angela Merkel's party has fallen further, a poll released on Sunday indicated, with the ecologist Greens closing in to just two points behind them ahead of a national election September.
With popular frustration growing over Merkel's government's management of the coronavirus
pandemic, support for Merkel's Christian Democrats (CDU) and their Bavarian CSU sister party - together dubbed the 'Union' - dropped to 25%, the Kantar poll showed.
The fall of two percentage points from the previous week was the fourth consecutive decline in support for the conservative alliance to a level not seen since early March last year.
The CDU suffered defeats in two state elections earlier this month, dogged by frustration over the sluggish COVID-19
vaccine campaign, flip-flopping over virus restrictions and a face mask procurement scandal.
"There is a change of mood in the country," Bavarian premier and CSU leader Markus Soeder, who is a possible contender to be the conservative candidate for chancellor, told the Bild am Sonntag newspaper.
"The Union must show that it still has strength and ideas and is not exhausted and worn out. It needs new beginnings now."
Support for the Greens rose 1 percentage point to 23%, according to the poll for Bild am Sonntag by Kantar, which canvassed 1,447 voters between March 18-24.
The left-leaning Social Democrats (SPD), currently in an awkward 'grand coalition' with the Union, were steady at 17%. The business-friendly Free Democrats (FDP) and the far-right Alternative for Germany (AfD) were unchanged on 10%, while the far-left Linke rose one point to 9%.
(Reporting by Caroline Copley, editing by Louise Heavens)
This story has not been edited by Firstpost staff and is generated by auto-feed.
World
CARACAS (Reuters) - Human rights groups from Venezuela and Colombia on Wednesday called on the United Nations to appoint a special envoy to address the humanitarian crisis caused by clashes between Venezuelan troops and Colombian armed groups near the countries' border. Colombian officials estimate that some 4,000 people have fled Venezuela for Colombia since March 21 following a military offensive in Venezuela's Apure state.
World
By Anton Zverev and Andrew Osborn MOSCOW (Reuters) - Jailed Kremlin critic Alexei Navalny went on hunger strike on Wednesday in an attempt to force the prison holding him outside Moscow to provide him with proper medical care for what he said was acute pain in his back and legs. The fate of Navalny, one of President Vladimir Putin's most prominent critics, is in focus after he said last week that being woken up by a guard every hour during the night amounted to torture and that his appeals for medical treatment had been ignored. In a handwritten letter addressed to the governor of his prison which was posted to social media by his team on Wednesday, Navalny said daily requests for a doctor of his choice to examine him and for proper medicine had been ignored
World
By Stephanie van den Berg THE HAGUE (Reuters) - The International Criminal Court on Wednesday upheld its 2019 acquittal of former Ivory Coast President Laurent Gbagbo on charges of crimes against humanity during post-election violence and ordered all conditions of his release be removed. The decision may open the way for Gbagbo, 75, who has been living in Belgium, to return to Ivory Coast