Students end protests on road safety in Bangladesh after nine days; education ministry to hold meet tomorrow
The unprecedented protests by the students in Bangladesh demanding better road safety end after nine-day-long stir that left over 150 people injured in clashes with riots police
Dhaka: The unprecedented protests by the students in Bangladesh demanding better road safety laws virtually came to an end on Tuesday, with agitators returning to their classes after a nine-day-long stir that left over 150 people injured in clashes with riots police.
The death of two teenage students - a boy and a girl - by a speeding bus on 29 July brought thousands of schools, colleges and universities students on the streets of the Bangladesh capital, demanding strict implementation of road safety rules.
The two students were killed when two buses racing to pick passengers, a common occurrence in the city, hit them and wounded several others. One of the bus drivers fled the scene, although both were later arrested.
Authorities claimed that students have returned to their classes and every thing was normal.
"Today everything is normal. Students have returned to their classes," Mahbubur Rahman, head of Bangladesh's secondary and higher education authority said.
"So far no news of protests from any university," he said, adding that the authorities have shut down two universities in an effort to quell the protests.
Meanwhile, the Education Ministry has called a meeting of vice-chancellors of all private universities Wednesday to discuss clashes between police and students during the campaign.
"The meeting will take place at the Dhaka International Mother Language Institute auditorium tomorrow, (sic)" bdnews24.com said, quoting the Education Ministry. Bangladesh Education Minister Nurul Islam Nahid will chair the meeting, it said.
The protests saw teenagers and high-school students paralyse traffic in the Bangladesh capital and beyond. Buses were torched, hundreds of vehicles vandalised as alleged pro-government mobs attacked demonstrators, journalists, photographers and even the US ambassador's car during the protests.
On Sunday, some people, wearing helmets, attacked agitators and journalists covering the stir in Dhaka.
Transport workers on Monday, who went on a virtual shutdown citing security reasons for the past eight days took to the street and clashed with protestors, prompting police to use batons and tear gas canisters.
Police lobbed tear gas shells and rubber bullets, used water cannons and resorted to baton charge to disperse a procession brought out by the Dhaka University students.
The police action on the protesters invited criticism of the Prime Minister Sheikh Hasina's government from the United Nations, Washington and rights groups.
At the height of the protests, students were seen managing Dhaka's notorious traffic and checking whether drivers of the cars and buses had valid licences and proof of road worthiness of their vehicles.
In a bid to calm down the protesting students, the Bangladesh government also promised to consider death penalty for deliberately causing road deaths and approved a new road safety law.
Bangladesh appeared to be one of the world's worst accident prone countries with the World Bank saying more than 4,000 people die in road accidents each year.
More than 4,200 pedestrians were killed in Bangladesh in 2017, a 25 percent increase from 2016, according to a private research group the National Committee to Protest Shipping, Roads and Railways.
Journalists today gave a 72-hour ultimatum to the government to arrest those involved in attacks on some of their colleagues while covering the protests. At least, seven photojournalists, including an Associated Press (AP) photographer were injured in attacks with sharp weapons, sticks and iron rods by youths wearing helmets at Dhanmondi, Jigatala and Science Laboratory areas.
Meanwhile, an alliance of left-leaning student organisations, Progressive Students Alliance Tuesday announced demonstrations in all the educational institutions across the country Wednesday in protest against attacks on students.
Find latest and upcoming tech gadgets online on Tech2 Gadgets. Get technology news, gadgets reviews & ratings. Popular gadgets including laptop, tablet and mobile specifications, features, prices, comparison.
World
A video shared on Facebook shows students accusing members of Bangladesh Chhatra League, the ruling party's student wing, of attacking protesters in Dhaka
World
Bangladesh Police, small in number, stood by and watched. In twenty minutes, the situation turned from bad to worse as the students were openly being beaten up. At this point, the Border Guards Bangladesh intervened and segregated students from the "others".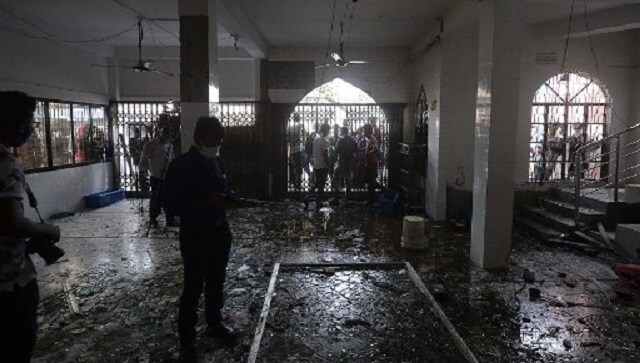 World
Bangladesh fire officials suspect that gas accumulated from a pipeline leak caused a fire that led to six air conditioners exploding almost simultaneously at the Baitul Salat mosque in Narayanganj on Friday night