Stop goading the West and let's talk, UK minister urges Russia
By Paul Carrel and John Irish MUNICH (Reuters) - Britain's defence minister accused Russia on Friday of 'trying to goad the West into a new arms race' that it does not want and called on Moscow to reset its relationship with Western countries through dialogue. Addressing the annual Munich Security Conference for the first time, British Defence Minister Gavin Williamson struck a bellicose tone in comments on Russia's security posture before extending the offer of 'a different kind of relationship'. 'NATO matters more today, because an old adversary is very much back in the game,' he said, adding Moscow was 'trying to goad the West into a new arms race it simply is not interested in and does not want, making the world a less safe place.' Russian Foreign Minister Sergei Lavrov will have a chance to respond on Saturday when he is expected to address the conference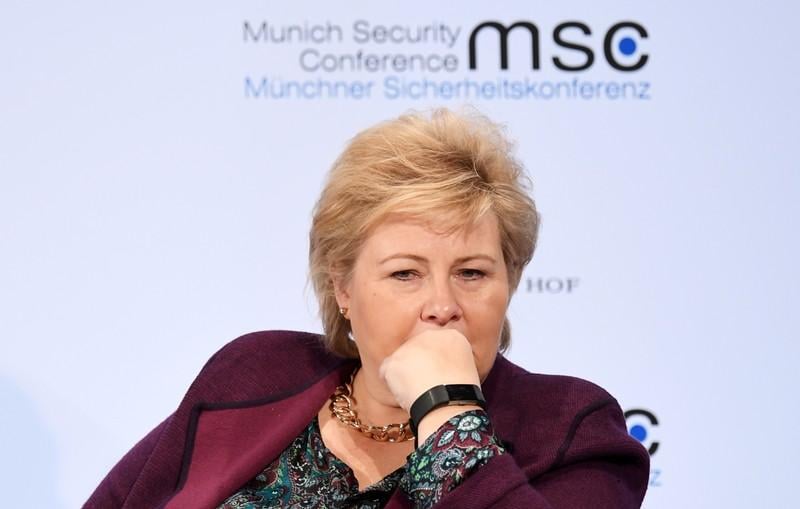 By Paul Carrel and John Irish
MUNICH (Reuters) - Britain's defence minister accused Russia on Friday of "trying to goad the West into a new arms race" that it does not want and called on Moscow to reset its relationship with Western countries through dialogue.
Addressing the annual Munich Security Conference for the first time, British Defence Minister Gavin Williamson struck a bellicose tone in comments on Russia's security posture before extending the offer of "a different kind of relationship".
"NATO matters more today, because an old adversary is very much back in the game," he said, adding Moscow was "trying to goad the West into a new arms race it simply is not interested in and does not want, making the world a less safe place."
Russian Foreign Minister Sergei Lavrov will have a chance to respond on Saturday when he is expected to address the conference.
Russia suspended the Intermediate-range Nuclear Forces (INF) treaty this month after Washington announced it would withdraw in six months unless Russia ends what it says are violations of the 1987 pact.
Moscow denies those allegations and says Washington is the one flouting the rules. It has accused the United States of inventing a false pretext to exit a treaty it wanted to leave anyway in order to develop new missiles. Washington denies that.
NATO Secretary General Jens Stoltenberg urged Russia to destroy intermediate-range missiles, adding that his alliance "has no intention of deploying new, land-based nuclear weapons in Europe."
The hosts of the Munich conference, an annual meeting of leading security officials, have identified "a new era of great power competition" between countries like the United States, Russia and China as a major theme for this year's meeting.
"We will not abandon countries Russia seeks to undermine, like Ukraine and those in the western Balkans," said Williamson.
Fighting between Ukraine and Moscow-backed separatists in the Donbass region of eastern Ukraine has killed more than 10,000 people. Most of the fighting ended with a 2015 ceasefire, but deadly exchanges of fire are still frequent.
DIFFERENT RELATIONSHIP
Changing tone, Williamson added: "Please, let me be clear: this is not the relationship with Russia that we want."
"We remain open to a different kind of relationship and the option of dialogue will always remain on the table," he said.
Russia has already said it might consider new proposals from the United States to replace the suspended Cold War-era nuclear pact with a broader treaty that includes more countries.
German Defence Minister Ursula von der Leyen told the conference that Russia was trying to force division in Europe.
"We want a different relationship with Russia but we need to be two (partners)," she said. "We need unity, resilience and always to be open for dialogue."
A senior European official said European governments were already seeing efforts to influence elections to the European Parliament, due in May, through what he called fake news, social media and manipulation.
"We have to remain extremely vigilant and call it out when it happens," he added.
Lavrov met Stoltenberg and the foreign ministers of Japan and Germany for talks on the sidelines of the Munich conference on Friday.
Addressing concerns about a breakdown of the liberal multinational order, German Foreign Minister Heiko Maas told the conference: "We have no interest in a trans-Atlantic rift. Quite the contrary."
But, citing U.S. steel and aluminium tariffs as an example of a divisive policy, he said they had created U.S. jobs - but at a cost to U.S. consumers he put at $650,000 a year per job due to higher steel prices. And in Europe, steel jobs were at risk.
"For me, this is a classic lose-lose case," Maas said.
(Writing by Paul Carrel; Editing by Catherine Evans, William Maclean)
This story has not been edited by Firstpost staff and is generated by auto-feed.
Find latest and upcoming tech gadgets online on Tech2 Gadgets. Get technology news, gadgets reviews & ratings. Popular gadgets including laptop, tablet and mobile specifications, features, prices, comparison.
World
MOSCOW (Reuters) - Russian President Vladimir Putin said on Wednesday he had noted what he called "sharp anti-Russian rhetoric" from U.S. Democratic presidential candidate Joe Biden, but that he had been encouraged by Biden's comments on arms control. Putin, in comments on state television ahead of the U.S.
World
By John Irish and Robin Emmott PARIS/BRUSSELS (Reuters) - France and Germany said on Wednesday they would propose European Union sanctions against Russian individuals after receiving no credible answers from Moscow over the poisoning of Kremlin critic Alexei Navalny with a nerve agent. Several Western governments have said Russia, which has denied accusations by Navalny that it was involved in the poisoning, must help in investigations or face consequences. The decision and speed with which Europe's two main powers agreed to push ahead with sanctions suggests a hardening of the bloc's diplomacy towards Moscow.
World
By Steve Holland WASHINGTON (Reuters) - U.S. President Donald Trump, under coronavirus quarantine in the White House and restricted from traveling, is seeking ways to put a spark back in his struggling re-election bid and get behind his desk in the Oval Office with four weeks left until Election Day.