Watch: Italian women prisoners honour Pope Francis with flash mob
Inmates at Italy's largest women's prison gathered in the jail yard Thursday to shake their hips in a flashmob dance -- in honour of Pope Francis.
Rome: Inmates at Italy's largest women's prison gathered in the jail yard Thursday to shake their hips in a flash mob dance in honour of Pope Francis.
The women performed a zumba-style routine of spins, funky steps and arm swings to Pope is Pop, a song written about the pontiff by Italian Igor Nogarotto.
"Tonight you are not alone, Francis is there everywhere, hallelujah, hallelujah," the song blasted from speakers at Rome's Rebibbia prison as the prisoners danced.
After writing the song, Nogarotto and choreographer Alessandra Abbattista decided in April to stage Pope is Pop flash mobs around the Italian capital with people from different nationalities and religious backgrounds dancing in homage to Francis.
"I am not religious," said Nogarotto, "but this pope has an amazing charisma. He is humble and close to the people and he doesn't conform to stereotype."
The pope visited the Rebibbia prison in April, washing and kissing the feet of 12 inmates.
For the women who took part, the flash mob was a welcome change from the routine of prison life.
"It gives us hope, hope that we will get through this awful period of our lives and be able to go back and see our families again," said Gisele, an inmate from Brazil.
"When we are dancing we feel a little bit of freedom and an incentive to get through this."
AFP
Watch the inmates' flash mob dance here:
World
A Pakistani Christian whose selfie with the Pope has gone viral has spoken of his "heartache" at the treatment of minorities in Pakistan, and said the pontiff told him he was praying for peace.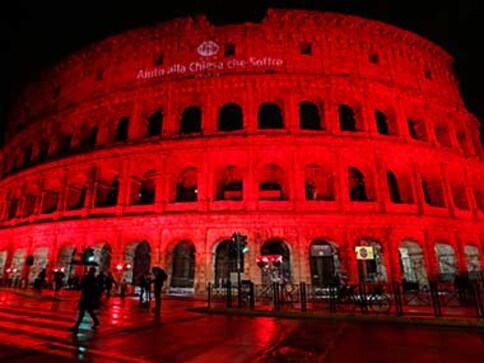 World
Rome's ancient Colosseum was lit in red in solidarity with persecuted Christians, particularly Asia Bibi, a woman condemned to death under Pakistan's blasphemy laws
World
A 5-year-old girl in a brilliantly colored dress and braids who was handed up to Pope Francis for a blessing during a parade in Washington.