Sri Lankan soldiers to visit Bodh Gaya: India employs military diplomacy, cultural outreach to offset Chinese offensive
In order to step up military cooperation, India is hosting Sri Lankan military personnel and their families at the Buddhist religious site at Bodh Gaya.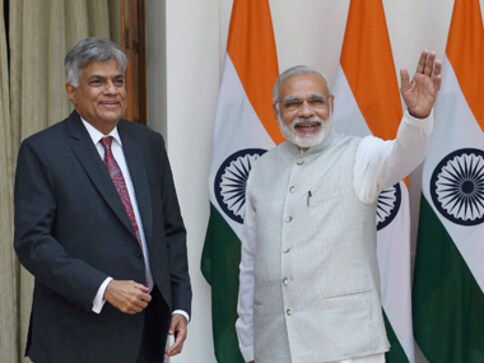 In order to step up military cooperation between the two countries, India is hosting Sri Lankan military personnel and their families at the Buddhist religious site at Bodh Gaya on 25 June. This out-of-the-box proposal was made by the Sri Lankan Army Commander lieutenant-general Mahesh Senanayake to Indian Army chief General Bipin Rawat during his high-profile week-long Sri Lankan visit in May this year. It remains to be seen how successful this military diplomacy will prove to be in cementing India-Sri Lankan ties.
At the centre of the arc connecting the Strait of Malacca to the Persian Gulf, Sri Lanka is located in a vital region of the 'Indo-Pacific' and therefore destined to play a significant role in the Indian Ocean Region. Sri Lanka's geographical proximity to India and age-old historical, ethnic and religious ties make Colombo of particular interest to New Delhi.
Sri Lanka has long been in India's geopolitical orbit, but its relationship with China has strengthened in recent years. And the pioneering visit of Sri Lankan military personnel of all three services and their families to the Buddhist site at Bodh Gaya to highlight "shared Buddhist heritage of India and Sri Lanka" signifies a renewed emphasis on policy creativity and an enhancement of traditional diplomatic tools by New Delhi to deepen "friendship and camaraderie" with Sri Lanka.
However, India needs to embark on a substantial reinvigoration of its diplomatic style by adopting new concepts, working practices and structures amidst complex struggles over ideas, power and credibility in its immediate neighbourhood. Beijing's deep-rooted strategic and economic partnership with Islamabad as exemplified in the China Pakistan Economic Corridor (CPEC), China's financial assistance to Sri Lanka and Nepal, China's bold attempts to create frictions between India and Bhutan as manifested in the Doka La crisis, and Chinese maneuverings in the Maldives impinge seriously on India's security interests and therefore require robust diplomatic and military response.
Beset by China's offensive in India's strategic backyard, the government of Prime Minister Narendra Modi seems determined to improve New Delhi's ties with Colombo, fractured during the regime of former president Mahinda Rajapaksa. In February 2015, Sri Lanka's newly elected president Maithripala Sirisena undertook his first official visit to India within a month of being elected to office, and Modi immediately paid a return visit to Colombo in March 2015, becoming the first Indian prime minister to do a stand-alone visit to Sri Lanka in 28 years.
The outcomes were very positive. Besides restoring the trust between New Delhi and Colombo, India successfully convinced Sri Lanka to rebalance its foreign policy which had tilted heavily towards China.
Just ahead of China's Belt and Road Initiative (BRI) summit in May 2017, Colombo refused to allow a Chinese submarine to dock. Under the previous dispensation, Sri Lanka had allowed a Chinese submarine to dock at the Colombo port, drawing protests from India. However, torn between India and China, Sri Lanka feels the need to play a delicate balancing game.
Therefore, Sri Lanka decided to send its prime minister, Ranil Wickremesinghe, to the BRI summit and was offered hefty additional loans, even though Colombo is still struggling to pay the existing $8 billion debt to Beijing.
The state-run Chinese companies have made huge investments in the development of Colombo Port City as well as in the management of the strategic Hambantota port, which is about 10 nautical miles from the main shipping route between Asia and Europe. The Sri Lankan government has handed over a 70 percent stake in Hambantota port to China on a 99-year lease. The opposition parties and trade unions in Sri Lanka have dubbed the port deal as a sellout of Sri Lanka's national assets to China. It needs to be mentioned that India's firm rejection of the BRI is partly centred on nation's sovereignty and partly on unsustainable debt burdens.
In order to allay Indian concerns that the port will not be used for military purposes, the Sri Lankan government has sought to limit China's role to running commercial operations at the port while it retains oversight of security operations. But India continues to remain wary of China's potential use of Sri Lankan ports for its naval base.
Modi again visited Sri Lanka in May 2017 on his second visit in two years which was primarily aimed at reinforcing deep cultural ties. One of the interesting aspects of his Sri Lankan tour focused on the cultural power of Buddhism and India's special identity as its birthplace, when he participated in the United Nation's 'Vesak Day' celebrations. He also inaugurated a super-speciality hospital built with Indian assistance and visited the Indian-origin Tamil community there.
India is also making plans to invest in Mattala airport in Hambantota district. India's presence at the airport, which is just 30 kilometres away from the Chinese-operated port of Hambantota, is likely to help New Delhi to monitor Beijing's growing presence in Sri Lanka. As India seeks to deepen cooperation with several countries for the 'free and open Indo-Pacific region' to counter China's increasing maritime advances, it is in India's interests to see Sri Lanka coming closer to Japan and the United States.
In January, Shinzo Abe became the first Japanese prime minister to visit the island nation in more than two decades. In March, Abe hosted Sirisena in Tokyo to discuss issues of economic and maritime cooperation, security and regional order. When Indian and Japanese coast guards held a joint training session in January this year, Sri Lanka was also present as an observer.
Similarly, Sri Lanka and the United States held their second 'Partnership Dialogue' in November 2017 in Colombo on the basis of 'commitment to democracy, rule of law, and shared prosperity and well-being of our peoples'. Interestingly, these values are those underpinning the 'Quadrilateral' formed by India, US, Japan and Australia in order to contain China's growing assertiveness in the Indo-Pacific.
After Modi's landmark 'informal summit' with the Chinese president Xi Jinping at Wuhan in China, New Delhi seems to have recast its 'Neighbourhood First' policy, which was primarily based on infrastructure connectivity and security cooperation.
In order to overcome its hard power deficiencies vis-à-vis China, the cultural component is going to play a critical role in India's new approach towards its neighbours, particularly Nepal and Sri Lanka, with whom India share deep-rooted cultural and civilizational links. New Delhi's military-cum-cultural diplomacy with Colombo is distinctly aimed at wooing Sri Lanka back to India's traditional sphere of influence.
World
Chinese president Xi Jinping is in Russia to meet his 'good old friend' Vladimir Putin. The two are expected to discuss a host of issues, including the war in Ukraine. Xi is likely to play peacemaker and reiterate Beijing's proposal to settle the conflict
World
With the government printer's inability to print the ballot papers, the opposition Samagi Jana Balawegaya (SJB) party, filed a case in the Supreme Court for intervention and accused the President Ranil Wickremesinghe-led government of avoiding the poll and subverting democracy
World
US President Joe Biden, Australian Prime Minister Anthony Albanese and British Prime Minister Rishi Sunak on Tuesday unveiled details of a plan to provide Australia with nuclear-powered attack submarines, a major step to counter China's naval build-up in the Indo-Pacific