Sri Lankan president Maithripala Sirisena accuses PM Ranil Wickremesinghe of shielding Rajapaksa
Sri Lankan President Maithripala Sirisena accuses PM Ranil Wickremesinghe of shielding Mahinda Rajapaksa, his family and supporters in corruption cases.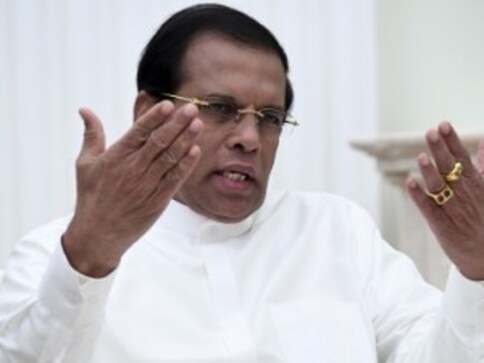 Colombo: Sri Lankan President Maithripala Sirisena has accused Prime Minister Ranil Wickremesinghe of shielding former strongman Mahinda Rajapaksa, his family and supporters in corruption cases, in a fresh jolt to their ruling coalition.
The unity government of Sirisena's Sri Lanka Freedom Party (SLFP) and Wickremesinghe's United National Party (UNP) was plagued with crisis ever since former President Rajapaksa's new party pulled off a stunning victory in February's local elections seen as a referendum on the ruling alliance.
A new turn of events in the continued political crisis came on Wednesday when Sirisena addressed a public gathering to commemorate a leading Buddhist monk who was instrumental in the then Opposition's victory over Rajapaksa in 2015.
Referring to a speech by the monk at the event where he was faulted for accepting the leadership of the SLFP after becoming the President, Sirisena said it was due to him that Wickremesinghe became premier and the current government was able to stay afloat.
"I made Ranil Wickremesinghe the prime minister with just 47 seats when Mahinda Rajapaksa had two-thirds of the seats," Sirisena said.
"There are people who are trying to make out that it is I who obstructed the prosecution of corrupt members of the former regime. If you want to know the truth, ask the relatives of Wasim Thajudeen and their lawyers," he said of Thajudeen, a rugby player who was killed in 2012 and the Rajapaksas blamed for it.
Sirisena suggested that Wickremesinghe had "cut deals" with the Rajapaksas and was protecting the corrupt.
Several members of UNP led by Wickremsinghe have been accused in central bank Treasury bond scam of 2015.
The SLFP and the UNP had formed a national unity government after 2015 elections but both parties have differed on several issues.
Sirisena said he had telephoned the Air Force chief on Wednesday to ask who ordered the release of helicopters for former president Rajapaksa to travel to his southern province home soon after his defeat in January 2015.
"I was told that the then Air Force commander had been told that I wanted helicopters given, but they didn't even inform me about such a thing," he said, suggesting it was done by Wickremesinghe.
Sirisena said he was also unaware of the 100-day reform programme unveiled by the UNP-led government soon after his election. During the programme, the government introduced the 19th amendment to the constitution which pruned presidential powers to dissolve parliament.
Sirisena said his SLFP support was the key factor in adopting the 19th amendment.
In response, UNP's Kabir Hashim said his party was taking the ownership of the programme. "The 100-day programme was something all parties had signed up for. We were able to introduce far-reaching democratic reforms by implementing the 100-day programme," Hashim said.
Sirisena in March had replaced Wickremesinghe as the law and order minister amid fresh violence between majority Sinhala Buddhists and minority Muslims in the Kandy district despite the imposition of nationwide emergency.
Later in the month, Sirisena had further reduced the responsibilities Wickremesinghe, while suspending Parliament for about a month in April in the backdrop of the ongoing political turmoil in the country.
First Cricket News
Sri Lanka vs Afghanistan Live Cricket Score: Follow for live score and updates from the third ODI in Pallekele.
First Cricket News
Afghan opener Ibrahim Zadran struck 106 to help his team post 294/8 while Fazalhaq Farooqi's 4/49 played a central role in bundling the hosts out for 234.
First Cricket News
Sri Lanka pulled off a record chase of 314 in the third ODI to beat Afghanistan by four wickets as Charith Asalanka smashed an unbeaten 83.