Spanx CEO Sara Blakely surprises employees with first-class plane tickets and $10,000 in cash
Blakely's present comes as a celebration of the company's 1.2-billion-dollar deal with private equity Blackstone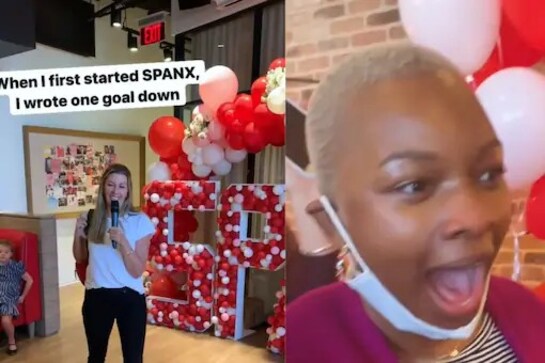 Sara Blakely, the chief executive and founder of the American shapewear company Spanx, has found a wonderful way to show gratitude to her employees. The CEO has gifted her employees two first-class Delta Airline plane tickets and $10,000 in cash. The tickets can be booked to travel anywhere in the world and the money is to be spent on the trip.
Blakely's present comes as a celebration of the company's 1.2-billion-dollar deal with private equity Blackstone.
The Spanx CEO shared a four-minute-long, behind-the-scenes video on Instagram where she talked about the deal with Blackstone. She said it was an emotional moment for her and tears started rolling down her eyes when she thought about how far the company has come.
After talking about the deal, she then goes on to announce the surprise she had in store for her employees. The video captures the reaction of her employees. Most of them were amazed, awestruck, and overjoyed with the gift they were given by their CEO. Several employees can also be seen shedding tears of joy on hearing Blakely's announcement. Most of them could not believe what they heard but were super excited.
In the caption of her video, Blakely mentions that she really wanted her employees to celebrate with her, and hence she decided to create a moment for her employees where they could make memories for a lifetime. She also raised a toast to 21 years of hard work and captions the video with the hashtag #ToNewBeginnings.
Blakely revealed that the company was founded by her on a mere savings of five-thousand dollars in the year 2000. She said that her goal was to make this company worth 20 million dollars, but the world laughed at her. However, she believed in herself and has been delivering amazing products to women in a masculine world, marking a moment for female entrepreneurs.
Spanx has around 750 employees and it is not clear if each one will receive the award.
India
As soon as the German man hit the ball, his Indian colleagues went on to cheer for him
World
All the eyes were fixed on a red LED light on the pavement, behind which people can be seen standing.
World
The video opens by showing the camera zooming on a woman, who can be seen speedily stepping up the stairs of the sacred structure, while people in the background are whistling and shouting at her