Spain considers limiting Christmas celebrations to six people
MADRID (Reuters) - Spain's Prime Minister Pedro Sanchez said on Wednesday that his government was considering limiting Christmas celebrations to six people in an effort to curb the spread of the coronavirus. 'This is not a number we have pulled out of nowhere,' Sanchez told a news conference with his Italian counterpart Giuseppe Conte in Mallorca. 'It is a number which health professionals, scientists have told us is sufficiently rigorous and restrictive to prevent another surge in infections,' he said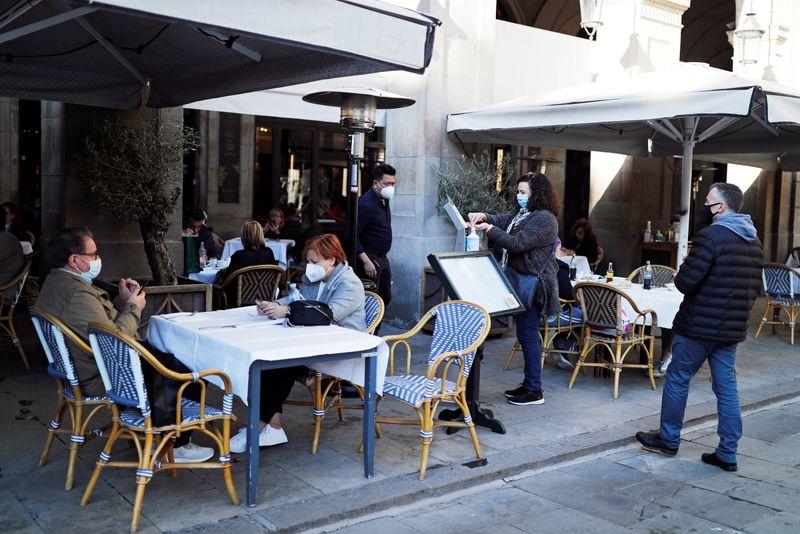 MADRID (Reuters) - Spain's Prime Minister Pedro Sanchez said on Wednesday that his government was considering limiting Christmas celebrations to six people in an effort to curb the spread of the coronavirus
.
"This is not a number we have pulled out of nowhere," Sanchez told a news conference with his Italian counterpart Giuseppe Conte in Mallorca.
"It is a number which health professionals, scientists have told us is sufficiently rigorous and restrictive to prevent another surge in infections," he said.
The central government is still negotiating the next round of restrictions with regional authorities, meaning some changes could be introduced.
Following a summit of regional health chiefs, Health Minister Salvador Illa said the talks were progressing well but that no agreement had yet been reached.
"We want to produce a set of recommendations that will generate the maximum possible consensus," he told reporters, adding that he hoped to reach an accord next week.
Some regional health chiefs, including in Catalonia and Madrid, are advocating for a less stringent limit of 10 people for holiday gatherings.
"There has been an improvement across all territories but we are appealing for caution, especially this December," Illa said.
While the rate of infection in Spain has slowed in the past month, its overall tally of just over 1.6 million cases is the second highest in western Europe after France.
The health ministry recorded 10,222 new cases on Wednesday, while the death toll rose by 369 to 44,037, slowing from the previous day's jump of 537, which marked a record for the second wave.
(Reporting by Inti Landauro and Nathan Allen; Writing by Nathan Allen; Editing by Ingrid Melander, Clara-Laeila Laudette and Alexandra Hudson)
This story has not been edited by Firstpost staff and is generated by auto-feed.
Find latest and upcoming tech gadgets online on Tech2 Gadgets. Get technology news, gadgets reviews & ratings. Popular gadgets including laptop, tablet and mobile specifications, features, prices, comparison.
Business
By Aditya Kalra NEW DELHI (Reuters) - India's tobacco industry will object to a proposal to ban smoking zones in hotels and prohibit advertising at cigarette kiosks as the government steps up anti-smoking efforts, two executives said on Wednesday. India has over the years introduced tobacco controls and launched campaigns to deter its use, but enforcement of the law has been a challenge.
World
HONG KONG (Reuters) - Over 50 pro-democratic activists in Hong Kong were arrested on Wednesday for breaking the city's contentious national security law, local media reported, in the biggest crackdown yet against the democratic opposition under the new law. The arrests in the Asian financial hub included well known democratic figures and former lawmakers James To, Lam Cheuk Ting and Lester Shum, according to the Democratic Party's Facebook page and public broadcaster RTHK. Police did not immediately respond to requests for comment.
World
BRASILIA (Reuters) - Brazil's syringe manufacturers said on Tuesday they will supply 30 million syringes and needles for the country's COVID-19 vaccination program after the government said it would requisition surplus supplies. Executives of the three main manufacturers met with President Jair Bolsonaro at the Health Ministry and it was agreed that each would supply 10 million syringes to cover the initial stages of the vaccination plan.