SpaceX halts U.S. satellite launch for national security mission
By Joey Roulette ORLANDO, Fla. (Reuters) - Elon Musk's SpaceX halted Tuesday's launch of a long-delayed navigation satellite for the U.S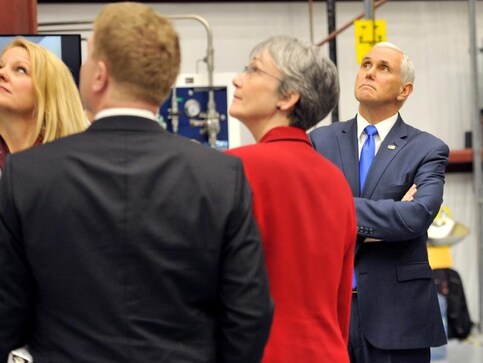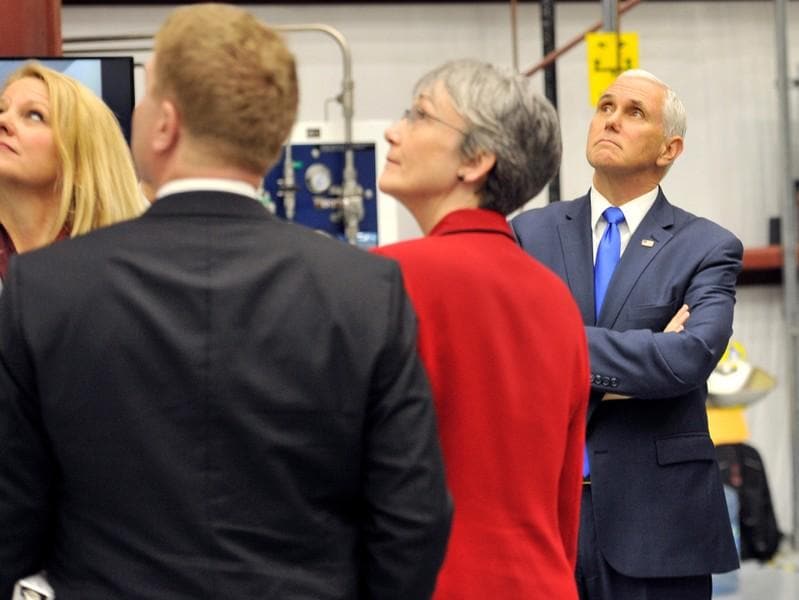 By Joey Roulette
ORLANDO, Fla. (Reuters) - Elon Musk's SpaceX halted Tuesday's launch of a long-delayed navigation satellite for the U.S. military, postponing for at least a day the space transportation company's first designated national security mission for the United States.
SpaceX's Falcon 9 rocket, carrying a roughly $500 million global positioning system (GPS) satellite built by Lockheed Martin Corp, was due to take off from Florida's Cape Canaveral shortly after 9:30 a.m. local time (1730 GMT), but was stopped minutes before takeoff.
"This abort was triggered by the onboard Falcon 9 flight computer," a SpaceX official narrating the launch sequence said, adding that SpaceX would attempt the launch on Wednesday morning.
SpaceX later tweeted that the Falcon 9 and payload remain healthy and cited an "out of family" reading on the rocket's first stage sensors for the delay.
U.S. Vice President Mike Pence, who traveled to Florida to watch the launch, announced afterward that President Donald Trump would direct the Pentagon to establish a Combatant Command to oversee America's activities in space.
The Space Command, the 11th such Combatant Command in the U.S. military, comes as the United States seeks to grow its military footprint in space.
A successful launch would be a significant victory for Musk, a billionaire entrepreneur who spent years trying to break into the market for lucrative military space launches, long dominated by Lockheed and Boeing Co.
SpaceX sued the U.S. Air Force in 2014 in protest over the military's award of a multibillion-dollar, non-compete contract for 36 rocket launches to United Launch Alliance, a partnership of Boeing and Lockheed.
SpaceX dropped the lawsuit in 2015 after the Air Force agreed to open up competition, according to SpaceX's website.
The next year, SpaceX won an $83 million Air Force contract to launch the GPS III satellite, which will have a lifespan of 15 years, Air Force spokesman William Russell said by phone.
Tuesday's launch was to be the first of 32 satellites in production by Lockheed under contracts worth a combined $12.6 billion for the Air Force's GPS III program, Lockheed spokesman Chip Eschenfelder said.
"Once fully operational, this latest generation of GPS satellites will bring new capabilities to users, including three times greater accuracy and up to eight times the anti-jamming capabilities," said Russell.
The GPS satellite launch was originally scheduled for 2014 but has been hobbled by production delays, the Air Force said.
The next GPS III satellite will launch in mid-2019, Eschenfelder said, while subsequent satellites undergo testing in the company's Colorado processing facility.
The launch marks SpaceX's first so-called National Security Space mission as defined by the U.S. military, SpaceX said.
In 2017, the Hawthorne, California-based company launched payloads for the Department of Defense that were not designated as a National Security Space missions.
(Reporting by Joey Roulette in Orlando, Florida and Eric M. Johnson in Seattle; Additional reporting by Steve Nesius in Cape Canaveral and Mike Stone in Washington; Editing by Michael Perry, Steve Orlofsky and David Gregorio)
This story has not been edited by Firstpost staff and is generated by auto-feed.
Find latest and upcoming tech gadgets online on Tech2 Gadgets. Get technology news, gadgets reviews & ratings. Popular gadgets including laptop, tablet and mobile specifications, features, prices, comparison.
Business
By John McCrank and Anirban Sen (Reuters) -The New York Stock Exchange said on Wednesday it will delist three Chinese telecom companies, confirming its latest reversal on the matter a day after U.S. Treasury Secretary Steve Mnuchin told the NYSE chief he disagreed with an earlier decision to reverse the delistings
Business
(Reuters) - Deal making among oil and gas producers was at its highest for the year in the fourth quarter of 2020 as the pandemic-driven fallout in commodity prices spurred a wave of consolidation between explorers looking to scale up and drive down costs, a report from analytics firm Enverus said. Oil and gas producers made deals worth $27.1 billion in the quarter, up from $21 billion in the third, helped by three multi-billion dollar acquisitions in the prolific Permian basin of West Texas and New Mexico. ConocoPhillips acquired Concho Resources for $13.3 billion, the biggest pure shale acquisition by any company since 2011, topping the list.
Business
By Ritvik Carvalho, Wayne Cole and David Randall NEW YORK/LONDON/SYDNEY (Reuters) - The growing chances of Democratic wins in two pivotal U.S. Senate contests triggered financial market moves Wednesday that mirror hopes of more COVID-19-related stimulus and increased regulatory scrutiny of tech companies