South Korea's Moon says 'high possibility' of conflict with North | Reuters
By Christine Kim | SEOUL SEOUL South Korean President Moon Jae-in said on Wednesday there was a 'high possibility' of conflict with North Korea, which is pressing ahead with nuclear and missile programmes it says are needed to counter U.S.
By Christine Kim
| SEOUL
SEOUL South Korean President Moon Jae-in said on Wednesday there was a "high possibility" of conflict with North Korea, which is pressing ahead with nuclear and missile programmes it says are needed to counter U.S. aggression.Moon made his comments hours after South Korea, which hosts 28,500 U.S. troops, said it wanted to reopen a channel of dialogue with North Korea as Moon seeks a two-track policy, involving sanctions and talks, to try to rein in its neighbour.North Korea has made no secret of its work to develop a nuclear-tipped missile capable of striking the United States and has ignored calls to halt its nuclear and missile programmes, even from China, its lone major ally.On Sunday, Pyongyang conducted its latest ballistic missile launch in defiance of United Nations Security Council resolutions, saying it was a test of its capability to carry a "large-size heavy nuclear warhead." The Security Council condemned the test. "The reality is that there is a high possibility of a military conflict at the NLL (Northern Limit Line) and military demarcation line," Moon was quoted as saying by the presidential Blue House, referring to the de facto maritime and land boundaries between North and South.Moon also said North Korea's nuclear and missile capabilities seemed to have advanced rapidly recently but that South Korea was ready and capable of striking back in the event of an attack.In a speech in Tokyo, the head of the U.S. Pacific Command, Admiral Harry Harris, called North Korea a "clear and dangerous threat" to the United States, Japan and South Korea and stressed the need for more cooperation among the allies and for all countries to implement stronger sanctions on Pyongyang."Combining nuclear warheads with ballistic missile technology in the hands of a volatile leader like Kim Jong Un is a recipe for disaster," Harris told the Sasakawa Peace Foundation, referring to North Korea's leader.
"Every test he makes ... takes North Korea one step closer to being able to deliver a nuclear-tipped missile anywhere in the world."Harris said North Korea's nuclear and missile tests showed that the country was a "liability for China not and asset," and for showed the need for Beijing to do more rein in its neighbour.Moon won the South Korean election last week campaigning on a more moderate approach towards the North. But he has said that North Korea must change its attitude of insisting on pressing ahead with its arms development before dialogue is possible. South Korean Unification Ministry spokesman Lee Duk-haeng told reporters the government's most basic stance was that communication lines between North and South should reopen.
"The Unification Ministry has considered options on this internally but nothing has been decided yet," he said.NO WORD YET ON THAAD
Communications were severed by North Korea last year, Lee said, after new international sanctions were imposed in response to its fifth nuclear test and Pyongyang shut down a joint industrial zone.North Korea and the rich, democratic South are technically still at war because their 1950-53 conflict ended in a truce, not a peace treaty. Pyongyang defends its weapons programmes as necessary to counter U.S. hostility and regularly threatens to destroy the United States.
Moon's envoy to the United States, South Korean media mogul Hong Seok-hyun, left for Washington on Wednesday. Hong said South Korea had not yet received official word from Washington on whether Seoul should pay for a U.S. anti-missile system that has been deployed outside Seoul.U.S. President Donald Trump has said he wants South Korea to pay for the Terminal High Altitude Area Defense (THAAD) system which detected Sunday's test launch.China has strongly opposed THAAD, saying it can spy into its territory, and South Korean companies have been hit in China by a nationalist backlash over the deployment.The United States said on Tuesday it believed it could persuade China to impose new U.N. sanctions on North Korea and warned that Washington would also target and "call out" countries supporting Pyongyang.Speaking to reporters ahead of a closed-door U.N. Security Council meeting, U.S. Ambassador to the United Nations Nikki Haley also made clear that Washington would only talk to North Korea once it halted its nuclear programme.Asked about Haley's comments, Chinese Foreign Ministry spokeswoman Hua Chunying said China would work hard at reducing tensions on the Korean peninsula and finding a peaceful resolution. Trump warned this month that a "major, major conflict" with North Korea was possible, and in a show of force, sent the Carl Vinson aircraft carrier strike group to Korean waters to conduct drills with South Korea and Japan. (Additional reporting by Michelle Nichols at the UNITED NATIONS, Ben Blanchard in BEIJING, David Brunnstrom in WASHINGTON and Nobuhiro Kubo in TOKYO; Editing by Nick Macfie and Grant McCool)
This story has not been edited by Firstpost staff and is generated by auto-feed.
Find latest and upcoming tech gadgets online on Tech2 Gadgets. Get technology news, gadgets reviews & ratings. Popular gadgets including laptop, tablet and mobile specifications, features, prices, comparison.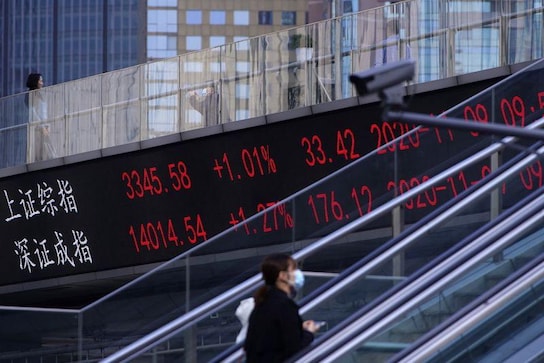 Business
By Chuck Mikolajczak NEW YORK (Reuters) - A gauge of global stocks hit a record and oil prices jumped on Monday as the newest positive data for a potential COVID-19 vaccine and signs of economic recovery in Asia boosted sentiment. U.S. stocks advanced, with the Dow Industrials setting a record as it neared the 30,000 mark for the first time, after pharma company Moderna said its prospective vaccine was 94.5% effective in preventing the illness, which has crushed economies across the globe
Business
By Anirban Sen and Joshua Franklin (Reuters) - Airbnb Inc's initial public offering (IPO) registration showed on Monday that the home rental startup turned a profit in the third quarter despite the COVID-19 pandemic, as it gears up for one of the most anticipated stock market debuts in recent years. The filing, published ahead of Airbnb's anticipated stock market debut in December, showed a dramatic recovery in its fortunes, after the coronavirus outbreak dragged down its core home rental business during the first half of the year. The slump forced it to lay off 25% of its workforce in May, suspend marketing activities for the year and seek $2 billion (£1.5 billion) emergency funding from investors, including Silver Lake and Sixth Street Partners, at a valuation of $18 billion
Business
By David Lawder WASHINGTON (Reuters) - U.S. President-elect Joe Biden said on Monday the United States needed to negotiate with allies to set global trading rules to counter China's growing influence but declined to say whether he would join a new China-backed Asian trade pact signed on Sunday.