South Korean media warn of 'Trump risk' to alliance between Washington and Seoul
Seoul: South Korean media on Monday warned of a 'Trump risk' threatening the alliance between Washington and Seoul amid high tensions over the North's weapons ambitions.
Seoul: South Korean media on Monday warned of a "Trump risk" threatening the alliance between Washington and Seoul amid high tensions over the North Korea's weapons ambitions.
The two countries are bound by a defence pact and 28,500 US troops are stationed in South Korea. But the new US president has said in recent interviews that Seoul should pay for a "billion-dollar" US missile defence system being deployed in the South to guard against
threats from the nuclear-armed North Korea.
He has also pushed for renegotiation of what he called a "horrible" bilateral free trade pact that went into effect five years ago, calling it an "unacceptable... deal made by Hillary".
The remarks stunned Seoul, with South Korean politicians immediately rejecting his push for payment for the Terminal High Altitude Area Defense (THAAD) battery. Tensions are high over the North's nuclear and missile programmes -- it has ambitions to develop a rocket that can deliver a warhead to the US mainland -- and threats on both sides have raised fears of conflict.
"Trump's mouth rattling Korea-US alliance" said a front-page headline in South Korea's top-selling Chosun daily. "There are issues that are far more important than just money," it said in an editorial.
"If either country keeps reducing the alliance to the matter of money or the economy, it is bound to undermine basic trust."
Seoul, it said, needed to come up with "various Plan Bs" for the future.
The THAAD system is being installed at a former golf course in the south.
This has infuriated China, which sees it as compromising its own capabilities and has responded with a series of measures seen as economic retaliation, even as Washington looks to Beijing to rein in Pyongyang.
At the weekend Seoul's presidential office said US National Security Advisor HR McMaster had appeared to backtrack on THAAD, telling his South Korean counterpart by phone that the US would bear the cost of the missile deployment as initially agreed.
But McMaster told Fox News Sunday that the "last thing" he would ever do was contradict the president, and that "the relationship on THAAD, on our defence relationship going forward, will be renegotiated as it's going to be with all of our allies".
Another major South Korean newspaper, JoongAng Ilbo, accused Trump's administration of sending "confusing and contradictory messages", creating a "chaotic situation" that dealt a "huge blow" to the bilateral alliance.
"The US must be well aware of the pain and backlash Seoul has endured to push for the THAAD deployment," it added.
Subscribe to Moneycontrol Pro at ₹499 for the first year. Use code PRO499. Limited period offer. *T&C apply
Arts & Culture
Biden's margin of victory — 7 million votes, or 4.5 percent— was considerable by modern American standards. But the quirks of the American system meant that there were a number of moments when Biden's chances were nearly sunk — moments that Lucky recounts in full.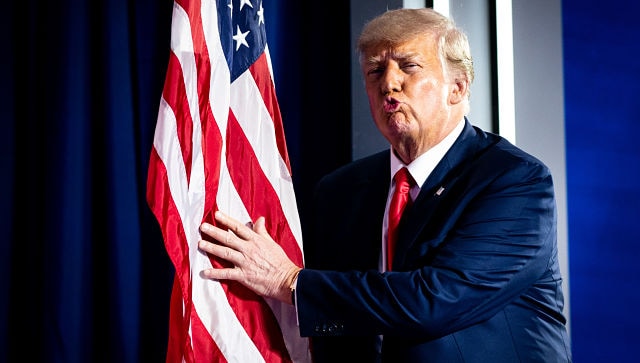 World
A handful of Republican lawmakers have urged the party to move on from Trump, most prominently Representative Liz Cheney of Wyoming
World
During Tanden's confirmation hearings, senators grilled her about her social media posts and her decision to delete more than 1,000 Twitter comments before appearing on Capitol Hill