South China Sea dispute: US claims Chinese warship sailed close to American destroyer in 'unsafe, unprofessional' encounter
A trade war launched by Trump has infuriated Beijing, as did his authorisation of a $1.3 billion arms sale to Taiwan, which China considers a rebel province.
Washington: A Chinese warship sailed within yards of an American destroyer — forcing it to change course — in an "unsafe and unprofessional" encounter as the US vessel was in contested waters in the South China Sea, an official said on Monday.
The USS Decatur guided-missile destroyer was conducting what the military calls a "freedom of navigation operation" on Sunday, when it passed within 12 nautical miles of Gaven and Johnson reefs in the remote Spratly Islands. The 12-mile distance is commonly accepted as constituting the territorial waters of a landmass.
China claims nearly all of the South China Sea, though Taiwan, the Philippines, Brunei, Malaysia and Vietnam all claim parts of it. Beijing claims all of the Spratlys and has built a number of military installations on the islands.
During the operation, a Chinese Luyang destroyer approached the USS Decatur in "an unsafe and unprofessional maneuver in the vicinity of Gaven Reef in the South China Sea," US Pacific Fleet spokesman Commander Nate Christensen said. The Chinese ship then conducted a series of "increasingly aggressive maneuvers, and warned the Decatur to depart the area," he added.
The Chinese "destroyer approached within 45 metres of Decatur's bow, after which Decatur maneuvered to prevent a collision." In a statement, the Chinese Ministry of Defense said that its ship had "given a warning to leave" to the vessel after it entered the area "without permission."
"The US has repeatedly sent warships into the territorial waters near Chinese reefs and islands in the South China Sea," it said. The behavior "gravely threatens China's sovereignty and security, gravely damages relations between China and the US and their militaries, and gravely injures regional peace and stability."
US-Chinese relations have been strained on multiple levels since Donald Trump became president in 2017.
A trade war launched by Trump has infuriated Beijing, as did his authorisation of a $1.3 billion arms sale to Taiwan, which China considers a rebel province. Washington last week enacted new tariffs against China covering another $200 billion of its imports.
China has taken a series of retaliatory measures, including scrapping a US warship's planned port visit to Hong Kong and canceling a meeting between the head of the China Navy and his American counterpart.
On Monday, a US defense official said that security talks due to take place later this month in Beijing between Defense Secretary Jim Mattis and his Chinese counterpart had been canceled.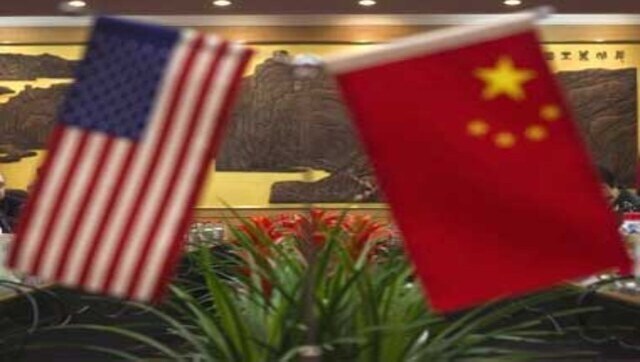 World
Co-operation between the two countries is key to successful global efforts to curb climate change, but frayed ties over human rights and trade threaten to undermine these efforts
World
The former president's insistence on leading the party 'affects every member,' a veteran Republican fundraiser said
Entertainment
Sacha Baron's Oscar-nominated turn in The Trial of the Chicago 7 is far less risky and enlightening compared to the more stinging post-mortems he has performed on the US through Borat 2 and Who Is America?.