South Carolina city braces for flooding in wake of Florence
By Harriet McLeod and Gene Cherry CHARLESTON, S.C./RALEIGH, N.C. (Reuters) - The port city of Georgetown, South Carolina braced on Wednesday for flooding touched off by Hurricane Florence, as emergency management officials urged residents to evacuate despite forecasts that scaled back the threat of 10-foot high water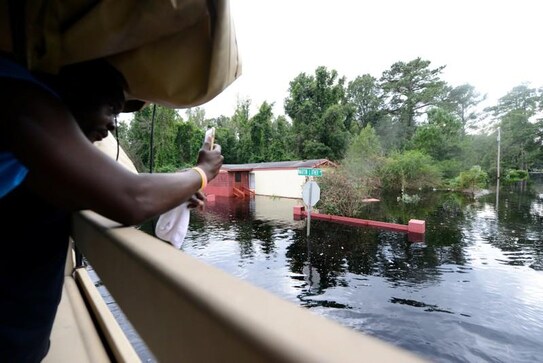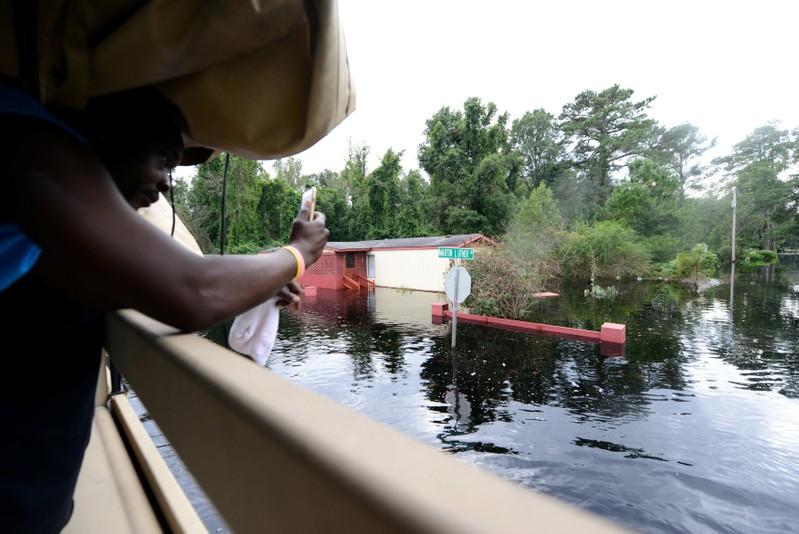 By Harriet McLeod and Gene Cherry
CHARLESTON, S.C./RALEIGH, N.C. (Reuters) - The port city of Georgetown, South Carolina braced on Wednesday for flooding touched off by Hurricane Florence, as emergency management officials urged residents to evacuate despite forecasts that scaled back the threat of 10-foot high water.
Florence, which crashed ashore two weeks ago as a Category 1 hurricane and killed 46 people in three states, has since dissipated, but the storm's torrential rainfall threatens to swamp the Georgetown as it drains toward the ocean.
Forecasts now show floodwaters rising 2 to 4 feet (0.6 to 1.2 meters) in Georgetown, which sits at the confluence of the Waccamaw, Great Pee Dee and Sampit rivers about 30 miles (50 km) south of Myrtle Beach, considerably lower than initially feared.
"We're encouraging people not to let their guard down though, because just as quickly as forecasts change in our favour, they can change against us," said Jackie Broach-Akers, a spokeswoman for the Georgetown County Emergency Management Operations Center.
Despite bright sun on Wednesday, Broach-Akers said officials were urging 6,000 to 8,000 residents to leave their homes, with rivers expected to crest in Georgetown on Friday morning and remain above flood stage for four or five days.
"(The sunshine) makes it harder to believe that something bad is right around the corner," she said.
The North Carolina Institute for Climate Studies said preliminary research suggests that Florence was among the rainiest storms to hit the United States in some 70 years.
South Carolina Governor Henry McMaster said the river flooding caused by Florence, which dropped nearly 20 inches (50 cm) of rain in some places in the state, is something his state has not had to cope with before.
'FULL BATTLE MODE'
"This is unprecedented and we are still in full battle mode," McMaster said at a press briefing on Wednesday at Emergency Management Division headquarters in Columbia, the state capital.
Flooding has already destroyed 46 homes in the state, significantly damaged more than 1,000 and forced 11,000 people to flee their homes, including 3,000 in Georgetown, EMD Director Kim Stenson told reporters.
In Conway County, where the Waccamaw was already well above flood stage, South Carolina's state-owned electric and water utility, said floodwaters stopped rising before inundating a pond that holds more than 200,000 tons of toxic coal ash.
"The river's rise has slowed and we think it's cresting today," utility spokeswoman Mollie Gore said from the site, where 115 workers had shored up the dam around the pond. "We still have a foot between the top of the river and the top of the dam."
Santee Cooper said it has removed more than 1 million tons of coal ash, which can contaminate water and harm fish and wildlife, from the site in the past few years.
The Waccamaw was expected to crest by late Thursday at 21.2 to 26.4. feet in the upriver communities of Conway and Bucksport, the National Weather Service Southeast River Forecast Center in Atlanta said.
"This is going to be a very long flooding event," said John Atwell, a weather service hydrologist.
Some 1 to 2 inches of rain moving into the central and western parts of the state in a next day or two will prolong the flooding, said meteorologist Rich Otto of the weather service's Weather Prediction Center in College Park, Maryland.
"Any additional rainfall is just going to filter into those rivers," Otto said.
Crews worked to erect temporary dams on either side of U.S. Highway 17, the main coastal route through the area, and National Guard engineers were installing a floating bridge at Georgetown in case the highway is washed out at the river.
(Reporting by Harriet McLeod and Gene Cherry; Additional reporting by Peter Szekely in New York, Makini Brice in Washington, Bernie Woodall in Fort Lauderdale, Florida and Dan Whitcomb in Los Angeles,; Writing by Peter Szekely and Dan Whitcomb; Editing by Cynthia Osterman and Lisa Shumaker)
This story has not been edited by Firstpost staff and is generated by auto-feed.
World
BAGHDAD (Reuters) - Rockets hit near U.S. forces and contractors in Iraq on Wednesday, including an air base north of Baghdad and a military base at Baghdad International Airport, the Iraqi army and security officials said. The army reported at least three rockets hit Balad air base, where U.S
World
By Silvia Ognibene and Silvia Aloisi FLORENCE, Italy (Reuters) -Italian police have arrested a Chinese couple accused of running a leather goods business which exploited immigrant workers it employed to make handbags for a Burberry supplier, according to an arrest warrant seen by Reuters. Tax police in Florence said in a statement that the two Chinese nationals were arrested on Wednesday as part of an investigation into alleged labour exploitation and tax fraud and that restrictive measures had been imposed on two other family members, including a ban on them leaving Italy
World
WASHINGTON (Reuters) - The United States on Wednesday blacklisted four Nicaraguans, including a daughter of President Daniel Ortega, as Washington warned it would continue to use diplomatic and economic tools against members of the leftist government engaged in repression. The U.S. State Department called on Ortega to release detained presidential candidates as well as other civil society and opposition leaders arrested over the past week in what Washington called "an increasing wave of repression." "There are costs for those who are complicit in the regime's repression.