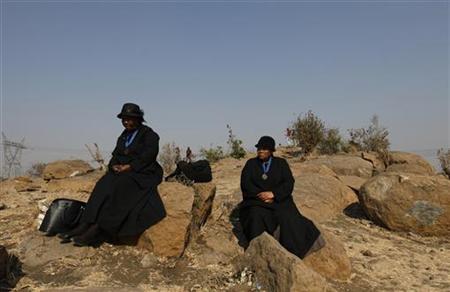 MARIKANA, South Africa (Reuters) - South Africans held a memorial service on Thursday at a mine where police shot dead 34 strikers, bloodshed that revived memories of apartheid-era violence and laid bare workers' anger over enduring inequalities since the end of white rule.
Some 500 people crammed into a marquee pitched at the platinum mine, near what has been dubbed the "Hill of Horror" where police opened fire on striking miners in the deadliest security incident since apartheid ended in 1994.
Crowds spilled out into the scorched, dusty fields outside, listening to hymns and prayers. Women wrapped in blankets wept and mourners placed flowers at the scene. Other memorials took place around the country, including in downtown Johannesburg.
"Such a killing of people, of children, who haven't done anything wrong and they didn't have to die this way," said Baba Goloza whose two sons died. He blamed mine owner Lonmin (LONJ.J) (LMI.L) for not taking care of its workers at its Marikana mine, northwest of Johannesburg.
President Jacob Zuma, speaking in Pretoria, named a panel to look into the actions of Lonmin, the police and the unions engaged in a deadly rivalry - the long-established National Union of Mineworkers (NUM) and upstart Association of Mineworkers and Construction Union (AMCU).
In the days before the mass shootings, 10 people were killed in a turf war between the unions, including two police officers and a union shop steward hacked to death with machetes.
Members of both unions and their families, as well as ruling ANC officials, attended the nearly five-hour memorial service, which included uplifting songs and prayers for the dead.
After the service, some 2,000 AMCU workers wearing t-shirts emblazoned with party slogans climbed the hill where many had come under police fire a week ago, singing union songs and chanting their demands for wage increases. A police helicopter kept watch overhead.
LAUNCH PAD
The union feud exposed deadly levels of anger about low wages and what is seen as political favouritism in Africa's biggest economy.
The powerful NUM has been a launch pad to political power for several senior officials at the African National Congress (ANC) - the former liberation movement that has held power since the end of apartheid.
ANC Secretary General Gwede Mantashe, Zuma's right-hand man, was a NUM leader before joining the party.
AMCU accuses the NUM of not getting miners a good deal and of being too close to the mining companies - claims the bigger union denies.
The carnage at Marikana has also highlighted the ANC's failure to ease income disparity, which remains among the worst in the world, while many of its members are accused of using political connections to get rich.
Zuma's political rivals have accused his government of poor policing and caring more for corporate interests than workers' rights. The report from the investigative panel is due a month after he faces a party vote where he seeks re-election as its leader.
Several miners expressed anger at government ministers for visiting earlier in the week in luxury cars, driving past shantytowns and garbage-strewn fields around the mine.
"They come here in big fancy cars and bodyguards. They know nothing about being poor," one miner said to his colleagues as they listened to speeches.
South Africa's per capita GDP is over $8,000 a year but nearly 40 percent of the population live on less than $3 a day. Miners' wages have risen but many struggle to support an average of eight to 10 dependents.
CONTAGION
Industry officials are worried the Marikana labour strife could spread around the country where mining accounts for about 6 percent of gross domestic product.
Anglo American Platinum (AMSJ.J), the world's top producer, said on Wednesday it had received a demand for a pay increase. World No.2 platinum firm Impala Platinum (IMPJ.J) (Implats) warned on Thursday that industrial action at could grow.
A violent six-week strike at Implats early this year sliced 21 percent off its full-year production and contributed to a drastic cut in its dividend.
Labour action by about 500 miners interrupted work at one shaft run by Royal Bafokeng Platinum (RBPJ.J) on Wednesday, the company said.
"Foreign investors are asking if this is an indication of what we're going to see with much greater levels of industrial unrest," Nick Holland, chief executive of world no. 4 gold producer Gold Fields (GFIJ.J), told Reuters.
Concerns about South Africa, which holds 80 percent of the known reserves of platinum, have helped drive the price of the metal, used in jewellery and for catalytic converters in cars, to its highest since early May.
(Additional reporting by Ndundu Sithole in Marikana and Peroshni Govender, Ed Stoddard and Sherilee Lakmidas in Johannesburg; Writing by Jon Herskovitz; Editing by Robin Pomeroy)
Updated Date: Aug 24, 2012 00:00 AM