South Africa: Prosecutors to challenge ruling on Jacob Zuma's corruption charges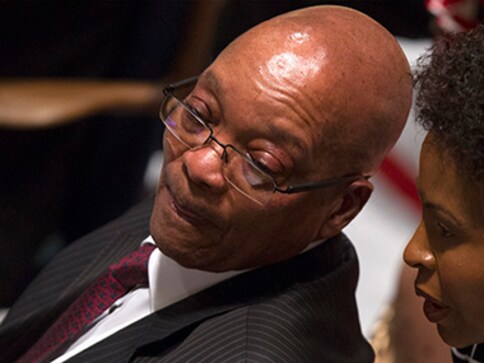 Pretoria: South African state prosecutors said on Monday they would appeal against a court ruling that President Jacob Zuma should face almost 800 corruption charges, triggering accusations that he was being protected from justice.
Zuma has endured months of criticism and growing calls for him to step down after a series of corruption scandals and as the country battles falling economic growth and record unemployment.
The National Prosecuting Authority (NPA) director Shaun Abrahams announced the decision to challenge a High Court order to reinstate 783 charges against Zuma, but denied any political pressure.
The charges, relating to a multi-billion dollar arms deal, were dropped in 2009, clearing the way for Zuma to be elected president just weeks later.
At the time, state prosecutors justified dropping the case by saying that tapped phone calls between officials in then-president Thabo Mbeki's administration showed political interference.
But the Pretoria High Court last month, dismissed the decision to discontinue the charges as "irrational" and said it should be reviewed by the NPA.
"The judgement affects... the discretionary powers of the prosecutor," Abrahams told a press conference on Monday. "It is so important that I believe it needs a decision of an appeal court."
Abrahams railed against suggestions that the NPA was reluctant to prosecute Zuma.
"I will always do what is correct, irrespective of whether the individual concerned is an ordinary citizen, a cabinet minister or a sitting president," he said. "Any suggestion that I may have succumbed to any pressure to make my decision — I can assure the public today that it is absolutely ridiculous and completely unfounded."
First Cricket News
Ireland were eyeing their first ODI campaign success against a top eight-nation after a 43-run win on Tuesday put them 1-0 up following a washed-out opener.
First Cricket News
Follow live score and updates from the second T20I between Ireland and South Africa on our blog.
First Cricket News
The first of three T20s wasn't competitive, surprisingly so after a thrilling one-day international series that was drawn 1-1 last week.