South Africa: President Jacob Zuma to face impeachment attempt in parliament
South African President Jacob Zuma faces an impeachment attempt in parliament Tuesday after the country's top court ruled that he had violated the constitution over spending on his private residence.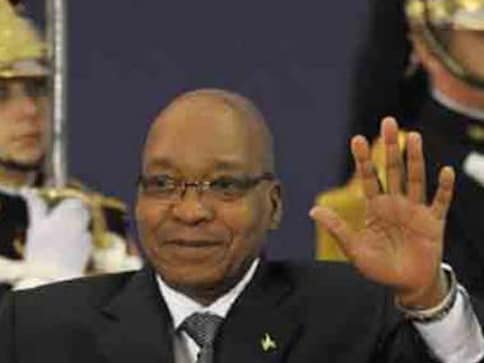 Capetown: South African President Jacob Zuma faces an impeachment attempt in parliament Tuesday after the country's top court ruled that he had violated the constitution over spending on his private residence.
Zuma will almost certainly survive the vote, which requires a two-thirds majority to succeed, as his ruling African National Congress holds an overwhelming number of seats.
Despite rumblings of discontent within the party over a series of scandals involving the president, there is unlikely to be a revolt among ANC lawmakers, particularly as it will not be a secret ballot.
But Zuma has been seriously wounded in recent months, and is under increasing pressure that could see him fail to serve out the last three years of his final term.
He has been urged to resign by a number of senior ANC veterans of the struggle against apartheid, which brought liberation icon Nelson Mandela to power in 1994.
In pointed comments Monday, Finance Minister Pravin Gordhan said that "once our actions are seen to be contrary to (the constitution) you must know we have moved away from our duty to serve our people".
The ANC leadership has held a series of meetings since the Constitutional Court judgement last Thursday, and has dismissed the impeachment plan as electioneering by the opposition ahead of municipal elections later this year.
The court ruled that Zuma had flouted the constitution by failing to repay some of the money spent on "security upgrades" at his rural home at Nkandla in the eastern province of KwaZulu-Natal.
The project, which cost taxpayers $24 million, included a swimming pool, chicken run, cattle enclosure and an amphitheatre.
A 2014 report by the government-appointed Public Protector, Thuli Madonsela, found that Zuma and his family had "unduly benefited" from the upgrades and ordered him to pay back some of the money.
Fight to survive
Zuma apologised in a national television address on Friday for the "frustration and confusion" caused by the affair, but made it clear that he had no intention of responding to calls to resign.
He however said he would pay back some of the money as ordered.
The impeachment motion was lodged by the main opposition party, the Democratic Alliance, which drew unflattering comparisons between Zuma and Mandela.
"Jacob Zuma is the cancer at the heart of South African politics; he is not capable of honourable conduct, and cannot continue to be president of our country," the party said in response to his televised address.
It is unlikely that Zuma will be in parliament for Tuesday's debate, which means that it might escape the chaotic scenes which have regularly erupted when he is present.
Previous disruptions have been sparked by the radical Economic Freedom Fighters party, led by firebrand Julius Malema, who vowed last week that it will no longer allow Zuma to address the assembly.
"In between now and the impeachment, the president will not speak in parliament and we will stop him physically.
"We will push him because President Zuma is no longer the president of the Republic of South Africa," Malema told a news conference.
In a surprise statement at the weekend, the South African National Defence Union, which represents a small percentage of members of the armed forces, urged soldiers to participate in any mass action to remove Zuma from office, saying he was no longer fit to be commander in chief.
Defence Minister Nosiviwe Mapisa-Nqakula called on the union's secretary general Pikkie Greef to be criminally charged.
"If he's mobilizing men and women in uniform, that amounts to a coup d'etat... a coup d'etat will not be allowed in South Africa," she said Monday.
Zuma has also been beset by allegations of corruption centred on a wealthy immigrant family from India that was alleged to have such influence that it could decide ministerial appointments.
Health
The man, who lives in South Africa, had on 1 May tested positive for the coronavirus after he arrived here to meet his parents
First Cricket News
While the return of Dinesh Karthik and Hardik Pandya was a good news for the fans, many were furious to not find Sunrisers Hyderabad batter Rahul Tripathi's name on the list.
First Cricket News
Rana last played for India in the series against Sri Lanka last year but failed to make a mark as he was able to get only single-digits scores in two T20s and one ODI.