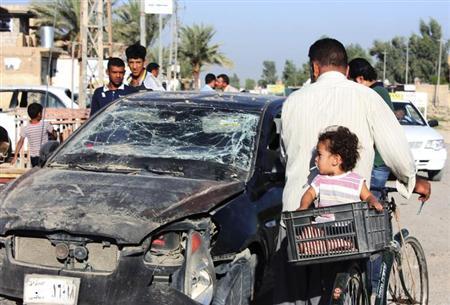 MOSUL, Iraq (Reuters) - At least 22 people were killed across Iraq on Sunday, including five soldiers who were shot dead by gunmen who then burned their bodies, police and military sources said.
Increased attacks in Iraq in recent weeks have raised fears of a return to full-blown sectarian conflict. More than 1,000 Iraqis were killed in July, the highest monthly death toll since 2008, according to the United Nations.
Sunday's biggest attack occurred some 290 kms (180 miles) north of the Iraqi capital, when suspected militants ambushed two taxis carrying soldiers in Qaiyara town, military sources said.
"One of the cars escaped the ambush but the second one could not and the militants shot dead five soldiers and burned their bodies after they killed them," a senior intelligence military officer, who declined to be named, said.
A medical source at the morgue in Mosul confirmed the soldiers' corpses had been burned.
Police said that seven people were also killed and 28 others were injured in two separate explosions in Madaen, about 30 km (20 miles) southeast of Baghdad and in a Shi'ite district of the Iraqi capital.
Another two explosions took place in commercial areas in western and eastern Baghdad, killing three people and wounding another ten, police said.
Earlier on Sunday, police reported that three people had died and 15 were wounded when a car bomb exploded in Balad, 80 km (50 miles) north of Baghdad. Two people were shot dead near their homes in eastern Mosul, 390 km (240 miles) north of Baghdad, police said.
Roadside bombs also killed two members of a displaced Shi'ite family who had recently returned to their home. The attack wounded nine others in central Baquba, 65 km (40 miles) northeast of Baghdad, police said.
No group immediately claimed responsibility for Sunday's attacks but Sunni Islamist militants have been regaining momentum in their insurgency against the Shi'ite-led government in recent months, emboldened by the civil war in Syria.
On Friday, a suicide bomber killed 25 people and wounded more than 50 in Baghdad when he detonated his explosives inside a busy cafe near a park.
Eighteen months since the last U.S. troops withdrew from Iraq, deep-rooted sectarian tensions have been aggravated by Syria's war and the growing political divisions between Iraq's Shi'ite, Sunni and ethnic Kurdish factions.
(Reporting by Ziad al-Sanjary in Mosul, Ghazwan Hassan in Tikrit and a Reuters reporter in Baquba; Writing by Suadad al-Salhy; Editing by Peter Graff)
Updated Date: Aug 25, 2013 22:46 PM