Aluthgama riots: Social media breaks SL media's shameful silence
There has been little to no mention of deadly communal clashes in Sri Lanka in any of its mainstream media.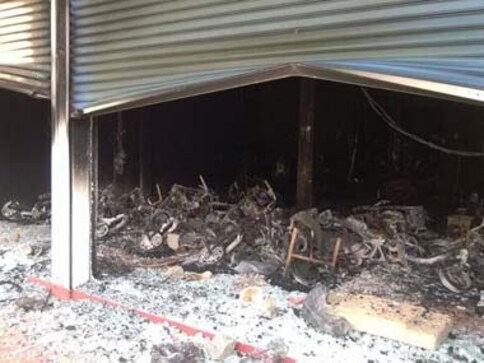 Communal violence has reared its head in Sri Lanka once again. This time between Sinhala Buddhist radicals and Muslims in the town of Aluthgama, almost 70km south of Colombo. Three people are believed to have been killed in the violence, with many more injured and immense damage reported to property.
But there has been little to no mention of it in Sri Lanka's mainstream media.
"During the violence, there was radio silence across all mainstream media, with some reports suggesting communications (telephone) services were also disrupted or cut off to the affected areas" read an entry on Groundviews, an award winning alternative citizens journalism site based in Colombo.
The site carried screenshots of Sri Lanka's major mainstream publications during the height of the violence, proving that they showed little to no mention of the unfolding violence, a pattern also conspicuous in the newspaper headlines on Monday morning.
The government owned Daily News chose to focus on President Mahinda Rajapaksa's speech at the G77 summit currently underway in Bolivia and political opposition to a UN backed probe into war crimes allegations against the Sri Lankan government. Sri Lanka's English newspaper with the largest circulation, The Daily Mirror, chose to focus on a drugs bust.
"Apparently until we told people in our family they had NO idea that this was happening!!", read the Facebook post of a Sri Lankan Muslim residing in Dubai.
The given reason, editor of Sri Lankan news website Republic Square, Dinidu de Alwis told Firstpost was that there was a desire to 'not spread tension' in the country.
"Initial reportage was as though it was just a fight between two rival gangs", de Alwis said.
"Reports last night suggested media coverage was stopped by powers higher up but this wasn't verified. There is genuine fear of reporting these events institutionally because of government and MoD (Ministry of Defence) pushback. Whatever the reason it suggests media is under a regime of censorship through fear, and journalists who have shared with me updates they haven't made public are also self censoring themselves for fear of being identified later on as those who stoked violence by giving accurate and real time situation reports", Sanjana Hattotuwa, the editor of Groundviews, told Firstpost.
Social media and international media news reports have filled the gap created by the silence of the local press.
"What was interesting to see was how many journos were tweeting through their personal accounts that their media outlets were completely blank on", said Hattotuwa.
It was not just journalists though. The hashtag #Aluthgama started trending in the country, with many people who were at the site of the attacks tweeting real time updates along with pictures of burnt houses, destroyed shops and blood spattered floors. Others tweeted out news updates that they had heard as well.
https://twitter.com/tingilye/status/478363044980854785
https://twitter.com/cfhaviland/status/478355464028037120
https://twitter.com/InduNan/status/478355060779282433
https://twitter.com/ShammasGhouse/status/478305735302852609
https://twitter.com/AzzamAmeen/status/478335063642234881
In the absence of any mainstream media involvement, all the opinion and analysis of the news also took place on social media and the blogosphere. One link widely making the rounds on Sri Lankan social media channels is a blog post written by Yudhanjaya Wijeratne, titled "The war never ended, we just took some time off".
"We've protested against the BBC and the UN. We've fought a 30-year war. We have, at every turn, fought the LTTE disapora and the constant flow of anti-Sri Lanka campaigns stemming from brainwashed morons in Canada. Our politicians have done everything from shooting each other (cue amnesia) to beating up journalists, proving that yes, they have both balls and weapons. We've then stood back and cried out to the tourists: "Visit Sri Lanka! Beautiful Sri Lanka! The fountain of Buddhism in Asia!" Yet nobody has dared stand up to a man in orange robes who is now on the verge of turning into a second Prabhakaran. Our ministers, usually rather vocal and passionate, are next to useless – in fact, one is threatening to resign. The President is urging everyone to stay calm. Stop the press, everyone", reads the post.
Others took to their personal social media accounts to vent their fears and frustration.
"Maybe this is what true jihad is,,having to fight for ur life or die just because ur a Muslim.,,cause ppl forget that we r all human beings..", read the status message of one Sri Lankan Muslim on Facebook.
Others raged about the lack of a government response as well as the silence of the media. "Extreme media censorship in Sri Lanka... and we have to get updates from Blogs and FB!" read another status.
Like the media it was directly or indirectly controlling, the government of Sri Lanka was largely silent as well. The only responses came from President Mahinda Rajapaksa and his son Namal Rajapaksa on Twitter.
"The Government will not allow anyone to take the law into their own hands. I urge all parties concerned to act in restraint. An investigation will be held for law to take its course of action to bring to book those responsible for incidents in Aluthgama", read the President's tweet, while his sons tweet read, "I ask my Sinhala & Muslim brothers & sisters in Aluthgama to stand together. As Sri Lankans, let's not forget that we're all the same & we shouldn't let other forces create differences between us."
It is significant that the first (and for a long time the only) government responses also came via Twitter. By tweeting, the President was only addressing the people who actually knew of what was happening via the same social channels. Because while the news was getting out, it was only getting out to the minuscule portion of the Sri Lankan population with access to social media.
This meant that for a majority of the people - and most importantly for the people affected on the ground - their leaders had not spoken. They had chosen to turn a blind eye to the inflammatory speech made by Galagodaaththe Gnanasara, the leader of the extremist Sinhala group, the Bodu Bala Sena which started the violence.
In the speech, which is available on YouTube, Gnanasara is heard saying that if even one 'marakkalaya' (a derogatory Sinhala word for Muslim) so much as laid a hand on a Sinhalese, that it would mean the end of all of them.
Lambasting the government for 'betraying' the Sinhalese people, he is heard saying that both the government and minorities would do well to remember that Sri Lanka still had a Sinhala police and a Sinhala army - statements that elicited massive cheers from the assembled crowds. "Enough is enough. We haven't raised our hands ( against them), not because we can't… its not because we can't", he added.
Gnanasara's words ring deafeningly loud amid the silence of the Sri Lankan media and government, which gives him the kind of power and reach even the cacophony of social media cannot drown out.
also read
World
An AI-generated image exposed, how Twitter's paid verification programme has become a joke. A Twitter troll posted a fake image of a supposed blast near Pentagon, which caused a dip in the US stock market.
World
Elon Musk has accepted that as CEO, he made a mistake when he fired people en masse right after taking control of Twitter. The tech mogul accepted that some innocent people may have been affected by the mass firing, for no fault of their own
World
Twitter leaked and revealed the identity of an anonymous memer, critical of the Saudi government. The memer was tortured and sentenced to prison for 20 years and has now gone missing. His family, believing him to be dead is suing Twitter for violating its own policy.